Systematic Theologies Collection (183 vols.)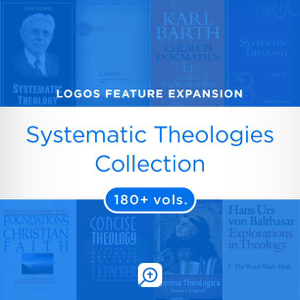 Systematic Theologies Collection (183 vols.)
•
For the most up to date version of this feature expansion, see here.
Overview
Get organized systematic theological use of any Bible verse from any Christian denomination or viewpoint. Logos presents what all of your systematic theologies say about any Bible passage you study. And with the Systematic Theologies Collection, you'll have over 180 volumes of systematics across dozens of denominations and viewpoints, presenting a wide range of organized Christian belief rooted in the Bible. Theologians like Barth, Calvin, Aquinas, Dabney, and Pope present classic, well-grounded theological principles supported by Scripture. To boot, you'll have first access to the new systematic theologies we're producing, including H. Orton Wiley's, John Brown of Haddington's, Richard Watson's, Emanuel Vogel Gerhart's, and several others, as they are produced.
This collection works with the Systematic Theology Cross-References Dataset* to bring these resources to the Passage Guide. Study a passage, and the Systematic Theologies section reports where your systematic theologies refer to the verse, and further organizes them by denomination and category of systematic study. Whether the verse is used in section reporting soteriological beliefs or in the prolegomena, you'll see before digging in. And with so many systematic theologies for Logos to search through, you'll never miss a verses' use in theological proof in any denomination.
Curious how these resources work in Logos? Watch the video below to see for yourself where you'll be using them:
You'll Get:
Exclusive access to systematics recently released, including H. Orton Wiley's, Richard Watson's, J. Oliver Buswell's, and Emanuel Vogel Gerhart's
The must-haves of classic systematics: Aquinas' Summa Theologia, Calvin's Institutes, Barth's Church Dogmatics, and Francis Hall's Dogmatic Theology
The most recent systematic introductions: Packer's Concise Theology, Sproul's Everyone's a Theologian, James Leo Garrett Jr.'s Systematic Theology, Christos Yannaras' Elements of Faith, and more
An essential library of comparative systematic theologies across dozens of viewpoints and denominations
Product Details
Title: Systematic Theologies Collection
Volumes: 183
Resource Type: Systematic Theologies
Topic: Systematic Theology
Christian Groups: Evangelical, Reformed, Catholic, Lutheran, Methodist/Wesleyan, Charismatic/Pentecostal, Mennonite/Anabaptist, Anglican, Orthodox, Seventh-day Adventist, Baptist
Minimum Software Requirements: Logos Bronze or Logos Full Feature Set