Present Truth in the21st Century
Study the present truth of scripture like never before with a vast, interconnected library of SDA resources from authors like Jon Paulien, Hans K. LaRondelle, Monte Sahlin, and many more. Logos SDA is your hub for news, updates, and new resources pertaining to your tradition.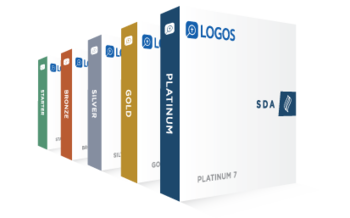 Logos 7 SDA
Take your study to the next level with a handpicked library of SDA resources and powerful tools, like Factbook, Ancient Literature, and Cultural Concepts.
Recommend for me
Compare & buy
Don't miss out—get the latest news and updates from Logos!
---
"I've tried all the major Bible study software. Logos is light years ahead of the rest. . . the search is over."
"As one who has come to rely on the quality of Logos in exploring God's Word, I am thrilled that they are expanding the SDA product line."
"It is exciting that Logos is making available a powerful collection of SDA study resources that are easily searchable in electronic format. The future is now!"
"Nothing is more critical to sound scholarship than superior study and reference tools. For me, this means Logos..."
"Logos...has been a tremendous resource, but now they are moving to a new level in adding so much SDA material."
"...In my view Logos is the best electronic book platform for biblical studies."
"I'm excited Logos is developing a product line for Adventists that will greatly simplify searches and enhance Bible study..."
"Only Logos provides searchability and mobility with a wide selection of books and journals. Adventist resources make Logos indispensable."
"I thank God on a regular basis for Logos! It has revolutionized my Bible study and sermon prep!"
---