EXPOSITORY PREACHING KITS
Preach the Word, Study by the Book
Get everything you need to study and preach every book of the
Bible—without blowing your budget.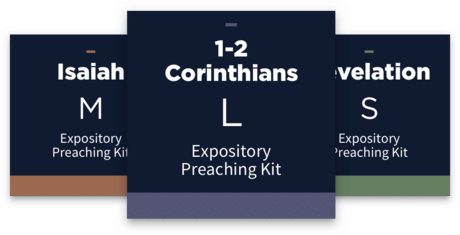 Through the Bible, One Book at a Time
Expository Preaching Kits are curated resources all focused on helping you teach a single book of the Bible—keeping you prepared without weighing you down.
Get everything you need (and nothing you don't). Write powerful sermons using a trifecta of core resources.
Never wonder if you're getting trustworthy, relevant information. Each kit contains our most trusted resources.
Priced to fit the average pastor's monthly budget. Pick up the resources you need without going over budget.
We've started with the most-preached books, and we won't stop until we've covered every book of the Bible.
Study & Teach with Expository Preaching Kits