Return to the Root of Faith
Engage the Lutheran tradition like never before with a vast, interconnected library of Lutheran resources from authors like Martin Luther, Dietrich Bonhoeffer, Milton Valentine, and many others. Logos Lutheran is your hub for news, updates, and new resources pertaining to your tradition.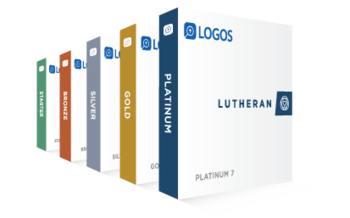 Logos 7 Lutheran
Take your study to the next level with a world-class library of Lutheran resources and powerful Logos 7 tools, like Factbook, Cultural Concepts, and Inline Search.
Recommend for me
Compare & buy
Don't miss out—get the latest news and updates from Logos!
---
"Logos helps address the challenges in teaching proper theological study by facilitating interaction with a wide range of literature..."
"I bought Logos to aid with my original language studies, but quickly found it to be an all-encompassing powerhouse for preaching and teaching."
"Logos is great tool...the growing number of Lutheran works is a great feature in preparing lectures . . ."
---