Guides to Biblical Scholarship Series (10 vols.)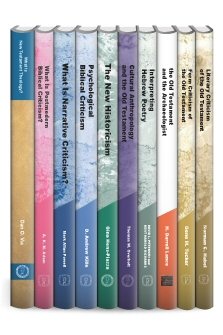 Guides to Biblical Scholarship Series (10 vols.)
•
Runs on Windows, Mac and mobile.
Your Custom Discount
Reg. Price $115.95
Sale Price $72.95
Your Price $72.95
You Save $43.00 37%
Your Price
What's Pre-Pub?
$72.95
Reg.: $115.95
Print: $177.00
Overview
This helpful series clearly explains and demonstrates the most significant methods of biblical criticism in both Old and New Testament studies. Some of the most influential works and innovative insights in biblical studies have been based on one or more of these approaches to biblical criticism. Unfortunately, it's easy to get lost in the technical theories and terminology without the proper orientation. The Guides to Biblical Scholarship series provides that needed orientation. Whether it is New Testament theology and narrative criticism or Old Testament form and literary criticism, this collection offers clear and concise guides to these influential approaches—enabling students of the Bible to engage the scholarly field and arrive at a deeper understanding of Scripture.
In the Logos editions, these valuable volumes are enhanced by amazing functionality. Scripture and ancient-text citations link directly to English translations and original-language texts, and important terms link to dictionaries, encyclopedias, and a wealth of other resources in your digital library. Perform powerful searches with the Topic Guide to instantly gather relevant biblical texts and resources, enabling you to jump into the conversation with the foremost scholars on issues within biblical criticism. Tablet and mobile apps let you take the discussion with you. With Logos Bible Software, the most efficient and comprehensive research tools are in one place so you get the most out of your study.
Key Features
Overview of major approaches to Old and New Testament studies in one collection
Clear and succinct guides to and illustrations of various perspectives in biblical studies
Individual Titles
The recovery of the history of the ancient Near East through archaeology is one of the major achievements of the modern age. The impact of this new knowledge on biblical matters is surveyed with special focus on archaeological methods. Lance discusses the principles of excavation and how archaeological discoveries are applied biblical studies. The book explains in detail the principles of stratigraphy and typology, suggests practical ways for the beginner to find needed information in the confusing array of primary and secondary publications, and takes a brief look at the future of biblical archaeology as a discipline.
H. Darrell Lance is professor emeritus of Old Testament at Colgate Rochester Crozer Divinity School and has served as annual professor at Albright Institute of Archaeological Research in Jerusalem. He was also a former coeditor of Biblical Archaeologist and associate director of excavations at Tell Gezer in Israel.
Because of its long oral tradition, the Old Testament includes an array of different literary types and compositions. Analysis of these genres in the biblical material is known as form criticism. Gene Tucker draws on contemporary speech patterns to illustrate how the scholar pinpoints various categories or genres. The basic principles of form criticism are outlined and many biblical examples are given. The story of Jacob's struggle at the Jabbok and the prophetic literature are treated in detail. While form criticism does not solve all the interpreter's problems, Tucker argues that it forms an essential tool for exegesis and for recovering the living history of Old Testament literature.
Gene M. Tucker is professor of Old Testament at the Candler School of Theology. He has also served as president of the Society of Biblical Literature, one of the oldest learned societies in the United States. A member of the Candler faculty for 24 years, Tucker has previously served as chair of a number of SBL task forces and was a member of the Old Testament Committee for the Revised Standard Version Bible. He also is the author, co-author, or editor of eighteen books and the author of more than sixty journal articles and reference works, including The New Interpreter's Bible, vol. 6: Isaiah to Ezekiel.
This well-written introduction to literary criticism gives the reader an awareness and appreciation of the rich diversity of thought found in the Old Testament. The student is shown how to identify the elements of structure, style, form, language, and composition in the books of the Old Testament. Norman Habel demonstrates how literary criticism works with examples which are familiar and well-suited for a beginner's level of study. After exploring the literary features of Genesis 1–9, Habel focuses on the importance of the Yahwist and priestly sources for the whole Pentateuch. This book's explanation of techniques used in the process of literary criticism will be valuable to both student and professor.
Product Details
Title: Guides to Biblical Scholarship Series
Series: Guides to Biblical Scholarship
Publisher: Fortress Press
Volumes: 10
Pages: 1,218