Phyllis Trible Collection (3 vols.)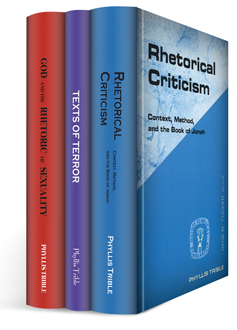 Overview
Exploring some of biblical literary criticism's most challenging theological issues, Phyllis Trible has been a pioneer in women's studies and biblical rhetoric for decades. The Phyllis Trible Collection contains three of her most important works, allowing you to dive right into the dialogue of contemporary literary criticism. Whether you're looking to further your study of feminist hermeneutics or simply to expand your Bible study using methods of literary criticism, the Phyllis Trible Collection is a must-have for your library.
Enhance your Bible study with the Logos digital version of the Phyllis Trible Collection. Bible verses appear on mouseover, and concepts and terms connect to your dictionaries and reference materials. Search through your library instantly to find Trible's every mention of "Hagar" or "Judges 19."
Key Features
Approaches biblical texts with multiple rhetorical methods
Develops a clear argument for using literary theories with the Bible
Contains essential essays on women's studies and theology
Individual Titles
Phyllis Trible examines rhetorical criticism as a discipline within biblical studies. In Part One, she surveys the historical antecedents of the method from ancient times to the postmodern era: classical rhetoric, literary critical theory, literary study of the Bible, and form criticism. Trible then presents samples of rhetorical analysis as the art of composition and as the art of persuasion.
In Part Two, formulated guidelines are applied to a detailed study of the book of Jonah. A close reading with respect to structure, syntax, style, and substance elicits a host of meanings embedded in text, enabling the relationship between artistry and theology to emerge with clarity.
This book was written on several levels and will engage a range of readers to their benefit. I refrain from comment [on the contents] lest I spoil the surprise—and delight—for the reader. Suffice it to say that the book itself is an example of rhetoric.
—Gene M. Tucker, associate professor of Old Testament, Emory University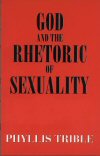 Focusing on texts in the Hebrew Bible, and using feminist hermeneutics, Phyllis Trible brings out what she considers to be neglected themes and counter literature.
After outlining her method in more detail, she begins by highlighting the feminist imagery used for God; then she moves on to traditions embodying male and female within the context of the goodness of creation. If Genesis 2–3 is a love story gone awry, the Song of Songs is about sexuality redeemed in joy. In between lies the book of Ruth, with its picture of the struggles of everyday life.
Trible's brilliant rhetorical criticism, her diligent study of the Hebrew text, and her clarity about feminist hermeneutics, have indeed uncovered the lost token of faith within Scripture.
—Sojourners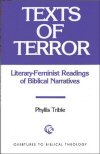 Professor Trible focuses on four variations upon the theme of terror in the Bible. By combining the discipline of literary criticism with the hermeneutics of feminism, she reinterprets the tragic stories of four women in ancient Israel: Hagar, Tamar, an unnamed concubine, and the daughter of Jephthah. In highlighting the silence, absence, and opposition of God, as well as human cruelty, Trible shows how these neglected stories—interpreted in memoriam—challenge both the misogyny of Scripture and its use in church, synagogue, and academy.
The approach of Phyllis Trible in her book Texts of Terror is a sophisticated attempt to grapple with [negative texts]. . . calling the reader to identify with biblical women both in their oppression and in their struggle for freedom. . . . Trible enables an engagement with these biblical narratives which is both profound and challenging.
—Paul M. Joyce, lecturer of theology, University of Oxford
About Phyllis Trible
Phyllis Trible is an internationally known biblical scholar and rhetorical critic. A past president of the Society of Biblical Literature, she began her collegiate teaching career at Wake Forest University in 1963. After leaving in 1971, she taught at Andover Newton Theological School in Massachusetts until she went to Union Theological Seminary in New York in 1979 as a professor of Old Testament. From 1981 until her appointment to the Wake Forest University School of Divinity in 1998, she was the Baldwin Professor of Sacred Literature at Union Theological Seminary.
Trible, a leader in the text-based exploration of women and gender in Scripture, lectures extensively in the United States and abroad. She is also the author of the volume on Jonah in the New Interpreter's Bible series.
More details about these resources