Calvin and the History of Calvinism Collection (31 vols.)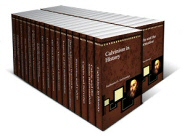 Calvin and the History of Calvinism Collection (31 vols.)
•
Runs on Windows, Mac and mobile.
Overview
Calvin and the History of the Calvinism Collection (31 Vols.) assembles some of the most important secondary literature published in the area of Reformation history and theology and the history of Calvinist thought in faith and culture. The expositional skill and theological organization of John Calvin led to a transforming movement beginning with the transformation of the individual and enveloping the role of a society. With these volumes you will be able to step into history and follow the birth of Calvin's thought to the formation of Geneva, study the trial and execution of Michael Servetus, trace the growth and expansion of Calvinism from Geneva through Europe and into the Americas, and survey Calvinism as a theological system.
Included in this collection are a number of essays commemorating the 400th birthday of John Calvin. These essays were delivered to the general assembly of the Presbyterian Church and to Union Theological Seminary and address the staying power of Calvin's thought and the theological fortitude of the system birthed from his life and work. The addresses are vital to understanding the role of Calvinism—particularly American Calvinism—throughout the nineteenth century and the perception of Calvinism at the dawn of the twentieth century.
The volumes in this collection will be welcomed companions for academics, pastors, students, and anyone interested in Calvinism as a formative movement in history. What's more, with the Logos edition of these classic works you have easy access to your preferred Scripture versions and other pertinent books and articles on Calvin and Calvinism. All Scripture references display the verse on mouse over, and each reference is linked to the original language texts of the Bible and the English translations in your digital library.
Key Features
Fifteen essays commemorating Calvin's 400th birthday
Studies on the history of Calvinism in Europe and America
Articulation of the key tenets of Calvinism
Integration with Scripture references and the resources in your digital library
Praise for the Print Edition
. . . Calvin's theology interests us in its historical context as an outstanding record of Reformation theology that historically—and at times even legally—has served as a basis of proclamation in modern Protestant churches.
Calvin helped the Reformation change the entire focus of the Christian life. Calvin's teaching, preaching, and catechizing fostered growth in the relationship between believers and God.
—Joel R. Beeke
Calvin's theological heritage has proved fertile perhaps to a greater extent than any other Protestant writer. Richard Baxter, Jonathan Edwards, and Karl Barth, in their very different ways, bear witness to the pivotal role that Calvin's ideas have played in shaping Protestant self-perceptions down the centuries. . . . It is impossible to understand modern Protestantism without coming to terms with Calvin's legacy to the movement which he did so much to nourish and sustain.
—Alister E. McGrath
The fundamental issue for John Calvin—from the beginning of his life to the end—was the issue of the centrality and supremacy and majesty of the glory of God.
John Calvin is a man of distinguished reputation, one of the great figures of church history.
—Wulfert de Greef
It would hardly be too much to say that for the latter part of his lifetime and a century after his death John Calvin was the most influential man in the world, in the sense that his ideas were making more history than those of anyone else during that period. Calvin's theology produced the Puritans in England, the Huguenots in France, the 'Beggars' in Holland, the Covenanters in Scotland, and the Pilgrim Fathers of New England, and was more or less directly responsible for the Scottish uprising, the revolt of the Netherlands, the French wars of religion, and the English Civil War. Also, it was Calvin's doctrine of the state as a servant of God that established the ideal of constitutional representative government and led to the explicit acknowledgment of the rights and liberties of subjects. . . . It is doubtful whether any other theologian has ever played so significant a part in world history.
[Calvin] easily takes the lead among the systematic expounders of the Reformed system of Christian doctrine. . . Calvin's theology is based upon a thorough knowledge of the Scriptures. He was the ablest exegete among the Reformers, and his commentaries rank among the very best of ancient and modern times. His theology, therefore, is biblical rather than scholastic, and has all the freshness of enthusiastic devotion to the truths of God's Word. At the same time he was a consummate logician and dialectician. He had a rare power of clear, strong, convincing statement. He built up a body of doctrines which is called after him, and which obtained symbolical authority through some of the leading Reformed Confessions of Faith.
What is it about Calvin that so inspires me? This: his disciplined style, his determination never to speculate, his utter submission to Bible words as God's words, his submission to Christ's Lordship, his sense of the holy, his concern to be as practical as possible; the fact that godly living was his aim and not theology for the sake of it. In a forest of theologians, Calvin stands like a Californian Redwood, towering over everyone else.
—Derek Thomas
A little bit of the world's history was enacted in Geneva.
—Ludwig Häusser
The greatest exegete and theologian of the Reformation was undoubtedly Calvin. . . . He is one of the greatest interpreters of Scripture who ever lived. He owes that position to a combination of merits. He had a vigorous intellect, a dauntless spirit, a logical mind, a quick insight, a thorough knowledge of the human heart, quickened by rich and strange experience; above all, a manly and glowing sense of the grandeur of the Divine. The neatness, precision, and lucidity of his style, his classic training and wide knowledge, his methodical accuracy of procedure, his manly independence, his avoidance of needless and commonplace homiletics, his deep religious feeling, his careful attention to the entire scope and context of every passage, and the fact that he has commented on almost the whole of the Bible, make him tower above the great majority of those who have written on Holy Scripture.
—Frederic William Farrar
Product Details
Title: Calvin and the History of Calvinism Collection
Author: John Calvin
Volumes: 31
Pages: 6,065
Individual Titles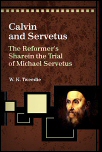 Calvin and Servetus: The Reformer's Share in the Trial of Michael Servetus
Author: W. K. Tweedie
Publisher: Paternoster
Publication Date: 1846
Pages: 245
The trial of Michael Servetus has been intensely debated, and history has judged it the most controversial period in Calvin's life. What was John Calvin's role in the execution of Servetus? What was the consensus of those present at the trial in Geneva? Until the mid-nineteenth century, many of the details were shrouded in mystery. In this volume, W.K. Tweedie re-examines the historical documents—including the records of the city of Geneva. Step into history with this enlightening survey of a dark chapter in Reformation history.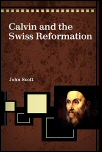 Calvin and the Swiss Reformation
Author: John Scott
Publisher: Seeley and Bunside
Publication Date: 1833
Pages: 408
Calvin and the Swiss Reformation provides a thorough treatment of the Swiss Reformation during and shortly after the time of John Calvin. The author gives careful attention to the leading figures and events of the Swiss Reformation, including: the life and writings of Ulrich Zwingli, the growth of the Anabaptist movement, the Swiss Civil War, and the history of John Calvin in Switzerland. Scott has composed a collection of essays that are accessible for the general reader, but also informative to the student of historical theology.
Calvin on Scripture and Divine Sovereignty
Author: John Murray
Publisher: P&R
Publication Date: 1960
Pages: 71
Calvin on Scripture and Divine Sovereignty contains three lectures delivered by John Murray at the Reformed Fellowship in Grand Rapids, Michigan in May, 1959. Murray's lectures reflect on Calvinism on the 450th birthday of Calvin and the 400th anniversary of publication of the definitive Latin edition of Calvin's Institutes of the Christian Religion in 1559. In these lectures, Murray explores Calvin's doctrine of Scripture, which plays a central role in the grounding and development of Calvin's theology. He also shows how Calvin's foremost doctrine—the sovereignty of God—rests squarely on Scripture for its foundation.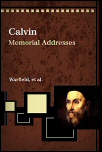 Calvin: Memorial Addresses
Author: B. B. Warfield, et. al.
Publisher: Presbyterian Committee of Publication
Publication Date: 1909
Pages: 286
In 1909, on Calvin's 400th birthday, the General Assembly of the Presbyterian Church gathered to hear a dozen addresses on the life and influence of John Calvin. Many of America's foremost theologians spoke on Calvin's theology and its historical influence, including B.B. Warfield, James Orr, Richard Reed, and Charles Merle D'Aubigne. Their lectures were collected into this singular volume and, taken together, serve as an important retrospective not only on Calvin's life and influence, but on the state of Calvinism in the early twentieth century.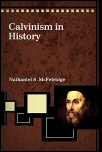 Calvinism in History
Author: Nathaniel S. McFetridge
Publisher: Presbyterian Board of Publication
Publication Date: 1882
Pages: 157
Calvinism in History contains six lectures on Calvinism delivered at the Wakefield Presbyterian Church in Germantown, Pennsylvania by Nathaniel S. McFetridge. These lectures were composed in the context of leisure reading and regular pastoral duties, as well as within the author's self-acknowledged debt to the works and teaching of A.A. Hodge. This volume contains four lectures on Calvinism, covering politics, United States history, morality, and evangelism. Each lecture combines Calvin's words with historical reflection, and argues for the central role of Calvinism in the development and spread of Western thought. Calvinism, says McFetridge, denotes not only a system of theology, but extends its influence to the spheres of politics, culture, and science.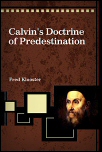 Calvin's Doctrine of Predestination
Author: Fred Klooster
Publisher: Calvin Theological Seminary
Publication Date: 1961
Pages: 77
The doctrine of predestination aroused opposition in Calvin's own day, and it remains—nearly 500 years later—one of Calvin's most contentious and most-debated doctrines. In this concise volume, Fred Klooster offers an excellent summary to this difficult doctrine. He analyzes, in particular, Calvin's doctrine of double predestination. This volume concludes with a detailed bibliography.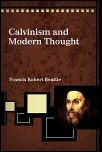 Calvinism and Modern Thought
Author: Francis R. Beattie
Publisher: Westminster
Publication Date: 1901
Pages: 48
In this volume, Francis Robert Beattie argues that Calvinism is the system of theology best equipped to deal with modern thought. He also shows why Calvinism has thrived in America, especially with regard to history, philosophy, science, and sociology. Calvinism, according to Beattie, remains popular as a worldview because of its understanding of human history and its scheme of civil government.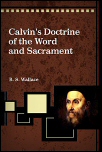 Calvin's Doctrine of the Word and Sacrament
Author: Ronald S. Wallace
Publisher: Oliver and Boyd
Publication Date: 1953
Pages: 253
The most important moments of a worship service, for John Calvin, happen during the preaching of the Word and the celebration of the sacraments. These are the chief means of grace, and the significant moments where God reveals himself. In this volume, Ronald S. Wallace exposes the critical relationship in Calvin's thought between Word and sacrament, relying heavily on primary sources, especially Calvin's Institutes and commentaries.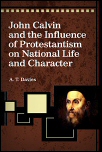 John Calvin and the Influence of Protestantism on National Life and Character
Author: Alfred T. Davies
Publisher: Henry E. Walter
Publication Date: 1946
Pages: 46
Although Calvinism was a transformative theological movement, it was more than that. It also profoundly reshaped the political condition of Europe for centuries afterward, and contributed to the development of modern conceptions of freedom, liberty, and democracy in both Europe and America. In this volume, Alfred Thomas Davies traces the development of Protestantism—especially Calvinism—as it relates to national identity, pointing out the places where politics and theology have intermingled.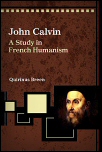 John Calvin: A Study in French Humanism
Author: Quirinus Breen
Publisher: Eerdmans
Publication Date: 1968
Pages: 174
John Calvin wrote during a time of enormous cultural flourishing. Europe had only recently rediscovered classical literature, leading to the expansion and appreciation of art and literature and a new appreciation for the humanities. This volume explores the relationship between Calvin and the humanist flourishing characteristic of the cultural context in which he wrote, including the elements of humanism found in Calvin's works.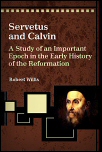 Servetus and Calvin: A Study of an Important Epoch in the Early History of the Reformation
Author: Robert Willis
Publisher: Henry King and Co.
Publication Date: 1846
Pages: 541
Michael Servetus is one of the most infamous figures of the Reformation. His doctrines of the Trinity and original sin have been labeled as foundations for modern Unitarianism. In this volume, Robert Willis investigates the untold life and achievements of Michael Servetus, including his success as a physician, astronomer, and geographer. Servetus was responsible for many of the innovations in science and philosophy during the rise of sixteenth century humanism, many of which are overshadowed by his controversial theology. This volume uncovers the story of the life, writings, and trial of Servetus.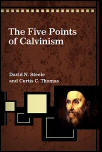 The Five Points of Calvinism: Defined, Defended, and Documented
Authors: David N. Steele and Curtis C. Thomas
Publisher: P&R
Publication Date: 1963
Pages: 100
The five points of Calvinism: The basic framework of God's plan of salvation, or man-made dogmas? In this concise and compelling work, the authors clearly define each of the five points, defend them on the basis of Scripture, and document literature from the past which explains and supports Calvinism.
Part One deals with the history and contents of Calvinism: why five points, when and how they were formulated, what they teach us, and how they differ from Arminianism. Part Two examines the biblical foundation for the five points from over 250 passages of Scripture. Part Three encourages further study by providing full source information and a brief review of the best older writings on the whole Calvinistic system and on each point.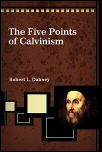 The Five Points of Calvinism
Author: Robert L. Dabney
Publisher: Presbyterian Committee of Publication
Publication Date: 1895
Pages: 80
The five points of Calvinism—total depravity, unconditional election, limited atonement, irresistible grace, and the perseverance of the saints—were first defined by the Synod of Dordrecht years after Calvin's death in response to the theological positions of Arminius. These claims were enormously influential in the construction of all Reformed confessions during the seventeenth century and thereafter. In this concise volume, Robert Lewis Dabney traces the history of Calvin's original ideas and the fruition of those ideas in later Reformed communities. Dabney pays particular attention to the development of the five points within Presbyterian churches and orients his discussion towards those with little or no formal theological training. Dabney thoroughly explains each point with numerous Scripture references and historical anecdotes.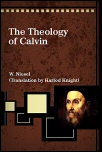 The Theology of Calvin
Author: Wilhelm Niesel
Translator: Harold Knight
Publisher: Westminster
Publication Date: 1958
Pages: 254
Calvin was prolific, and the material written about Calvin's system of theology is vast. This volume attempts to address the challenge of understanding the whole of Calvin's theology. Wilhelm Niesel shows the previous efforts to understand Calvin's thought have compounded the contradictions. He examines the key topics in Calvin's Institutes, with chapters devoted to the knowledge of God, the Trinity, creation, providence, sin, the grace of Christ, prayer, the sacraments, and government. The Theology of Calvin is a critical tool for specialists, a definitive text for students, and a lucid source of enlightenment for serious lay readers who want to investigate for themselves the major thinker and theologian of Reformed Christianity.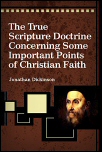 The True Scripture Doctrine Concerning Some Important Points of Christian Faith
Author: Jonathan Dickinson
Publisher: G. Rogers
Publication Date: 1741
Pages: 252
Written during the height of the First Great Awakening in America, Dickinson's volume is widely considered one of the first and most important texts on Calvinism in a uniquely American context. The author defends the doctrine of original sin, predestination, and justification and extends a clarion call for repentance. Dickinson explains the role of Christ's sacrifice in the conversion of sinners and lays stress upon the sufficiency of Christ for the sanctification of believers. This volume contains five discourses on Calvinism delivered by the first president of the College at Princeton, New Jersey (now Princeton University).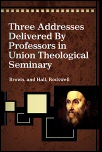 Three Addresses Delivered By Professors in Union Theological Seminary in Commemoration of the Four Hundredth Anniversary of the Birth of John Calvin
Authors: William W. Rockwell, William A. Brown, and Thomas C. Hall
Publisher: Union Theological Seminary
Publication Date: 1909
Pages: 47
These three addresses were given on Calvin's 400th birthday to the faculty and students of Union Theological Seminary. The professors outline both the important themes of Calvin's work and acknowledge his established and lasting influence on cultural and theological education. The addresses begin with Calvin as a student and his own spiritual and theological formation. As a second generation reformer, Calvin was able to harness the momentum of those before him and propel the spirit and theology of the Reformation forward. For Calvin, the conversion and spiritual formation of the individual within the doctrinal community was the pinnacle of his theological system.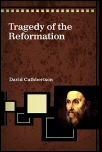 A Tragedy of the Reformation
Author: David Cuthbertson
Publisher: Oliphant, Anderson, and Ferrier
Publication Date: 1912
Pages: 66
Michael Servetus is remembered by history for his heretical views on the Trinity, as they are found in his book, Christianismi Restitutio, or Restoration of Christianity, published in 1553. During the theological controversy in Geneva, all known copies of his book were burned, leaving only a handful of editions remaining, scattered in libraries throughout Europe. In A Tragedy of the Reformation, David Cuthbertson traces the history of its publication, along with modern attempts to retrieve and preserve the rare copies which remain.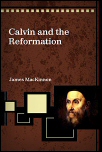 Calvin and the Reformation
Author: James MacKinnon
Publication Date: 1936
Pages: 302
James MacKinnon's Calvin and the Reformation contains a study of Calvin's role in the Reformation, including his influence upon subsequent generations of Reformers during the latter sixteenth and seventeenth centuries. This important volume places Calvin in his proper theological and political context.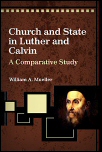 Church and State in Luther and Calvin: A Comparative Study
Author: William A. Mueller
Publisher: Broadman
Publication Date: 1954
Pages: 187
Do all kings have a divine right to rule? Should the throne (or state) control the altar of worship? In Church and State in Luther and Calvin: A Comparative Study William Mueller approaches the primary texts of Luther and Calvin on issues of the visible and invisible church, natural law, the nature of secular authority, and religious liberty. The author treats each reformer within their own historical context and compares similarities and differences between the two within the variegated landscape of the Renaissance.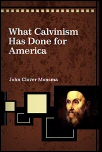 What Calvinism Has Done for America
Author: John C. Monsma
Publisher: Rand McNally & Co.
Publication Date: 1919
Pages: 188
Calvinism in America catalogues the ideology responsible for the growth of liberty and democracy in Puritan America. The author does not set out to retell a history of the theology of John Calvin, but a history of Calvinism as a worldview and a driving force for national identity and progress. Monsma discusses the places where American ideology—especially political conceptions of liberty and democracy—overlaps with the Calvinist worldview. The author argues for reflection on the history of the Puritan movement, saying that many of the institutions established by early Puritans have retained their form but lost the original substance. Consequently, much of the success of their vision is lost to current generations.
Calvin and His Enemies: A Memoir of the Life, Character, and Principles of Calvin
Author: Thomas Smyth
Publisher: Presbyterian Board of Publication
Publication Date: 1856
Pages: 180
Calvin and His Enemies, written at the request of the faculty of Princeton Theological Seminary, contains a lecture delivered by Thomas Smyth at the General Assembly of the Presbyterian Church in 1843. This volume covers the history of Calvinism and pays special attention to the place of Presbyterianism in the history of Calvinism. Smyth outlines how Calvin was regarded by both his contemporaries and his followers, and defends the genius of his works.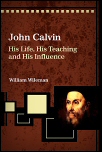 John Calvin: His Life, His Teaching and His Influence
Author: William Wileman
Publisher: Robert Banks and Son
Publication Date: 1909
Pages: 147
In this classic work on Calvin, William Wileman examines the connection between Calvin's life and thought. He examines the events of his formative years in Paris and Geneva and connects them to Calvin's theology. The book concludes with an examination of Calvinism.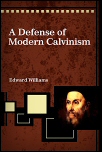 A Defense of Modern Calvinism
Author: Edward Williams
Publisher: James Black
Publication Date: 1812
Pages: 544
In this volume, Edward Williams defends Calvinism against the critique of the Bishop of Lincoln in his Refutation of Calvinism. Williams clarifies Calvin's thought for a popular audience, examines how Calvin has been misunderstood and misquoted, and shows how Calvin has been manipulated by his detractors only to suit their own ends. This volume, Williams hopes, will call his readers back to ecclesiastical unity and discipline, and help them rediscover God's sovereignty as it is expressed in Calvinist theology. A Defense of Modern Calvinism also contains chapters on original sin, free will, regeneration, justification, predestination, and more.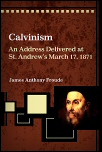 Calvinism: An Address Delivered at St. Andrew's
Author: James A. Froude
Publisher: Longmans, Green, and Co.
Publication Date: 1871
Pages: 60
In this address, James Anthony Froude speaks on the state of nineteenth century Calvinism in Scotland. He acknowledges the "change of tone throughout Europe and America" toward Calvinism, as it had been newly discredited by liberal theologians and lost mainstream acceptance in Europe. Nonetheless, he argues for a bright future for Calvinism. In this address, he confronts popular and philosophical skeptics, and constructs a sweeping history of Calvinism in the context of Western thought.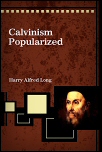 Calvinism Popularized
Author: H. A. Long
Publisher: Morison Brothers
Publication Date: 1885
Pages: 208
In Calvinism Popularized, H.A. Long writes on the influence of Calvinism in Scotland. He notes the enduring influence of Calvinism, but also argues that it must be made sensible for a popular audience. This volume contains a series of debates on total depravity, grace, the atonement, election, Christ's divinity, and salvation.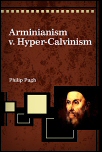 Arminianism v. Hyper-Calvinism
Author: Philip Pugh
Publisher: Arthur Tomkinson
Publication Date: 1860
Pages: 264
These letters contain the exchange between Philip Pugh and Samuel Cozens, a Baptist minister, in response to a sermon preached by Cozens in June, 1852. Pugh responded to Cozen at the request of a group of Methodist ministers, thus beginning a lively theological debate in the form of correspondence—published for the general public.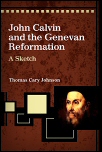 John Calvin and the Genevan Reformation: A Sketch
Author: Thomas C. Johnson
Publisher: Presbyterian Committee of Publication
Publication Date: 1900
Pages: 94
John Calvin and the Genevan Reformation: A Sketch contains a series of lectures delivered at Union Theological Seminary in 1899 and 1900. These lectures on the Reformation in Geneva outline Calvin's role in the movement, and aim to encourage the historical study of the Reformation in general and Calvinism in particular. This volume explains the events which helped establish Calvin as a key leader of Reformed Christianity. Although it contains a brief biographical sketch, it is largely devoted to the role the events in Geneva played in shaping the theology of Calvin and his successors.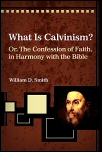 What Is Calvinism?: Or, The Confession of Faith, in Harmony with the Bible and Common Sense
Author: William D. Smith
Publisher: Presbyterian Board of Publication
Publication Date: 1854
Pages: 260
What Is Calvinism? portrays a conversation between a minister and a convert about Calvinism, showing how it has been misrepresented, and clarifying its central doctrines. This volume contains chapters on God's sovereignty, election, original sin, and free grace, along with discussions on church government, biblical republicanism, and the connection between nineteenth century Presbyterianism and the sixteenth century Reformers.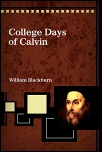 College Days of Calvin
Author: William M. Blackburn
Publisher: Presbyterian Board of Publication
Publication Date: 1865
Pages: 156
College Days of Calvin is part theological, part biographical, and in the words of its author, "sets forth the facts in the early life of John Calvin." This book covers Calvin's early years at Orleans, Bourges, and Paris, and shows how his early years anticipate his later theological development. Blackburn draws heavily on Merle d'Aubigne's History of the Reformation in the Time of Calvin (8 Vols.).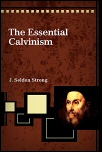 The Essential Calvinism
Author: J. Selden Strong
Publisher: Pilgrim Press
Publication Date: 1909
Pages: 185
The Essential Calvinism was inspired by Abraham Kuyper's 1898 lecture on Calvinism, in which Kuyper argued that Calvinism ought to be conceived of as a comprehensive system of thought. In this volume—published ten years later on Calvin's four hundredth birthday in 1909, J. Seldon Strong pushes Kuyper's argument one step further. This volume contains chapters on the development of Calvinism, the theological sources of The Institutes, Calvinism applied, theocracy, and the dynamics of Protestantism.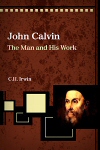 John Calvin: The Man and His Work
Author: C. H. Irwin
Publisher: Religious Tract Society
Publication Date: 1909
Pages: 185
In John Calvin: The Man and His Work, C.H. Irwin outlines Calvin's life and influence. This volume contains lengthy chapters on Calvin as a Reformer, Calvin's influence on Reformed Christianity, and Calvin as a religious teacher. It also includes twenty-nine illustrations and a detailed bibliography of works by and about Calvin.
About John Calvin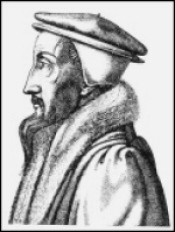 John Calvin was a theologian, pastor, biblical exegete, and tireless apologist for Reformed Christianity, and ranks among the most important thinkers in church history. His theological works, biblical commentaries, tracts, treatises, sermons, and letters helped establish the Reformation as a legitimate and thriving religious movement throughout Europe. No theologian has been as acclaimed or assailed as much as Calvin. Calvinism has spawned movements and sparked controversy throughout the centuries. Wars have been fought both to defend and destroy it, and its later proponents began political and theological revolutions in Western Europe and America. The breadth and depth of the engagement with his works since they first appeared four centuries ago—and their continuous publication since then—testifies to Calvin's importance and lasting value for the church today. Thinking Christians from the twenty-first century who ignore Calvin's writings do so at their own peril.
John Calvin was born on July 10, 1509 in Noyan, in France. He began his work in the church at the age of twelve, intending—at the request of his father—to train for the priesthood. Calvin attended the Collège de la Marche in Paris, before studying law at the University of Orléans in 1526 and continuing his studies at the University of Bourges. In 1532, Calvin's first published work appeared: a commentary on Seneca's De Clementia.
On year later, he befriended Nicolas Cop, the rector of the Collège Royal in Paris. This friendship resulted in trouble for Calvin when Cop was branded a heretic after calling for reform in the Catholic Church. Cop fled to Basel, and Calvin was forced from Paris. The controversy expanded when, on the evening of October 18, 1534, anonymous attacks against the Mass were posted on public buildings, fueling the violence in the city. Calvin left France for Basel in January. The controversy, and the trouble it caused Calvin, disciplined him in his writing project, and he began working on the first edition of The Institutes of the Christian Religion, which appeared in 1536.
In June, 1536, Calvin returned to Paris as the violence subsided, but was expelled again in August of 1536. He left for Strasbourg, but was forced to Geneva instead, where he stayed at the request of William Farel. He became a reader in the church in 1537. In late 1537, Calvin fled Geneva after a controversy surrounding the Eucharist. He traveled to Basel before accepting a position at the church in Strasbourg. There, Calvin continued working on both the second edition of the Institutes and his Commentary on Romans. At the urging of his friends, Calvin married Idelette de Bure. He returned to Geneva in 1541.
Upon his arrival to Geneva, Calvin began writing prolifically. He continued his revisions to the Institutes, preached weekly, taught the Bible during the week, and delivered lectures on theology. Calvin also continued work on his New Testament commentaries.
His return to Geneva was not without controversy, however. He faced opposition from the libertines, who, in 1552, compromised his authority and nearly succeeded in banishing him from Geneva a second time. His greatest threat, however, came from his theological antagonist, Servetus. The frequent letters between Calvin and Servetus contain elements of their tenuous relationship, which were exacerbated when Servetus visited Geneva against Calvin's orders, publicly denied the Trinity, and disgraced the church. He was condemned for heresy and executed.
By 1553, Calvin was praised for his work in uniting Geneva and securing the future of the Reformation. The church housed refugees from England—among them John Knox—who brought the Reformed faith to England. Calvin also sent more than 100 Reformed missionaries to France, and frequently corresponded with both political leaders and second generation Reformers throughout Europe. He also founded a school in Geneva, and Theodore Beza became its first rector. Calvin's influence quickly expanded beyond the vicinity of Geneva.
During the 1550s, Calvin's health began to decline, prompting him to undertake a final revision and expansion of The Institutes of the Christian Religion. It was published in 1559, and was immediately reprinted and translated throughout Europe. Calvin became ill in early 1564, and preached his last sermon on February 6 of that same year. His health worsened throughout the spring, and he died on May 27. Thousands flocked to view his body, forcing the council in Geneva to bury him in an unmarked grave.