Day One Biblical Ethics Series (2 vols.)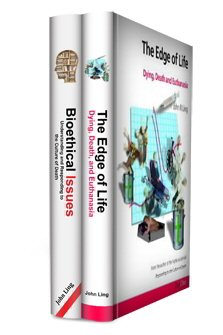 Overview
In the Day One Biblical Ethics Collection, John R. Ling guides readers through controversial issues in contemporary bioethics. Tackling challenging topics such as the reality of death and surrounding issues, including abortion, euthanasia, cloning, IVF, stem-cell technology, and eugenics, Ling looks to the Bible for guidance. In these two books, he suggests an outline for a Christian response, helping readers think through topics rather than avoid them, and to engage with the culture in a way that honors life. Ling's practical texts offer a wealth of insight and information for Christians as they face difficult realities.
With Logos, these volumes are enhanced with cutting-edge research tools. Scripture citations appear on mouseover in your preferred English translation. Important terms link to dictionaries, encyclopedias, and a wealth of other resources in your digital library. Powerful topical searches help you find exactly what you're looking for. With Logos Bible Software, the most efficient and comprehensive research tools are in one place, so you get the most out of your study.
Key Features
Provides a thorough examination of topics in bioethics
Looks to the Bible for counsel on addressing issues such as euthanasia and abortion
Offers discussion of challenging issues in accessible language
Product Details
Individual Titles

John R. Ling surveys new technologies which present serious bioethical considerations such as savior siblings, human cloning, three-parent IVF, and regenerative medicine, as well as the "old" bioethical issues of abortion, surrogacy, infanticide, and euthanasia. Ling argues that we now live in a culture of death—and that in ethics and practices, modern medicine has departed from its historic roots, and started to threaten life instead of save it. This book does not seek trite, comfortable answers. Rather, it develops a rugged bioethical framework, based on principles derived from the Bible and supported by analyses of recent trends in medicine and science. Ling calls for a response of "principled compassion" to overcome this culture of death and gain a culture of life.
Thoroughly biblical, highly readable, concise yet remarkably comprehensive—a heartfelt call for all Christians to engage with bioethics. I hope many will both read it and respond to it.
—Trevor Stammers, program director, bioethics and medical law, St. Mary's University, London
This revised and expanded edition of Dr Ling's still concise but broad-ranging book on life issues is excellent. It is important for thinking Christians to keep abreast of the vital ethical issues that it covers so clearly. We give thanks to God for such an informative and challenging book.
—Gary Brady, pastor, Childs Hill Baptist Church, London
While medical advances have brought innumerable blessings to people in the last fifty years, they have also spawned a dizzying world of questions about life and death. John Ling's Bioethical Issues is a welcome help to navigate these dangerous waters, offering a map of current medical options, and the compass of wisdom to discern what is right.
—Joel R. Beeke, president, Puritan Reformed Theological Seminary, Grand Rapids, Michigan
This is a wonderful resource. In the complex and fast-moving arena of medical science, John Ling explains the ethical issues, sets out the biblical principles, and points us towards an appropriate response. We honor God by defending and cherishing human life, not only within our own families and church fellowships but also in our nation as an expression of our love for our neighbors.
—Bill James, pastor, Emmanuel Evangelical Church, Leamington Spa
The book is splendid: bang up-to-date and learned but wonderfully accessible to the layman. The style is so lively and engaging that it is a delight to read. I have read it from cover to cover with delight and admiration. We are ordering copies for all the Education team and the heads of Care and Communications.
—Jack Scarisbrick, founder and national chairman, LIFE

Explore expert analysis of bereavement, eugenics, aging, suicide, hospices, autonomy, and living wills from a biblical perspective. John Ling considers the Hippocratic oath to show how modern medicine continues to present serious bioethical concerns. His clear and practical guidance calls for a return to the culture of life and a response of principled compassion to difficult issues surrounding death.
About John R. Ling
John R. Ling was a lecturer in biochemistry and bioethics at the Institute of Biological Sciences, University of Wales, Aberystwyth. He studied at Leeds, Pennsylvania State, and Nottingham Universities. He has taught, debated, broadcast and written about bioethical issues for the last 30 years. He is the founding chairman of the Aberystwyth LIFE Group, cofounder of Evangelicals for Life, and a member of the Central Committee of LIFE, the UK's leading pro-life organization since 1984. He was appointed to its board of trustees in 2009.
More details about these resources