Michael: Historical, Epigraphical, and Biblical Studies in Honor of Prof. Michael Heltzer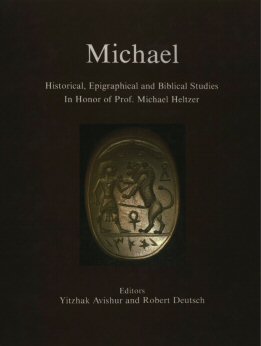 Michael: Historical, Epigraphical, and Biblical Studies in Honor of Prof. Michael Heltzer
•
Runs on Windows, Mac and mobile.
Your Custom Discount
Reg. Price $35.95
Pre-order Price $29.95
Your Price $29.95
You Save $6.00 16%
Your Price
What's Pre-Pub?
$29.95
Reg.: $35.95
Print: $80.00
Overview
Dig deep into biblical archaeology with 38 essays, including "A Royal Ammonite Seal Impression," "Ebla and Us," and "Genesis 1:1, an Archaeological Approach." This collection was presented to archaeology professor Michael Heltzer of the University of Haifa in Israel. Edited by Yitzhak Avishur and Robert Deutsch and with contributions by leading academics such as André Lemaire, Meir Malul, and Maria J. Amadasi-Guzzo, this volume offers insights into ancient culture through archaeological interpretation.
With Logos Bible Software, this valuable volume is enhanced with cutting-edge research tools. Scripture citations appear on mouseover in your preferred English translation. Important terms link to dictionaries, encyclopedias, and a wealth of other resources in your digital library. Powerful topical searches help you find exactly what you're looking for. Tablet and mobile apps let you take the discussion with you. With Logos Bible Software, the most efficient and comprehensive research tools are in one place, so you get the most out of your study.
Key Features
Presents 38 essays by leading archaeologists and academics
Covers a diverse selection of cultural, linguistic, and historical topics
Includes a biographical essay on archaeologist Michael Heltzer
Product Details
Title: Michael: Historical, Epigraphical, and Bibical Studies in Honor of Prof. Michael Heltzer
Editor: Yitzhak Avishur and Robert Deutsch
Publisher: Archaeological Center Publications
Publication Date: 1999
Pages: 446
Resource Type: Topical
Topic: Ancient Near East
About the Editors
Yitzhak Avishur (b. 1939) is emeritus professor and former chair of the Hebrew language department at the University of Haifa in Israel. He was born in Iraq, and he grew up in Israel. He attended David Yellin Teachers' Training College in Jerusalem, graduating in 1962. He taught for seven years, while simultaneously studying at Hebrew University, earning his BA and then his MA magna cum laude. He earned his PhD from Hebrew University in 1975. He taught at Ben-Gurion University for 11 years, establishing and chairing the Bible department from 1970 to 1973. Avishur then taught at Hebrew University and the Teachers Higher Education College. In 1984 he started teaching at University of Haifa on Mount Carmel, where he remained until his retirement. His interests include the Bible, Hebrew and ancient Semitic languages, and the history of the Middle East. He is the author of Studies in Hebrew and Ugaritic Psalms.
Robert Deutsch holds a PhD from Tel Aviv University. His focus is on inscriptions from the First Temple Period, ancient coins, and Jewish iconography. He is a biblical archaeologist, and he also taught at the University of Haifa in Israel. He is the proprietor of the Archaeological Center in Old Jaffa, Israel. Deutsch is the author and editor of several books, including Messages from the Past: Hebrew Bullae from the Time of Isaiah through the Destruction of the First Temple and West Semitic Epigraphic News of the 1st Millennium BCE.
About Michael Heltzer
Michael Heltzer (b. 1928) is an archaeology professor at the University of Haifa, Israel. He studied at the University of Leningrad's department of Semitic languages and the ancient Orient. He chose to specialize in Judaic issues, although at that time in Soviet Russia no specialists were allowed to teach those subjects. He received his MA in 1950 and his PhD in 1954, while simultaneously teaching high school. In 1963 he finally received an assistant professorship at the Pedagogic Institute of Vilnius, and a professorship in 1970. He imigrated to Israel in 1971. He began teaching at the University of Haifa in 1972 and became a full professor in 1980. He has written and edited several books, including The Province Judah and the Jews in Persian Times and Rural Community in Ancient Ugarit.
Sample Pages from the Print Edition