Zondervan Biblical Studies and Theology Collection (11 vols.)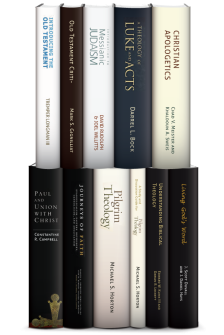 Zondervan Biblical Studies and Theology Collection (11 vols.)
•
Runs on Windows, Mac and mobile.
Overview
The Zondervan Biblical Studies and Theology Collection provides the beginning and advanced theological student with an ample selection of contemporary Old Testament and New Testament resources. The texts in this collection introduce theological perspectives, interpretive processes, and various ecclesiastical traditions and practices to prepare the reader for more advanced theological studies, while still offering intense, focused studies of particular topics for experienced scholars. The collection takes the reader through Old Testament criticism, Messianic Judaism, the theology of Luke and Acts, apologetics, exegetical and theological studies of Paul, the spiritual process of conversion from one denomination to another, looking at the whole picture of biblical theology, and more. The Zondervan Biblical Studies and Theology Collection provides useful overviews with supplemental and introductory texts as well as insightful resources for in-depth study.
With the Logos edition of Zondervan Biblical Studies and Theology Collection, these valuable volumes are enhanced by amazing functionality. Scripture citations link directly to English translations and original-language texts, and important terms link to dictionaries, encyclopedias, and a wealth of other resources in your digital library. Perform powerful searches with the Topic Guide to instantly gather relevant resources, enabling you to jump into the conversation with the foremost scholars on each of these topics in biblical studies. Tablet and mobile apps let you take the discussion with you. With Logos Bible Software, the most efficient and comprehensive research tools are in one place so you get the most out of your study.
Key Features
A variety of texts on the Old Testament, New Testament, and contemporary theology
An anthology of apologetics
Discussions by prestigious theologians on the spiritual journey of conversion
Texts designed to help you see Scripture in the context of your life
Contributors
Product Details
Title: Zondervan Biblical Studies and Theology Collection
Publisher: Zondervan
Volumes: 11
Pages: 3,615

Introducing the Old Testament: A Short Guide to Its History and Message is an abridged edition of the bestselling book, An Introduction to the Old Testament. This rich guide makes Old Testament scholarship accessible to the average reader. Renowned Bible scholar Tremper Longman III gathers the best historical research and literary analysis to lead the reader through each book of the Old Testament. Most significantly, Longman explores the meaning of each book in light of its cultural setting. Abbreviated chapters highlight key research discoveries, ensuring that the information is both significant and manageable. Including questions at the end of each chapter for group discussion or personal reflection, Introducing the Old Testament makes the words, history, and culture of biblical times come alive for readers. Laypersons as well as church leaders will take away a solid understanding of the historical background and theological message of the Old Testament and be inspired to apply biblical truths to their lives.
Tremper Longman III is an Old Testament scholar and award-winning author. He earned degrees from Ohio Wesleyan University, Westminster Theological Seminary, and Yale University. He taught for 18 years at Westminster in Philadelphia before becoming a professor of biblical studies and chair of the religious studies department at Westmont College. He has served as a translator and consultant on many translations of the Bible, including The New Living Translation, The New Century Version, and the Holman Standard Bible. He is the Old Testament Editor for the revised Expositor's Bible Commentary, and has authored many books, including Dictionary of Biblical Imagery, Daniel in the NIV Application Commentary, and An Introduction to the Old Testament.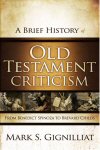 Modern Old Testament interpretation arose in an intellectual environment marked by interest in specific historical contexts of the Bible, attention to its literary matters, and, most significantly, the suspension of belief. A vast array of scholars contributed to the large, developing complex of ideas and trends that now serves as the foundation of contemporary discussions on interpretation. In A Brief History of Old Testament Criticism, Mark Gignilliat brings together the theories of Baruch Spinoza, W. M. L. de Wette, Julius Wellhausen, Hermann Gunkel, and others to serve as windows into the critical trends of Old Testament interpretation in the modern period. This concise overview is ideal for classroom use. It lays the foundation of Old Testament criticism and provides a working knowledge of the major critical interpreters of the Old Testament, their approaches to the Bible, and the philosophical background of their positions. Each chapter concludes with a section for further reading, directing students to additional resources on specific theologians and theories.
Mark S. Gignilliat is assistant professor of divinity at Beeson Divinity School in Alabama, where he has taught Hebrew, Old Testament exegesis, and biblical theology since 2005. Before coming to Beeson Divinity School, he taught at Wycliffe Hall, University of Oxford. Gignilliat is the author of Paul and Isaiah's Servants and Karl Barth and the Fifth Gospel: Barth's Theological Exegesis of Isaiah. He has articles published in Scottish Journal of Theology, Horizons in Biblical Theology, Westminster Theological Journal, Biblica, and The Journal for Theological Interpretation. In his pre-doctoral days, he served as youth director at North Hills Community Church in Greenville, South Carolina.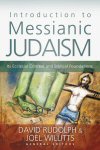 This book is the go-to source for introductory information on Messianic Judaism. Editors David Rudolph and Joel Willitts have assembled a thorough examination of the ecclesial context and biblical foundations of the diverse Messianic Jewish movement. Unique among similar works in its Jew-Gentile partnership, this book brings together a team of respected Messianic Jewish and Gentile Christian scholars, including Mark Kinzer, Richard Bauckham, Markus Bockmuehl, Craig Keener, Darrell Bock, Scott Hafemann, Daniel Harrington, R. Kendall Soulen, Douglas Harink, and others.
David J. Rudolph is the rabbi of Tikvat Israel Messianic Synagogue in Richmond, Virginia, and teaches New Testament at the MJTI School of Jewish Studies. David has been part of the Messianic Jewish community for over thirty-five years and has published numerous books and articles on Messianic Judaism, the New Testament, and Jewish-Christian relations.
Joel Willitts is associate professor in biblical and theological Studies at North Park University and has a breadth of experience in both the Christian church and the academy. Joel has published books, essays, and journal articles in the area of New Testament studies.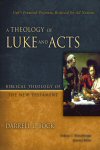 Zondervan's Biblical Theology of the New Testament Series has for years provided pastors, students, and readers with valuable analyses of New Testament books and their contents. In this latest installment, Darrell L. Bock draws from his years of experience in biblical studies to examine Luke and Acts and write an informative resource that's invaluable to those seeking holistic biblical understanding. A Theology of Luke and Acts identifies and evaluates the contribution of Luke, both to the New Testament and to the Bible as a whole. Bock aims to demonstrate Luke's significance and influence in the development of theological discourse. The text discusses Luke's themes and thematic relevance, the significance of language and vocabulary, and the contextual importance of Luke's placement in the Bible. Continuing the valuable tradition of the Biblical Theology of the New Testament Series, Bock's insights regarding Luke and Acts will prove a lasting resource for pastors and aspiring biblical scholars alike.
Darrell L. Bock is research professor of New Testament studies at Dallas Theological Seminary. Known for his work in Luke-Acts, Dr. Bock is a Humboldt Scholar (Tubingen University in Germany), an editor-at-large for Christianity Today, and from 2000–2001 he was president of the Evangelical Theological Society. A New York Times bestselling author, Bock has written over thirty books, including Luke in the NIV Application Commentary series, Studying the Historical Jesus: A Guide to Sources and Methods, Jesus According to Scripture, Breaking the Da Vinci Code, and commentaries on Luke and Acts in the Baker Exegetical Commentary on the New Testament (BECNT) series.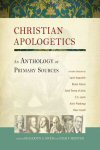 Christian Apologetics: An Anthology of Primary Sources makes available over fifty primary source selections that address various challenges to Christian faith in the history of Christian apologetics. The compilation represents a broad Christian spectrum, ranging from early writers like Saint Paul and Saint Augustine, to Saint Teresa of Avila and Blaise Pascal, to more recent and present day apologists such as C. S. Lewis, Alvin Plantinga, William Lane Craig, Richard Swinburne and Pope Benedict XVI. Insightful introductions, black-and-white images, concise section headings, and discussion questions guide readers toward a clearer understanding of classical defenses of Christianity. Annotated reading lists, a bibliography, and author and subject indices contribute to the suitability of this anthology as a textbook or supplemental reader. Christian Apologetics: An Anthology of Primary Sources is an authoritative reference for key persons, concepts, issues, and approaches in the history of Christian apologetics. It is especially useful as a supplemental textbook for students, allowing them to read great apologists and thinkers in their own words.
Chad V. Meister is professor of philosophy and theology at Bethel College in Mishawaka, Indiana. He is the author and editor of multiple books and articles including Building Belief, Evil: A Guide for the Perplexed, Debating Christian Theism with J. P. Moreland and Khaldoun Sweis, as well as God Is Great, God Is Good—winner of the Christianity Today Book of the Year. Meister is also editor of the Journal of the International Society of Christian Apologetics, book review editor for Philosophia Christi, and general editor with Paul Moser of the series Cambridge Studies in Religion, Philosophy, and Society.
Khaldoun A. Sweis teaches philosophy with the Oxford University Department for Continuing Education in the UK and is assistant professor of philosophy at Olive-Harvey College in Chicago, Illinois. His publications include Think: A Journal of the Royal Institute of Philosophy, the Journal of the International Society of Christian Apologetics, and Debating Christian Theism with J. P. Moreland and Chad Meister.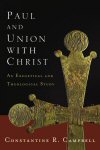 Paul and Union with Christ fills the gap for biblical scholars, theologians, and pastors pondering and debating the meaning of union with Christ.
Following a selective survey of scholarly work on union with Christ from the twentieth century to the present day, Greek scholar Constantine Campbell carefully examines every occurrence of the phrases "in Christ', "with Christ', "through Christ', "into Christ,' and other related expressions, exegeting each passage in context and taking into account the unique lexical contribution of each Greek preposition. Campbell then builds a holistic portrayal of Paul's thinking and engages contemporary theological discussions about union with Christ by employing his evidence-based understanding of the theme.
Constantine R. Campbell plays jazz and lectures in theology. Since 2000, Con has combined his two passions of Jesus and jazz music by performing and speaking at jazz concerts for churches, university groups, schools, and festivals. He is author of several books including Keep Your Greek, Not Ashamed, Colossians and Philemon: A Handbook on the Greek Text.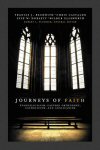 Journeys of Faith: Evangelicalism, Eastern Orthodoxy, Catholicism, and Anglicanism
Authors: Gregg Allison, Francis J. Beckwith, Craig A. Blaising, Chris A. Castaldo, Lyle W. Dorsett, Wilbur Ellsworth, Brad S. Gregory, and Robert A. Peterson
Editor: Robert L. Plummer
Publisher: Zondervan
Publication Date: 2012
Pages: 256
On average, Americans change their religious affiliation at least once during their lifetime. Today, a number of evangelical Christians are converting to Catholicism, Eastern Orthodoxy, and Anglicanism. Journeys of Faith examines the movement between these traditions from various perspectives. Four prominent converts to Eastern Orthodoxy, Catholicism, Evangelicalism, and Anglicanism describe their new faith traditions and their spiritual journeys into them. Response chapters offer respectful critiques. This book will provide readers with first-hand accounts of thoughtful Christians changing religious affiliation or remaining true to the traditions they have always known. Pastors, counselors, and students of theology will gain a wealth of insight into current faith migration within the church today.
Contributors
Chris A. Castaldo
Lyle W. Dorsett
Wilbur Ellsworth
Brad S. Gregory
Robert L. Plummer is associate professor of New Testament interpretation at The Southern Baptist Theological Seminary in Louisville, Kentucky. He is the author of 40 Questions about Interpreting the Bible, Paul's Understanding of the Church's Mission and numerous scholarly articles. He also serves as an elder at Sojourn Community Church.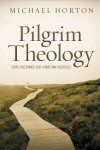 The 2011 award-winning publication The Christian Faith garnered wide praise as a thorough, well-informed treatment of the philosophical foundations of Christian theology, the classical elements of systematic theology, and exegesis of relevant biblical texts. Pilgrim Theology distills the distinctive benefits of this approach into a more accessible introduction designed for classroom and group study.
In this book, Michael Horton guides readers through a preliminary exploration of Christian theology in "a Reformed key." Horton reviews the biblical passages that give rise to a particular doctrine in addition to surveying past and present interpretations. Also included are sidebars showing the key distinctions readers need to grasp on a particular subject, helpful charts and tables illuminating exegetical and historical topics, and questions at the end of each chapter for individual, classroom, and small group reflection.
Pilgrim Theology will help undergraduate students of theology and educated laypersons gain an understanding of the Christian tradition's biblical and historical foundations.
Michael S. Horton is the author of over 20 books and host of The White Horse Inn, a nationally syndicated radio program. He is the J. Gresham Machen Professor of systematic Theology and Apologetics at Westminster Seminary California and the editor-in-chief of Modern Reformation magazine. A popular blogger and sought-after lecturer, his collected works are valuable resources.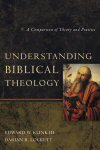 Cutting through the confusing array of interpretive strategies that claim the term "biblical theology," Edward Klink and Darian Lockett consider five schools of thought regarding biblical theology and handle each in turn, defining and giving a brief developmental history for each one, and exploring each method through the lens of one contemporary scholar who champions it. Using a spectrum between history and theology, each of five "types" of biblical theology are identified as either "more theological" or "more historical" in concern and practice. The five approaches to biblical theology include:
Klink and Lockett conclude by suggesting ways by which students of the Bible can learn from these approaches.
Edward W. Klink III received his PhD from the University of St. Andrews and is associate professor of New Testament at Talbot School of Theology, Biola University. He is the author of The Sheep of the Fold: The Audience and Origin of the Gospel of John, editor of The Audience of the Gospels: The Origin and Function of the Gospels in Early Christianity, and is currently writing a commentary on the Gospel of John for the Zondervan Exegetical Commentary on the New Testament series.
Darian R. Lockett received his PhD from the University of St. Andrews and is associate professor of New Testament at Talbot School of Theology, Biola University. He is the author of Purity and Worldview in the Epistle of James and is currently writing an introduction to the Catholic Epistles for the T&T Clark Approaches to Biblical Studies Collection. He has contributed several chapters on James and Jude to the SBL Methodological Reassessments of the Letters of James, Peter, and Jude series.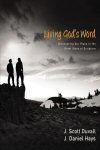 New Testament scholar J. Scott Duvall and Old Testament expert J. Daniel Hays—authors of the popular hermeneutics primer Grasping God's Word—invite lay and college-level Bible students to see how their faith journey relates to the big picture of the Bible. Living God's Word presents a broad narrative framework that encompasses every book of the Bible and demonstrates how believers make this story their own. Each section deals with a specific part of Scripture and includes reading and listening preparation, explanation, summary, observations about theological significance, connections to the overarching story of the Bible, and written assignments for further study. These features—combined with the authors' engaging style—make Living God's Word an ideal introductory college text, Sunday school elective, or small group study.
J. Scott Duvall received his PhD from Southwestern Baptist Theological Seminary and is professor of New Testament at Ouachita Baptist University. He is coauthor with George H. Guthrie of Biblical Greek Exegesis: A Graded Approach to Learning Intermediate and Advanced Greek and with Terry G. Carter and J. Daniel Hays of the textbook Preaching God's Word: A Hands on Approach to Preparing, Developing, and Delivering the Sermon.
J. Daniel Hays received his ThM from Dallas Theological Seminary and his PhD from Southwestern Baptist Theological Seminary. He is the dean of the Pruet School of Christian Studies and a professor of Old Testament at Ouachita Baptist University. He is the author of From Every People and Nation, and he has coauthored Grasping God's Word, Preaching God's Word, Journey into God's Word, The Story of Israel: A Biblical Theology, Iraq: Babylon of the End Times?, Apocalypse, and The Dictionary of Biblical Prophecy. He teaches adult Sunday school at his local church in Arkadelphia, Arkansas and preaches frequently throughout the nation.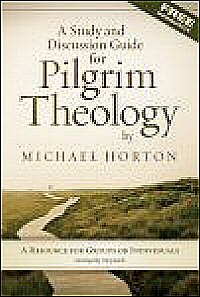 A Study and Discussion Guide for Pilgrim Theology by Michael Horton
Author: Toby Kurth
Publisher: Zondervan
Publication Date: 2013
Pages: 79
This free resource provides a guide and materials for further study as you read and process Pilgrim Theology—on your own or with your small group.
Toby Kurth is the lead pastor of, Christ Church at Park Presido—a church he planted in San Francisco. He received his BS in environmental policy and planning from UC Davis and his masters in historical theology from Westminster Seminary in California.