Michael Horton Collection (6 vols.)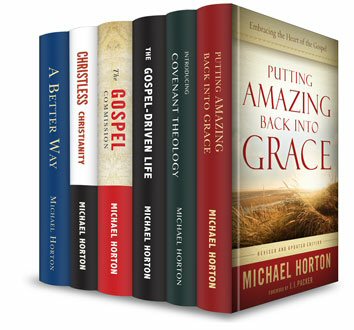 Overview
For the past several decades, professor, minister, radio host, author, and editor Michael S. Horton has delivered sound biblical doctrine to national audiences. In six clear and concise volumes, Horton provides key insight into the
Biblical and theological foundations of worship
State and future of Christianity in America
Meaning and significance of covenants
Importance of the Gospel message
Christian role in the Great Commission
Doctrine of saving grace
Discover what Scripture has to say about these topics! Realize the role you play in receiving and responding to the Gospel message. The Michael Horton Collection will challenge you to humbly rely on God's power and Word as you seek to live a godly life.
The Logos Bible Software edition of the Michael Horton Collection is designed to encourage and stimulate your study of the Bible. Scripture passages link directly to your English translations and to the original-language texts, and important theological concepts link to dictionaries, encyclopedias, and a wealth of other resources in your digital library. In addition, you can perform powerful searches by topic and find what other authors, scholars, and theologians have to say about the subject matter, making this collection ideal for studying and interpreting the Bible.
Key Features
Addresses several important aspects of Christian living
Encourages readers to live a selfless—instead of a self-fulfilling—life as Christ's disciples
Analyzes challenges the church faces and will continue to face
Product Details
Title: Michael Horton Collection
Author: Michael Horton
Publisher: Baker
Volumes: 6
Pages: 1,584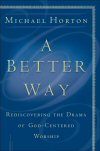 A Better Way: Rediscovering the Drama of God-Centered Worship
Author: Michael Horton
Publisher: Baker
Publication Date: 2003
Pages: 256
Across the spectrum, there seems to be a general vagueness about the God we worship and the purpose of worship. Do we have to settle for either dull routine or perpetual innovation?
In this penetrating examination of worship, Michael Horton demonstrates that there is a better way. Dig below the surface of today's worship wars and rediscover the biblical and theological foundations of worship. Only after doing so, Horton contends, can we place Christ back on center stage and restore our unity as the people of God in the presence of God.
Whether you're a pastor, worship leader, or churchgoer longing to deepen your faith, A Better Way will help you rethink Christian growth and discipleship as it reveals the kind of dramatic, life-revitalizing worship you were created for.
This book rescues worship from the earthly fights over how to do it and puts us back in touch with worship as God desires and directs it.
—Marva J. Dawn, teaching fellow in spiritual theology, Regent College
Horton's enlivening wisdom is surely a godsend to all evangelicals.
—J. I. Packer, Board of Governors' Professor of Theology, Regent College
There is a distinct weariness with market-driven, showbiz worship. The pendulum has swung to the longing for transcendence, substance, challenge, and biblically-driven worship. Michael Horton shows us the way.
—Robert Webber, founder, The Robert E. Webber Institute for Worship Studies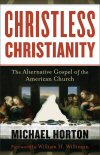 Christless Christianity: The Alternative Gospel of the American Church
Author: Michael Horton
Publisher: Baker
Publication Date: 2012
Pages: 256
The church in America has willingly been taken captive. The captors are American culture and ideals: consumerism, pragmatism, self-sufficiency, individualism, positive thinking, personal prosperity, and nationalism. These are antithetical to the Gospel, but we have nevertheless made them part and parcel of it. We are well on our way to a Christless Christianity.
The result? A faith that is—in Michael Horton's prophetic words—"trivial, sentimental, affirming, and irrelevant." This alternative "Gospel" is a message of moralism, personal comfort, self-help, self-improvement, and individualistic religion. It trivializes God, making him a means to our selfish ends.
In this critically acclaimed book, Horton skillfully diagnoses the problem and points to the solution: a return to the unadulterated Gospel of salvation. Here is a must-read for anyone concerned about the state and future of Christianity and the church in America.
A more important and timely volume could not have been written.
—Parker T. Williamson, editor emeritus and senior correspondent, The Presbyterian Layman
Horton's brush is broad—expect loud lamentation from the evangelical camp—but the picture he paints is largely accurate.
—Thabiti M. Anyabwile, senior pastor, First Baptist Church, Grand Cayman, Cayman Islands
Christless Christianity establishes Michael Horton as the outstanding protagonist for classical Protestant orthodoxy. His wide-ranging and carefully researched examples show how our churches and megachurches have pandered to the culture with Gnostic, Pelagian, moralistic, and self-help heresies bereft of the saving action of Jesus Christ. He leaves us with a profound trust and a sure confidence in our biblical faith. What could be more important?
—C. FitzSimons Allison, retired Episcopal bishop, Diocese of South Carolina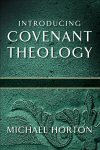 Introducing Covenant Theology
Author: Michael Horton
Publisher: Baker
Publication Date: 2009
Pages: 208
Since biblical times, covenants have been a part of everyday life. Simply put, they are promises, agreements, or contracts. But how do they translate into faith and the reading of Scripture? Are covenants merely elements of a narrative? Or do they represent something more? And what are the eternal implications of "cutting" a covenant with God?
In Introducing Covenant Theology, author Michael Horton unwinds the intricacies of crucial covenant concepts, showing how they provide a significant organizational structure for all of Scripture. They give us a context in which to understand the voices and message of the biblical narrative. They provide life with a goal and history with a meaning.
Whether you're a pastor, ministry leader, or layperson, Introducing Covenant Theology will give you a new understanding of covenants and covenant theology, providing a framework for an important theological concept.
A masterful survey of the covenantal frame of God's self-disclosure in Scripture. For serious students it is a winner.
—J. I. Packer, Board of Governors' Professor of Theology, Regent College
A rigorous and articulate defense of a traditional view of covenant theology. Horton's federalist emphasis gleans from well-established Reformed writers while adding his own highly readable and insightful commentary.
—Bryan Chapell, distinguished professor of preaching, Knox Theological Seminary
Horton has brought covenant theology to life in a way which engages modern thought and appeals to contemporary students and pastors alike. His book is a clear guide to an essential topic.
—Gerald Bray, research professor, Beeson Divinity School, Samford University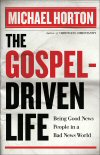 The Gospel-Driven Life: Being Good News People in a Bad News World
Author: Michael Horton
Publisher: Baker
Publication Date: 2012
Pages: 272
We live in a self-help world. But Christianity doesn't work as just a moral philosophy or code of ethics. It makes sense only when it is built upon the foundation of the Gospel, the Good News. The simple message that God has done everything he requires to reconcile sinners to himself is not just the church's slogan, but its lifeblood.
In this candid and hopeful book, Michael Horton challenges us to reorient our faith and our Christian practice toward the transformative, Christ-centered Gospel—both in the church and in the world.
Mike Horton has once again hit the nail on the head. With engaging clarity he demonstrates that the gospel is not just for non-Christians; it's for Christians too. Horton's book is a flavorsome reminder that in order for Christians to make a difference in this world, we must be driven by something otherworldly—namely, the gospel.
—Tullian Tchividjian, pastor, Coral Ridge Presbyterian Church, Fort Lauderdale, Florida
Michael Horton is one who understands the times. More than a fad, a twelve-step program, or a forty-day challenge, Horton reminds us that the gospel is the everyday brick and mortar of a life built on the promise of eternal life in Jesus Christ. Before you read another book, read this one.
—Anthony Carter, lead pastor, East Point Church, East Point, Georgia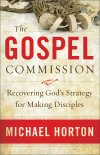 The Gospel Commission
Author: Michael Horton
Publisher: Baker
Publication Date: 2012
Pages: 320
Many programs for outreach, discipleship, and spiritual discipline are available at any bookstore and on countless websites. We assume that we already know the nature of the Great Commission and the appropriate methods of carrying it out. But Michael Horton contends that it too often becomes our mission instead of God's. At a time when churches are zealously engaged in writing up mission statements and strategic plans, he argues that we must ask ourselves anew whether we are ambassadors, following the script we've been given—or whether we're building our own kingdoms with our own blueprint. Pastors, church leaders, and readers of Horton's Christless Christianity and The Gospel-Driven Life will value this frank and hopeful exploration of the Great Commission as a call to understanding and good practice.
Mike Horton has written the best book I've ever read on the Great Commission. Mike demonstrates in delectably deep and down-to-earth ways that no matter how hard we try or how 'radical' we get, any engine smaller than the gospel that we depend on for power to do what God has called us to do—most importantly, the Great Commission—will conk out.
—Tullian Tchividjian, pastor, Coral Ridge Presbyterian Church, Fort Lauderdale, Florida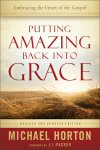 Putting Amazing Back into Grace: Embracing the Heart of the Gospel
Author: Michael Horton
Publisher: Baker
Publication Date: 2011
Pages: 272
"The gospel is a very specific announcement," says Michael Horton. "It's a message delivered from God to people in a precarious and hazardous spot—that is, to people like you and me." But what exactly is that message? What does it mean to be "saved by grace"?
Now revised and updated, Putting Amazing Back into Grace reminds us of the Reformation's radical view of God and his saving grace, the liberating—yet humbling—truth that we contribute nothing to our salvation. Horton lays out the scriptural basis for this doctrine and its implications for a vibrant evangelical faith.
With all our technological expertise and intellectual arrogance, we have become the cleverest fools in world history. Mike Horton has seen through all the excuses and appreciates that true and timeless wisdom is found in the paths of the Christian gospel. Putting Amazing Back into Grace expresses the thrill of his soul—and mine—as we gaze upon the triumph of God's almighty grace.
—From the foreword, J. I. Packer, Board of Governors' Professor of Theology, Regent College
About Michael Horton
Michael Horton is the J. Gresham Machen Professor of Systematic Theology at Westminster Seminary California. He is the main host of the White Horse Inn radio broadcast and the editor-in-chief of Modern Reformation magazine. He is the author or editor of more than 20 books.