Classic Studies on the Life of Paul (18 vols.)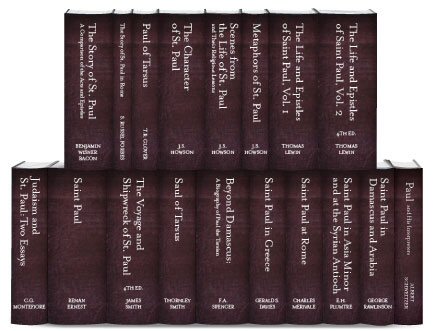 Classic Studies on the Life of Paul (18 vols.)
•
Runs on Windows, Mac and mobile.
Overview
Paul is one of the most influential people ever. His dramatic shift from one of Christianity's greatest persecutors to its greatest advocate was monumental in the beginnings of the church and the spreading of the Christian faith. Nearly half of the writings in the New Testament are attributed to Paul, and to this day he remains a tremendous model for teaching, serving, church planting, loving others, and living a life devoted to Christ. His writings have applications for every aspect of living out the Christian faith, and his life provides an excellent example to learn from.
After his conversion from Judaism to Christianity, Paul passionately defended the very beliefs he had persecuted. As a Roman citizen, he was illegally beaten with rods on multiple occasions, whipped to the brink of death five times, and even stoned. Three times he was shipwrecked. His life was constantly in danger at sea and on land from nearly everything and everyone. His messages of unfathomable love and peace that transcends understanding were often rewarded with violence and hate from various authorities, and his perseverance through it all remains one of the truest testaments to the power God can reveal in a single life.
Each of these 18 texts explores a different aspect of Paul's life. His travels are thoroughly documented and pieced together using every available historical record; this collection covers his time shipwrecked at sea as well as his stays in major cities across the known world. With such in-depth discussions, it provides incredible insight into the context of Paul's ministry and his revolutionary teachings about Christ.
Paul, more than anyone else, has shown us what man really is, and in what our nobility consists, and of what virtue this particular animal is capable. Each day he aimed ever higher; each day he rose up with greater ardor and faced with new eagerness the dangers that threatened him. . . thus, amid the traps set for him by his enemies, with exultant heart he turned their every attack into a victory for himself; constantly beaten, abused and cursed, he boasted of it as though he were celebrating a triumphal procession and taking trophies home, and offered thanks to God for it all: 'Thanks be to God who is always victorious in us!'
With the Logos edition, you can explore the life of Paul like never before. All Scripture references appear in your favorite translation on mouseover, and the collection integrates seamlessly into your Logos library. Read it on your mobile device and take this diverse collection wherever you go.
Key Features
18 texts exploring different aspects of Paul's life
A detailed account of Paul's voyages and his time shipwrecked at sea
An examination of the metaphors Paul uses in his teachings
Accounts of Paul's travels throughout Greece, Rome, Asia Minor, Damascus, and Arabia
Product Details
Title: Classic Studies on the Life of Paul
Volumes: 18
Pages: 4,915
Resource Type: Topical
Topic: Pauline Studies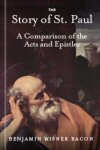 Benjamin Bacon delivered ten lectures in two university extension courses at Providence, RI, and New Haven, CT, during spring and autumn of 1903. Prepared as a historical and literary study, these lectures were made as non-technical as possible for mixed audiences whose knowledge of the Bible were, for the most part, uncritical. He addresses the differences in the two polemic sources for the life of St. Paul in which some harmonizers tampered into a skewed interpretation. He also discusses St. Paul's formative influences, conversion, vocation, propagation of the gospel, three missionary journeys, and epistles.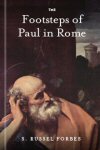 The Footsteps of St. Paul in Rome
Author: S. Russell Forbes
Publisher: Thomas Nelson
Publication Date: 1897
Pages: 75
Russell Forbes begins with the travels of St. Paul, his arrival to Rome, and his work and epistles while there. He then enhances this book of historical facts with the recent explorations and discoveries in the House and Church of Pudens, the re-opening of the Platonia, where St. Paul's body rested, on the Appian Way, and the new details concerning his actual tomb. Using St. Paul's timeline as evidence, he addresses the question if St. Peter was ever in Rome.

Paul of Tarsus
Author: Terrot Reaveley Glover
Pages: 256
T.R. Glover examines the figure of Paul in the light of his Greco-Roman origins. He convinces us the heart and distinctiveness of Paul in the historical context of the Greek world and of the mystery religions. He reveals to us Paul's thoughts of the Stoics, Greek philosophers, and mystics. He also demonstrates Paul as a genius in his writings.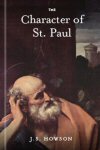 The Character of St. Paul
Author: John Saul Howson
Publisher: Dodd, Mead and Company
Publication Date: 1863
Pages: 311
John Howson delivered five Hulsean lectures at Cambridge in 1862. He discusses the character of St. Paul, ranging from tact and presence of mind to conscientiousness and integrity to courage and perseverance. The study of St. Paul's character concludes that he was also commissioned to be our teacher as clearly seen in his personality.

Scenes From the Life of St. Paul and Their Religious Lessons
Author: John Saul Howson
Publisher: Religious Tract Society
Publication Date: 1909
Pages: 276
John Howson writes this book with two purposes in view. The first one is to aim at the religious edification of the reader, not the mere explanation and description. The second is to keep in mind the surrounding characteristic of the day is the tendency to unbelief or half-belief. He writes about Saul and his conversion, St. Paul and the gospel in the Roman Empire, his companions, his travels, and his suffering to the end. He also discusses Greek art and philosophy in the days of St. Paul.

Metaphors of St. Paul
Author: John Saul Howson
Publisher: Strahan & Co.
Publication Date: 1868
Pages: 163
John Howson discusses metaphors that St. Paul used in his writings. He illustrates four selected groups of images: Roman soldiers, classical architecture, ancient agriculture, and Greek games. These metaphors draws us to the things that surrounded St. Paul and others in his day, and explains the circumstances of their lives, and shows how these imageries were effectively connected to the New Testament passages.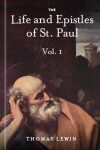 The Life and Epistles of St. Paul, vol. 1
Author: Thomas Lewin
Publisher: Scribner, Armstrong & Co.
Publication Date: 1875
Pages: 390
Thomas Lewin collected materials into a harmonized chronology of the life of St. Paul. He also gives a brief synopsis of the epistles of St. Paul in their proper places chronologically, explaining the circumstances in which they were penned. In this first of two volumes, he covers the years of St. Paul beginning with his birth and education and ending with his third circuit.
The Life and Epistles of St. Paul, vol. 2
Author: Thomas Lewin
Edition: 4th
Publisher: George Bell and Sons
Publication Date: 1878
Pages: 462
Thomas Lewin collected materials into a harmonized chronology of the life of St. Paul. He also gives a brief synopsis of the epistles of St. Paul in their proper places chronologically, explaining the circumstances in which they were penned. In this second of two volumes, he covers the years of St. Paul beginning with his sails from Ephesus to Traos and ending with his trials and martyrdom. He then concludes with a summary of St. Paul's person and character.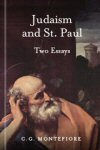 Judaism and St. Paul: Two Essays
Author: Claude Goldsmid Montefiore
Publisher: Max Goschen Ltd.
Publication Date: 1914
Pages: 222
Claude Montefiore wrote two essays for publication. The first one discusses the genesis of St. Paul's religion, in which he traces St. Paul's outlook, beliefs, and activities before his conversion near Damascus. The second one shows the peculiar relation of St. Paul to liberal Judaism, which liberal Jews still see St. Paul as a Jew even though he was born and raised a Jew and then he ceased, during his conversion, to be a Jew and became an opponent of Judaism.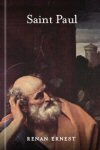 Saint Paul
Author: Ernest Renan
Publisher: G. W. Carleton
Publication Date: 1869
Pages: 413
After a journey in Asia Minor in 1864–1865 with his wife in which they followed the Vie de Jésus as part of a series Histoire des origines du christianisme (The History of the Origins of Christianity), Ernest Renan wrote this book showing how Christianity spread among the cities of Asia Minor. He covers the three journeys of St. Paul, his return to Jerusalem that resulted in his arrest, and ends with his voyage as prisoner. He then concludes with a glance at the work of St. Paul.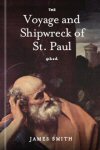 The Voyage and Shipwreck of St. Paul
Author: James Smith
Edition: 4th
Publisher: Longman
Publication Date: 1876
Pages: 320
James Smith, an accomplished yachtsman, narrates the voyage that St. Paul took as prisoner, in which the boat shipwrecked nearby the island of Malta. He then furnishes, in dissertations, the best evidences that corrects the various faulty maps and shows the correct outline of the coasts of Crete. He shows the approximate location by the coast where St. Paul is thought to have been shipwrecked, and discusses the peculiar features of the coast such as the wind Euroclydon, the island Melita, the hips of the ancients, and geological changes in St. Paul's Bay. He also discusses the composition of the ancient ships from St. Paul's era.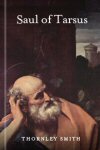 Saul of Tarsus
Author: Thornley Smith
Publisher: James Blackwood
Publication Date: 1861
Pages: 194
Thornley Smith outlines St. Paul's eventful life as the great Apostle of the Gentiles, enforcing some lessons which that life suggests. He begins with Saul as Pharisee who becomes the convert. He then continues with St. Paul as Apostle and concludes with him as martyr. At the end of the volume, he provides a chronological table that charts St. Paul's travels detailing in date order the places and events–with support by Scripture references, and these places can be traced in timeline sequence on any map of Asia and Europe.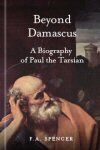 Beyond Damascus: A Biography of Paul the Tarsian
Author: Floyd Albert Spencer
Publisher: Harper & Brothers
Publication Date: 1934
Pages: 480
Floyd Spencer comprises a biography and background of Paul's private and public life. He sets the stage with Saul's birth, family, trade guild, and mentor Gamaliel. He adds to the stage some of the backgrounds of Jerusalem and the Roman Empire in Saul's early days. He then dramatizes the life of Paul beginning with the birth of the Church on the Day of Pentecost and ending with him finishing the course. He includes an approximate chronology of the life of Paul.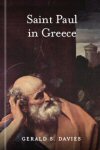 Saint Paul in Greece
Author: Gerald S. Davies
Publisher: Wyman & Sons
Publication Date: 1876
Pages: 188
Gerald Davies illustrates the geographical and physical aspects of Greece. He explains the political position of Greece in the days of St. Paul. He describes the national character of the Greeks in the early and later periods. He details the religion, art, and positions of women and slaves in Greece. He then sketches Thessalonica, Athens, and Corinth as seen in the eyes of St. Paul as he visited each city.

Saint Paul at Rome
Author: Charles Merivale
Publisher: Wyman & Sons
Publication Date: 1885
Pages: 180
Charles Marivale discusses the background of the Roman Empire and the principle of monarchical government, and explains the roles of Augustus and Nero, especially Nero's involvement with the Rome's fire and his eventual persecution of Christians. He explores the diffusion and dispersion of the Jews during the days of Jesus up to the Day of Pentecost. He tells about St. Peter bringing the gospel to Rome, and his association with the foundation of the Church there. He then details St. Paul's involvement in the gospel, his dealings with the Greek philosophers, his arrest, his confinement, and his martyrdom.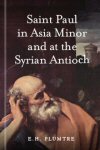 Saint Paul in Asia Minor and at the Syrian Antioch
Author: Edward Hayes Plumtre
Publisher: SPCK
Pages: 179
Edward Plumtre begins with Tarsus' history, and describes St. Paul's early days there, including his training period to become a Rabbi. He then writes about the travels of St. Paul to Antioch, Ephesus, Lycaonia, Galatia, and Phyrgia. He tells about what St. Paul does while there, and mentions the persecutions he faced in various events. He also describes the various philosophies that St. Paul encountered, especially Artemis in Ephesus, Judaizers in Galatia, and the heretics in Colosse. He includes the epistles which St. Paul wrote throughout his travels.

Saint Paul in Damascus and Arabia
Author: George Rawlinson
Publisher: SPCK
Pages: 161
George Rawlinson describes and illustrates the external surroundings of St. Paul from the day he left Jerusalem with the High Priest's mandate to the night when he was brought down from the wall of Damascus in a basket to escape an assassination attempt. He covers the "three years" that St. Paul briefly mentioned in Galatians 1:18, which is most important in the history of the world because it was from there that the conversion of the world to Christianity depended on the conversion of St. Paul himself.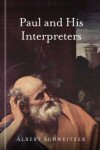 Paul and His Interpreters
Author: Albert Schweitzer
Translator: W. Montgomery
Publisher: Adam and Charles Black
Publication Date: 1912
Pages: 253
Albert Schweitzer points out the contrast between Paul's conception of union with Chrst and the idea in Greek mystery religions that the Divine essence passes into the soul of the living man by means of gnosis and the vision of God. Paul's continued interaction with mystery religions was suggestive of early Christianity being influenced by them, but Schweitzer proposes that Paul used the mystery terminology as a vehicle to convey the true religion to the hearers who were well acquianted with that form of speech.