Westminster Theological Journal (69 vols.)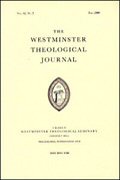 Westminster Theological Journal (69 vols.)
•
Overview
The Westminster Theological Journal was "founded upon the conviction that the Holy Scriptures are the word of God, the only infallible rule of faith and of practice, and that the system of belief commonly designated the Reformed Faith is the purest and the most consistent formulation and expression of the system of truth set forth in the Holy Scriptures."
Its purpose is to publish scholarly works that defend and advance understanding of the Bible's teachings and its implications for the larger world.
For a massive collection of journals from world-renowned scholars across a variety of disciplines, check out the Master Journal Bundle.
Product Details
Title: Westminster Theological Journal
Author: Westminster Theological Seminary
Publisher: Westminster Theological Seminary
Volumes: 69
Individual Titles
Westminster Theological Journal Volume 1
Westminster Theological Journal Volume 2
Westminster Theological Journal Volume 3
Westminster Theological Journal Volume 4
Westminster Theological Journal Volume 5
Westminster Theological Journal Volume 6
Westminster Theological Journal Volume 7
Westminster Theological Journal Volume 8
Westminster Theological Journal Volume 9
Westminster Theological Journal Volume 10
Westminster Theological Journal Volume 11
Westminster Theological Journal Volume 12
Westminster Theological Journal Volume 13
Westminster Theological Journal Volume 14
Westminster Theological Journal Volume 15
Westminster Theological Journal Volume 16
Westminster Theological Journal Volume 17
Westminster Theological Journal Volume 18
Westminster Theological Journal Volume 19
Westminster Theological Journal Volume 20
Westminster Theological Journal Volume 21
Westminster Theological Journal Volume 22
Westminster Theological Journal Volume 23
Westminster Theological Journal Volume 24
Westminster Theological Journal Volume 25
Westminster Theological Journal Volume 26
Westminster Theological Journal Volume 27
Westminster Theological Journal Volume 28
Westminster Theological Journal Volume 29
Westminster Theological Journal Volume 30
Westminster Theological Journal Volume 31
Westminster Theological Journal Volume 32
Westminster Theological Journal Volume 33
Westminster Theological Journal Volume 34
Westminster Theological Journal Volume 35
Westminster Theological Journal Volume 36
Westminster Theological Journal Volume 37
Westminster Theological Journal Volume 38
Westminster Theological Journal Volume 39
Westminster Theological Journal Volume 40
Westminster Theological Journal Volume 41
Westminster Theological Journal Volume 42
Westminster Theological Journal Volume 43
Westminster Theological Journal Volume 44
Westminster Theological Journal Volume 45
Westminster Theological Journal Volume 46
Westminster Theological Journal Volume 47
Westminster Theological Journal Volume 48
Westminster Theological Journal Volume 49
Westminster Theological Journal Volume 50
Westminster Theological Journal Volume 51
Westminster Theological Journal Volume 52
Westminster Theological Journal Volume 53
Westminster Theological Journal Volume 54
Westminster Theological Journal Volume 55
Westminster Theological Journal Volume 56
Westminster Theological Journal Volume 57
Westminster Theological Journal Volume 58
Westminster Theological Journal Volume 59
Westminster Theological Journal Volume 60
Westminster Theological Journal Volume 61
Westminster Theological Journal Volume 62
Westminster Theological Journal Volume 63
Westminster Theological Journal Volume 64
Westminster Theological Journal Volume 65
Westminster Theological Journal Volume 66
Westminster Theological Journal Volume 67
Westminster Theological Journal Volume 68
Westminster Theological Journal Volume 69
More details about these resources
Show More