T&T Clark Topics in Old Testament Studies (10 vols.)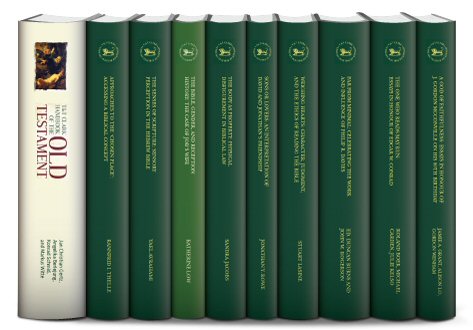 T&T Clark Topics in Old Testament Studies (10 vols.)
•
Runs on Windows, Mac and mobile.
Your Custom Discount
Reg. Price $179.95
Pre-order Price $139.95
Your Price $139.95
You Save $40.00 22%
Your Price
What's Pre-Pub?
$139.95
Reg.: $179.95
Print: $1,107.85
Overview
This collection of volumes from T&T Clark offers a thorough introduction to Old Testament studies, as well as recent studies on a variety of topics in the field. Written by an entire team of OT scholars, the T&T Clark Handbook of the Old Testament provides an in-depth overview of the Old Testament's literature, religion, and history. Other volumes offer focused, in-depth academic research exploring new vistas in Old Testament studies. And several festschrifts present cutting-edge research on various topics in the field.
The Logos Bible Software editions of these volumes streamline and enhance your study and understanding of the Old Testament. Scripture passages link directly to your preferred English translations and original-language texts, and important theological concepts link to dictionaries, encyclopedias, and a wealth of other resources in your digital library. In addition, you can perform powerful searches by topic and find what other authors, scholars, and theologians have to say about Old Testament theology, Hebrew literature, and ancient Near Eastern history.
Key Features
Extensive introduction to the literature, religion, and history of the Old Testament
In-depth, academic research on a variety of OT topics
Individual Titles
T&T Clark Handbook of the Old Testament: An Introduction to the Literature, Religion and History of the Old Testament
Authors: Jan Christian Gertz, Angelika Berlejung, Konrad Schmid, and Markus Witte
Publisher: T&T Clark
Publication Date: 2012
Pages: 872
The T&T Clark Handbook of the Old Testament is a comprehensive introduction and guide to OT studies. This resource begins by presenting the methods and sources of OT studies and then presents a thorough overview of the biblical text as well as relevant discoveries and research in archaeology, ancient extra-biblical texts, and iconography. It explores varying exegetical methods and approaches including historical criticism, canonical criticism, the social scientific method, and feminist and liberation theologies. Methods in archaeology, Hebrew epigraphy, and iconography are also covered.
The second section is devoted to the history and religious history of Ancient Israel. Introductory matters, such as fundamental terminology and definitions, ethnic identity, ancestors and the dead, geography, and time reckoning are explicated before the book moves on to a historical survey from the Iron Age (c. 1200 BC) to the early Roman period (c. 63).
The heart of the book is a detailed survey of the Hebrew canonical books. The discussion for each book includes the biblical presentation and content, problems arising from the history of literary analysis and research, origin and development of the writing, theological themes, and notes on reception history.
This balanced, comprehensive, and detailed introduction now sets the standard for any textbook aiming to represent the worldwide state of scholarship on the Old Testament/Hebrew Bible. The authors provide a clear and accessible entry to critical scholarship on both biblical texts and the history and religion of Israel. This volume belongs in the libraries of all with special interest in the Old Testament, from advanced students to senior scholars.
—David Carr, professor of Old Testament, Union Theological Seminary, New York
Students look for the reliable and readable 'introduction' to the Old Testament or Hebrew Bible—but not only students. Scholars often find them useful for a quick reference and as a way of updating their knowledge in areas outside their immediate specialty. This volume will well meet the needs of both groups. Unlike some older introductions, it is not confined to the literature. The authors include chapters on archaeology, epigraphy, and iconography, which are often neglected in general introductions. All in all, this will be a very useful volume on the shelves of both scholars and students.
—Lester L. Grabbe, professor emeritus of Old Testament and early Judaism, University of Hull
A highly informative, thorough, and up-to-date introduction to the Hebrew Scriptures. The authors provide helpful insights into the worlds of the ancient Israelites and their modern interpreters.
—Gary N. Knoppers, Edwin Erle Sparks Professor of Classics and Ancient Mediterranean Studies, Religious Studies, and Jewish Studies, Penn State University
This is a welcome resource for students and scholars alike . . . They maintain a broad lens throughout the volume that ranges from ancient Near Eastern texts and iconography to emerging ideological readings of the Hebrew Bible, while providing a summary of each book of the Hebrew Bible, its literary context, history of interpretation, reception, and meaning. The result is a snapshot by leading researchers of the rapidly changing field of Old Testament study, which enables the book to be a resource for a wide range of classes on the Hebrew Bible.
—Thomas B. Dozeman, professor of Old Testament, United Theological Seminary
This textbook by colleagues Gertz, Schmid, Berlejung, and Witte provides the best possible access for English readers to current European scholarship in the field of Old Testament/Hebrew Bible. Their collaboration ensures coverage of diverse fields by experts. The treatment of various positions is balanced and up-to-date. A valuable resource.
—Bernard M. Levinson, professor of classical and Near Eastern studies and of law, University of Minnesota
Jan Christian Gertz is professor of Old Testament at the University of Heidelberg in Germany.
Angelika Berlejung is professor of Old Testament at the University of Leipzig in Germany and professor for ancient Near Eastern studies at the University of Stellenbosch in South Africa.
Konrad Schmid is professor of Old Testament and ancient Judaism at the University of Zurich in Switzerland.
Markus Witte is professor of Old Testament at Humboldt University in Berlin, Germany.
Deuteronomy's command to restrict cultic practice to one "chosen place" has occupied a central position in scholars' understandings of the book and their reconstruction of Israelite political and religious history. The debates about the date of Deuteronomy, its proposed connections to "Josiah's reform," and, most profoundly, the "Deuteronomistic History hypothesis" have dominated study of the idea of a "chosen place." These debates have, to a large extent, determined how we read Deuteronomy and the Former Prophets. Through a reading of key texts from these corpora, this book provides a new, textually grounded perspective of the "chosen place."
Rannfrid Thelle is an independent scholar working in Wichita, Kansas. She received academic training at the University of Oslo. She is also the author of Ask God: Divine Consultation in the Literature of the Hebrew Bible.
The Senses of Scripture: Sensory Perception in the Hebrew Bible
Author: Yael Avrahami
Series: Library of Hebrew Bible/Old Testament Studies
Publisher: T&T Clark
Publication Date: 2011
Pages: 328
The Senses of Scripture reveals the essence of biblical epistemology—the ways in which ancient Israelites thought about and used their senses. The theoretical introduction demonstrates that scholars need to liberate themselves from the Western bias that holds a pentasensory paradigm and prioritizes the sense of sight.
Through examination of associative and contextual patterns, the author reaches a septasensory model including sight, hearing, speech, kinaesthesia, touch, taste, and smell. It is further demonstrated that the senses, according to the Hebrew Bible, are a divinely created physical experience that symbolizes human ability to act in a sovereign manner in the world. Despite the lack of a biblical Hebrew term for "sense," it seems that at times the merism "sight and hearing" serves that purpose. Finally, the book discusses the longstanding dispute regarding the primacy of sight over hearing, and claims that although there is no strict sensory hierarchy evident in the text, sight holds a central space in biblical epistemology.
Yael Avrahami is a lecturer for biblical studies at Oranim College and the University of Haifa in Israel.
The Bible, Gender, and Reception History: The Case of Job's Wife
Author: Katherine Low
Series: Library of Biblical Studies
Publisher: T&T Clark
Publication Date: 2013
Pages: 240
The Bible, Gender, and Reception History: The Case of Job's Wife investigates the fleeting appearance of Job's wife in the Bible and its interpretation throughout history. It begins by presenting key interpretive gaps in the biblical text concerning Job and his wife and explains guiding principles that gender studies offer to reconstruct a reception history of their marriage. After analyzing Job and his wife within medieval Christian theology of Eden, the author identifies ways in which Job's wife visually aligns with medieval images of Satan. The volume explores portrayals of Job and his wife in publications on marriage and gender roles in the sixteenth and seventeenth centuries, moving on to an investigation of William Blake's sharp artistic divergence from the common tradition in his representation of Job's wife as a shrew. In the exploration of societal portrayals of Job and his Wife throughout history, this book discovers how arguments about marriage intertwine with not only gender roles, but also, with political, social, and historical movements.
Katherine Low is assistant professor of religion and chaplain at Mary Baldwin College in Staunton, Virginia. She has published articles in the Journal for the Study of the Old Testament, the Journal of Religion and Film, and the Journal of Feminist Studies in Religion, exploring the intersections of religion, gender, and culture.
The Body as Property: Physical Disfigurement in Biblical Law
Author: Sandra Jacobs
Series: Library of Hebrew Bible/Old Testament Studies
Publisher: T&T Clark
Publication Date: 2013
Pages: 288
The Body as Property argues that physical disfigurement functioned in biblical law to verify legal property acquisition. Jacobs marshals evidence from Sumerian and Mesopotamian cuneiform legal texts as well as ancient Assyrian cultural practices to shed light on ancient Israelite property laws and their relationship to physical disfigurement.
This is primarily substantiated in the accounts of prescriptive disfigurements such as circumcision and the piercing of a slave's ear, both of which were required only when a son, or slave, was acquired permanently. It is further argued that legal entitlement was relevant to the punitive disfigurements recorded in Exodus 21:22–24 and Deuteronomy 25:11–12, where the physical violation of women was of concern solely as an infringement of male property rights.
Sandra Jacobs received her doctorate in biblical law from the University of Manchester and is an honorary research associate in the Department of Hebrew and Jewish Studies at University College in London.
Rowe examines David and Jonathan's friendship in the context of what ancient readers would have understood as the natural loyalty to their families. Rowe focuses on the conflicting moral goods between which the men choose, seeking to understand the dynamics of the narrative consonant with ancient society.
Rowe discusses theoretical issues of interpretation and summarizes how Bakhtin's theory of heteroglossic voices can be utilized to understand the narrative. He deliberates over the key aspects of family life in the world described by the Old Testament, surveys approaches to the study of the family among anthropologists, and explains how anthropology can inform the interpretation of the biblical text. Starting from the concept of "hegemonic masculinity," Rowe examines how men in general are presented positively, and then shows how Jonathan, David, and Saul measure up to these standards. Rowe concludes that although Jonathan was disloyal to his family, something that original readers would have censured, the books of Samuel present this disloyalty as honorable, thus making a theological point about fidelity to the house of David.
Jonathan Y. Rowe received his PhD from St. Andrews University and is director of development and staff tutor at South Western Ministry Training Course in the UK.
Weighing Hearts: Character, Judgment, and the Ethics of Reading the Bible
Author: Stuart Lasine
Series: Library of Hebrew Bible/Old Testament Studies
Publisher: T&T Clark
Publication Date: 2012
Pages: 320
Issues involving "character" have been the object of increasing interest and debate in recent years. Social psychologists attempt to determine the role of character as a cause of human behavior, moral philosophers explore the significance of character for understanding ethics and virtue, and literary scholars investigate the depiction of character in narrative. Weighing Hearts represents the first serious attempt to integrate all these approaches in order to gain a deeper and more precise understanding of how readers evaluate characters in biblical narrative. While the primary focus is on the Hebrew Bible, the author also includes several comparative analyses involving other ancient and modern literary works. Weighing Hearts also shows how biblical historians and redaction critics can make their analyses more precise and nuanced by taking into account what psychology has learned about the consistency of character and the "attribution errors" people make when evaluating others.
This is a fascinating, wide-ranging, and unusual study and its innovative approach succeeds in throwing fresh light on many familiar biblical texts.
—E. W. Davies, head of School of Philosophy and Religion, Bangor University, UK
Stuart Lasine is professor of religion in the Ransom-Butler Department of Religion at Wichita State University.
Far From Minimal: Celebrating the Work and Influence of Philip R. Davies
Editors: Duncan Burns and John W. Rogerson
Series: Library of Hebrew Bible/Old Testament Studies
Publisher: T&T Clark
Publication Date: 2012
Pages: 576
In this volume, Duncan Burns and John W. Rogerson assemble a first-rate collection of essays from leading OT scholars in honor of professor Philip R. Davies' 60th birthday. These articles reflect the impact professor Davies has made in diverse fields within biblical studies including Hebrew Bible, Qumran, Palestinian archaeology, New Testament and early Judaism, and biblical interpretation. The breadth of this volume aims to reflect the scope, interest, and influence of professor Davies over the last 30 years.
The purpose of this volume is to honor the work of Edgar Conrad. The essays focus on various aspects of Conrad's work, especially the prophetic literature, the Bible as literature, canonical issues, and engaged readings. In developing these lines of scholarship, the authors pay tribute to Conrad and seek to take his work further. The contributions from Korean scholars are especially noteworthy, since Conrad has had significant influence on Korean biblical scholarship through students who studied under him at the University of Queensland.
This is a festschrift dedicated to J. Gordon McConville on the occasion of his 60th birthday in recognition of the outstanding contribution that he has made to the field of Old Testament studies over the last 25 years. The collection incorporates 13 essays written by colleagues, friends, and former research students, along with an introduction and complete list of McConville's publications. The essays focus on each portion of the Old Testament—the Pentateuch, historical books, prophets, and writings—and address key issues of biblical interpretation. The breadth of subject matter that comes under discussion in this volume reflects the wide-ranging interests seen in McConville's own published works.
A God of Faithfulness presents articles by friends and students of Gordon McConville that provide a fitting tribute to his continuing distinguished career. All serious students of the Old Testament will want to read these intriguing and informative studies.
—Tremper Longman, Robert H. Gundry Professor of Biblical Studies, Westmont College
Jamie A. Grant is vice principal and tutor in biblical studies at the Highland Theological College.
Alison Lo is lecturer in Old Testament at London School of Theology.
Gordon J. Wenham is professor emeritus of Old Testament at the University of Gloucestershire and teaches Old Testament at Trinity College in Bristol. He is the author of numerous books in the field of Old Testament studies.
Product Details
Title: T&T Clark Topics in Old Testament Studies
Publisher: T&T Clark
Volumes: 10
Pages: 3,584