Youth and Emerging Adult Collection (3 vols.)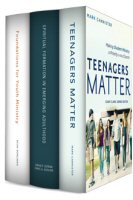 Youth and Emerging Adult Collection (3 vols.)
•
This product is no longer available to purchase.
Overview
The Youth and Emerging Adult Collection provides a practical theology for emerging adult ministry and offers insight into the key developmental issues of this stage of life. The three volumes discuss topics such as identity, intimacy and sexuality, morality, church involvement, spiritual formation, vocation, and mentoring. The wisdom found in this comprehensive collection is based upon more than 80 years of combined experience from authors Dean Borgman, David P. Setran, Chris Kiesling, and Mark W. Cannister. Conquer the confusion that too often surrounds this pivotal stage of life with theologically based, field-tested advice that will help the youth of your church and community thrive spiritually. Pastors, parents, counselors, and anyone else involved in youth and young adult ministry will benefit from these works.
With Logos Bible Software, this collection is completely searchable, making the text easier to use for lesson preparation and personal study. Scripture appears on mouseover in your preferred translation, and you can perform powerful searches by topic or Scripture reference—finding, for example, every mention of "faith" or "1 Timothy 4:12."
Key Features
Includes discussion questions for group study and reflection
Provides tools for strengthening spiritual maturity in an ambivalent society
Discusses relevant issues such as identity, morality, sexuality, and church involvement
Individual Titles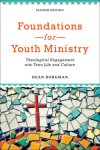 Foundations for Youth Ministry: Theological Engagement with Teen Life and Culture, 2nd ed.
Author: Dean Borgman
Edition: 2nd
Publisher: Baker Academic
Publication Date: 2013
Pages: 240
In Foundations for Youth Ministry, youth ministry expert Dean Borgman offers a new edition of his influential classic. Accessible to a broadly ecumenical audience, this book challenges readers to think about the theological nature of youth ministry. Questions for discussion and reflection are included.
Writing with the lens of a theologian, the heart of a pastor, and welcome doctrinal breadth, Borgman has provided a 'field book' of pastoral theologies that takes seriously the social systems shaping the lives of adolescents. This book is a significant step toward the long-awaited conversation about theology and youth ministry in postmodern culture.
—Kenda Creasy Dean, professor, Princeton Theological Seminary
Dean Borgman has been a wonderful mentor and teacher for hundreds of youth workers throughout the years. In this excellent work he brings theological integrity, depth, and years of wisdom like nothing else I have seen in our field.
—Jim Burns, president, National Institute of Youth Ministry
Dean Borgman is the Charles E. Culpeper Professor of Youth Ministries at Gordon-Conwell Theological Seminary and teaches at Holy Cross Greek Orthodox Seminary. An internationally recognized authority on youth culture and adolescent ministries, he established Young Life in New England and founded the Center for Youth Studies, which he directs. Borgman is an Episcopal priest and the author of several youth ministry books and hundreds of articles.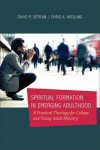 Spiritual Formation in Emerging Adulthood: A Practical Theology for College and Young Adult Ministry
Authors: David P. Setran and Chris Kiesling
Publisher: Baker Academic
Publication Date: 2013
Pages: 288
The shift from adolescence to adulthood, a recently identified stage of life called "emerging adulthood," covers an increasing span of years in today's culture (roughly ages 18–30) due to later marriages and extended education. During this prolonged stage of exploration and self-definition, many young adults drift away from the church.
In Spiritual Formation in Emerging Adulthood, two authors—both veteran teachers who are experienced in young adult and campus ministry—address this new and urgent field of study, offering a Christian perspective on what it means to be spiritually formed into adulthood. They provide a practical theology for emerging adult ministry and offer insight into the key developmental issues of this stage of life, including identity, intimacy and sexuality, morality, church involvement, spiritual formation, vocation, and mentoring. The book bridges the gap between academic and popular literature on emerging adulthood and offers concrete ways to facilitate spiritual formation among emerging adults.
Recognized for their judicious scholarship and reflective ministry practice, Setran and Kiesling offer a comprehensive guide to both understanding and ministering among emerging adults in their faith journeys. Spiritual Formation in Emerging Adulthood pulsates with a passion to nurture young adults toward growing faithfulness and conformity to the image of Christ. This is practical theology of spiritual formation at its best.
—S. Steven Kang, professor, Gordon-Conwell Theological Seminary
David Setran and Chris Kiesling have written a marvelous book that seasons social science research with biblical and theological wisdom. Each chapter covers critical features of the complexities of emerging adult development and the authors' guidance on mentoring alone is worth the price of the book. This book is well conceived and ably written. I highly recommend Spiritual Formation in Emerging Adulthood.
—Steve Rankin, chaplain, Southern Methodist University
David P. Setran earned his PhD from Indiana University and is currently associate professor of Christian formation and ministry at Wheaton College. He is the author of The College "Y": Student Religion in the Era of Secularization.
Chris Kiesling earned his PhD from Texas Tech University and is currently professor of human development and Christian discipleship at Asbury Theological Seminary in Wilmore, Kentucky.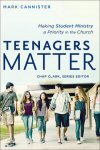 Teenagers Matter: Making Student Ministry a Priority in the Church
Author: Mark W. Cannister
Publisher: Baker Academic
Publication Date: 2013
Pages: 272
Teenagers matter! When they are valued, they bring life to nearly every sector of society, including the church. Although student ministry has come a long way in the last century, few churches have made it a high priority. Veteran practitioner Mark Cannister brings together the latest ideas and research on adolescence to champion student ministry as integral to the life of the church. He shows how connecting teenagers into the church's intergenerational community enriches the entire congregation, casting a prophetic vision for what the church can become when it truly values its young people.
Mark W. Cannister is professor of Christian ministries and cochair of the department of biblical studies and Christian ministries at Gordon College. He has served in church and parachurch organizations and helped create the Association of Youth Ministry Educators. He is the editor of the Journal of Youth Ministry and is on the advisory boards of YouthWorker Journal and The Journal of Student Ministries.
Product Details
Title: Youth and Emerging Adult Collection
Publisher: Baker Academic
Volumes: 3
Pages: 800