God's Little People (3 vols.)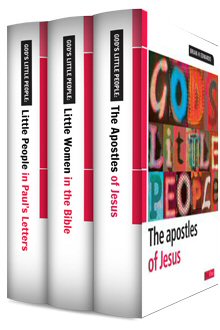 Overview
For every Tyndale, Bunyan, Wesley, or Spurgeon, there are tens of thousands of "little people" who have courageously and faithfully taken a stand for the truth and extended the borders of the Kingdom of God. Most of us are precisely that—little people. It is upon these believers that the Lord builds his church, and they are just as important in God's strategy as the big names. This collection offers fascinating insights from Brian H. Edwards on the "little people" of the Bible.
With Logos Bible Software, this collection is completely searchable, with Scripture passages appearing on mouseover and linking to your favorite Bible translation in your library. This makes these texts more powerful and easier to access than ever before for scholarly work or personal Bible study. With Logos' advanced search features, you can perform powerful searches by topic or Scripture reference—finding, for example, every mention of "faith" or "1 Samuel 1:10."
Key Features
Explores cultural and historical settings
Describes each character and their faithful journey
Includes relevant Scripture for each chapter
Individual Titles
Here is the story of some of the little people whom Paul takes great delight in introducing into his letters. This book will encourage every Christian faithfully at work in the church today.

Most of the apostles of Jesus have very little on record either of what they said or what they did. For some we don't have a single word that they spoke and others appear only as a name in a list. Apart from Peter and John, they all pass from our view as individuals after the first chapter of Acts. Like all of us, these "little people" worshipped, worked, and went. But then the whole purpose of our lives, and theirs, is not that we should leave a name for ourselves, but that we should exalt the name of Christ. John the Baptist set the compass bearing for the journey of the apostles of Christ—and for all who follow them: "He must become greater; I must become less" (John 3:30). Few have exhibited this so well as the 12 apostles.

So many of God's people are found in behind-the-scenes situations. There are no heralds announcing their arrival at events, no red carpets, and no fuss. In this book, the third in the God's Little People series, Brian H. Edwards looks carefully at the biblical information about women who are mentioned—sometimes only in passing—in the Bible.
Product Details
Title: God's Little People
Author: Brian H. Edwards
Series: God's Little People
Publisher: Day One
Volumes: 3
Pages: 384
More details about these resources