John Rataczak Collection (2 vols.)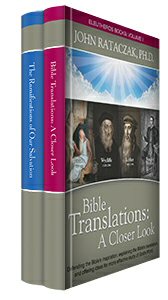 Overview
Pastor and teacher John Rataczak has much to offer readers—both practically and theologically—in the John Rataczak Collection. In The Ramifications of Our Salvation, Rataczak presents important concepts and doctrines relating to salvation. In Bible Translations: A Closer Look, he leads readers through the history of Bible translation, treating its methods and challenges. Learn what privileges come with salvation. Discover why Bible translations vary.
The Logos edition of the John Rataczak Collection is fully searchable and easily accessible. Scripture passages link directly to your preferred English translation and to the original-language texts, and important theological concepts link to dictionaries, encyclopedias, and a wealth of resources in your digital library.
Key Features
Provides an introduction to the doctrines and concepts of salvation
Analyzes the history, challenges, and methods of Bible translation
Individual Titles

Very few people—even those who accept Christ as their savior—can speak knowledgeably about salvation. They are unfamiliar with the important concepts pertaining to it.
As a believer, it is important for you to share and describe your conversion experience. But beyond that, it is important to know what the Word of God has to say about salvation. The Ramifications of Our Salvation offers a Bible-based guide and introduction to the doctrines and concepts of salvation. In 35 chapters, it analyzes the foreknowledge of events, privileges, permanence, and practicality of salvation.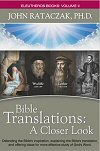 In Bible Translations: A Closer Look, author John Rataczak takes readers through the history of Bible translation and provides insight into the challenges and methods of such a process. In addition, John introduces various tools for effective Bible study.
Product Details
Title: John Rataczak Collection
Author: John Rataczak
Publisher: John Rataczak
Volumes: 2
Pages: 351
About John Rataczak
John Rataczak was born in Columbia, Missouri, and raised in the St. Louis area. He was saved at an early age through the ministry of the Chatham Bible Church. God led John to become involved in full-time Christian work during his freshman year at Bob Jones University. Since that calling, he has earned a BA in Bible, an MA in pastoral studies, and a PhD in New Testament text (Greek). He has taught at three Christian colleges and two graduate schools, and his pastoral experience includes ministries in Pennsylvania and Ohio. Presently, he is the founder and sole proprietor of Eleutheros Books.
More details about these resources