Mobile Ed: Tough Topics 2018 Bundle (4 courses)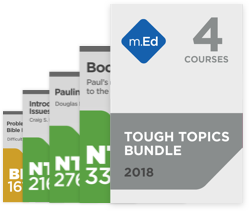 Mobile Ed: Tough Topics 2018 Bundle (4 courses)
•
Runs on Windows, Mac and mobile.
Overview
The 2018 Tough Topics Bundle helps you tackle difficult passages of the Bible. In Problems in Bible Interpretation (BI161) Michael Heiser examines 10 challenging passages—five from the Old Testament and five from the New Testament. In Introductory Issues in Acts (NT216) Craig Keener explores important issues from the book of Acts including the issue of miracles and the historical reliability of the book. Douglas Moo provides a framework for understanding the theology of Paul theology in his course NT276 Pauline Theology. Finally, Craig Blomberg walks through 1 Corinthians, a letter that tackles important issues like spiritual gifts, sexual immorality, celibacy, marriage, and the evidence and significance of Christ's resurrection. As you go through these courses, you will not only gain understanding about the specific issues discussed. You will also learn principles that will equip you to tackle other difficult passages.
Individual Titles
Product Details
Title: Tough Topics 2018 Bundle
Publisher: Lexham Press
Product Type: Logos Mobile Education
Resource Type: Courseware, including transcripts, audio, and video resources
Courses: 4
Video Hours: 28
Getting the most out of Mobile Ed
Logos Mobile Education is a highly effective cross-platform learning environment that integrates world class teaching with the powerful study tools and theological libraries available in Logos Bible Software. Every course provides links to additional resources and suggested readings that supplement the lecture material at the end of every transcript segment.