The Numerical Bible Vol. 7: Hebrews to Revelation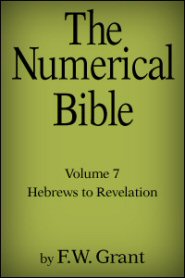 The Numerical Bible Vol. 7: Hebrews to Revelation
•
Runs on Windows, Mac and mobile.
Overview
In his final volume, Grant explores the numerical and structural significance of the remaining epistles. He also devotes nearly half the volume to the complex imagery and numerical significance of Revelation, which has eluded commentators for centuries. Grant tackles the book with unreserved analysis of its numbers and symbols—and finds no shortage of either. From the role of the seven churches to the mark of the beast, Grant pushes the limits of his interpretive project to reveal the internal whole of Revelation, which complements the structure of the rest of the Bible.
Key Features
Outlines of the structure
Chapter-by-chapter commentary and critical notes
Product Details
Title: The Numerical Bible Vol. 7: Hebrews to Revelation
Author: Frederick W. Grant
Publisher: Loizeaux Brothers, Inc.
Publication Date: 1902
Pages: 509
About Frederick W. Grant
Born in London in 1834, Frederick W. Grant converted to Christianity while reading the Bible. He attended King's College before traveling to Toronto. At the time, the Church of England was expanding in Canada, and Grant became ordained. He later moved to the United States, and lived in Brooklyn, New York before moving to Plainfield, New Jersey. Grant was also deeply influenced by the teachings of the Plymouth Brethren. Grant died in 1902.
More details about these resources