Goodly Heritage Library: Shelf Two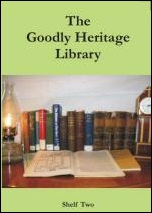 Overview
We are pleased to announce the availability of the Goodly Heritage Library - Shelf Two from one of our publishing partners, Galaxie Software.
The desire of the Goodly Heritage Library Series is to provide a wide collection of books, some of which may be unfamiliar, but will bless the hearts of the user. The wide range includes history books, reference books, literature, as well as books on Bible Study, Commentaries, and Devotionals.
The wide range includes history books, reference books, literature, as well as books on Bible Study, Commentaries, and Devotionals. These collections are complexly searchable by topic or reference and can provide a wonderful source of information to a wide range of users.
Each of these books has earned a special place in the heart of God's people. It is our desire to make these books easily affordable to all. By adding a "shelf of books" at a time, it is hoped that there can be a steady increase in one's Libronix library.
The Goodly Heritage Library - Shelf Two contains 20 Volumes and represents more than 5,200 Pages in print!
Logos Bible Software also features: Goodly Heritage Library - Shelf 1 | Goodly Heritage Library Shelf 3
Contents
Arrows and Anecdotes, by D.L. Moody, 207 pages, 1877
The biographies of D.L. Moody and Ira Sankey. Also a compilation of the sermon illustrations that Moody used, arranged by topic.
Elisha, by F.W. Krumacher, 297 pages
A spiritually stirring book that brings practical application from every aspect covered. Covers the last days of the great prophet Elisha and the kings that came to him.
Christ in Isaiah, by F.B. Meyer, 211 pages
A book of comfort and spiritual encouragement to the suffering Christian. Covers the lessons of Christ from Isaiah 40-66, and applies His life to that of His follower.
What Really Matters, by Clinton Macomber, 230 pages, 2004 edition.
A study from the book of Daniel that demonstrates the book is not just for lessons for young children, or tough material for the prophecy student, but a very practical book, demonstrating the priorities the child of God must set, in order to be like the Lord Jesus. Includes devotionals, word find puzzles, and other helps.
Daily Bible Illustrations by John Kitto, 8 volumes, 3033 pages, over 220 illustrations.
This is in the form of daily Bible study, going through the Scriptures in a year, when both the Morning Series and the Evening series are followed. Each article explains background, geography, culture, and the meaning of words.
The Witness of the Stars, by E.W. Bullinger, 204 pages, 52 illustrations
There are several constellations mentioned in the Bible. A closer look reveals that the constellations have ancient names and the names of the stars have a powerful testimony of the message of Scripture. The Heavens truly declare the glory of God, in more ways than one.
Is the Devil in Modern Amusements? by J.E. Conant 48 pages
Christians often forget to consider the impact that their forms of amusement have on them spiritually. This books points out that dancing, card playing, movies and theater lead down a path to worse evils.
Why the Pastor Failed, by J.E. Conant, 48 pages
This is a short summary of the information found in his Every Member Evangelism book. It shows that a church cannot move forward if the pastor is trying to do all the evangelistic work, and forms worship services around evangelism.
Absolute Surrender and Other Addresses, by Andrew Murray, 126 pages
The Christian is unable to progress in spiritual growth without fully surrendering to the Lord. This practical manual helps encourage the believer to give himself wholly to God.
Seven Deadly Sins, by Norman MacLeod Caie, 96 pages.
Powerful book of warning of the dangers of seven different sins. Well written with lively quotes and examples
Three Years with the Children by Amos R. Wells, 282 pages, 1900.
156 children's sermons for pastors, illustrations for Primary Sunday School Teachers, and Object Lessons and Blackboard Talks for Superintendents.
The Second Coming of Christ by Clarence Larkin, 71 pages, 28 charts and illustrations, 1922.
A landmark work on the Second Coming of Christ written from a pre-millenial and pre-tribulational viewpoint, with charts and illustrations and a careful examination of the evidence for such a viewpoint.
More details about these resources
Show More