Goodly Heritage Library: Shelf Three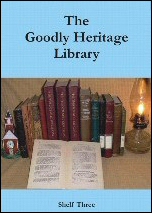 Overview
We are pleased to announce the availability of the Goodly Heritage Library - Shelf Three from one of our publishing partners, Galaxie Software.
The desire of the Goodly Heritage Library Series is to provide a wide collection of books, some of which may be unfamiliar, but will bless the hearts of the user. The wide range includes history books, reference books, literature, as well as books on Bible Study, Commentaries, and Devotionals.
The wide range includes history books, reference books, literature, as well as books on Bible Study, Commentaries, and Devotionals. These collections are complexly searchable by topic or reference and can provide a wonderful source of information to a wide range of users.
Each of these books has earned a special place in the heart of God's people. It is our desire to make these books easily affordable to all. By adding a "shelf of books" at a time, it is hoped that there can be a steady increase in one's Libronix library.
The Goodly Heritage Library - Shelf Three contains 15 volumes and represents more than 5,800 Pages in print!
Contents
Biography
Elisha: A Prophet for our Times, by F.W. Krummacher (1838, 251 pages)
Devotional commentary on 2 Kings 1-5, dealing primarily with Naaman's story and the similar faith and trust we must have in God.
From Poorhouse to Pulpit, by William M. Thayer (1859, 349 pages)
The Triumphs of the Late Dr. John Kitto, From Boyhood to Manhood, A book for Youth. Each character trait includes examples from the lives of others.
Commentary
Great Cloud of Witnesses, by E.W. Bullinger (1911, 469 pages)
An excellent analytical and exegetical commentary on Hebrews 11, the great Faith chapter.
Evangelism
How to Get Decisions in Personal Work, by J.E. Conant (1933, 39 pages)
A handy guide to help the Christian be able to reach souls for Christ. It was printed by overwhelming demand of the Moody Bible Hour radio audience.
The Bells of Is, by F.B. Meyer (1894, 141 pages)
The autobiographical story of the effective means that were used to reach people for Christ that normally would not come to church, or partake in church activities. The results of Meyer's endeavors resulted in the establishment of a half-way house for ex-convicts, several businesses to employ those looking for work, and guidance and help for those who just need help to take a "step upward."
Devotionals
Cheer for Life's Pilgrimage, by F.B. Meyer (1897, 159 pages)
A collection of various messages to bring happiness to those suffering from various Bible verses and their meaning.
Illustrations
Favorite Scripture Texts of Famous People, by Frederick Barton (1900, 272 pages)
This book offers the comments of all kinds of famous people on their favorite verses and shows many of their signatures.
Literature
John Ploughman's Talk or Plain Advice for Plain People, by C.H. Spurgeon (1880, 170 pages with illustrations)
A timeless and extremely popular book written in the common vernacular of a hardworking ploughman about moral issues.
John Ploughman's Pictures: More of His Talk, by Charles Spurgeon (1880, 160 pages)
A continuation of the surprisingly popular John Ploughman's Talk, built around moral snapshots of life.
Prophecy
Theocratic Kingdom, George Peters (3 vols., 1884, 2175 pages)
The comprehensive source of information on the Kingdom of God, citing Biblical texts and all authorship on the subject; arranged by propositions and observations.
Apprenticing for Eternity, by Clinton Macomber (2004, 230 pages)
A commentary on the book of Revelation that points out our eternal purpose in the many jobs that God has waiting for us. Life on earth today is not just the art of surviving or getting riches, fame, or notice; it is all about getting ready to serve God in the eternal job He has waiting for us.
History
Epochs of American History: The Colonies, by Ruben G. Twaites, (1897, 301 pages)
An old classic history textbook on the colonies of America.
Theology
What the Bible Teaches, R.A. Torrey (1898, 539 pages)
A listing of propositions that the Bible teaches in Theology and verses that support each statement.
More details about these resources
Show More