Mobile Ed: Learn to Use Biblical Greek and Hebrew with Logos 6 (2 courses)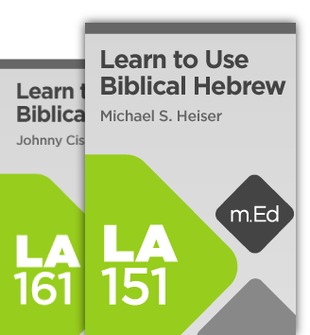 Mobile Ed: Learn to Use Biblical Greek and Hebrew with Logos 6 (2 courses)
•
Runs on Windows, Mac and mobile.
Overview
Whether you want to learn Greek and Hebrew for the first time or are simply looking for a refresher, Michael Heiser and Johnny Cisneros are excellent guides. With this tools-based approach, you'll learn the terminology, tools, and methods needed to interpret words and passages of Scripture—without memorization.
Focused on exegesis. Rather than having you memorize vocabulary or translate phrases into English, lessons focus on using Greek and Hebrew to interpret the meaning of the text. Learn grammatical terms and concepts, proper methods for doing word studies, and common mistakes to avoid.
Equipping you with tools. Video tutorials show you how to use the advanced language tools in Logos 6. You'll also learn how to use dictionaries and lexicons, reverse interlinears, commentaries, and more.
Connected to your library. Each course is transcribed and becomes a searchable Logos resource connected to grammars, reverse interlinears, and other resources in your library. Read along as you watch the lectures and jump to recommended readings with a click.
Learning on your schedule. Watch 5–10-minute lectures from your mobile device or computer, whenever your schedule allows. Set your own pace, and then track your progress with quizzes and exams. These courses contain over 20 hours of lectures and demonstrations that will take you all the way from understanding the basics to performing advanced research techniques.
Individual Courses

Using a practical approach, Dr. Michael Heiser shows you how to use biblical Hebrew to become a competent interpreter of the Old Testament. Perform word studies alongside an expert and learn to avoid common mistakes. Learn grammatical terminology used in commentaries and journal articles so you can follow the discussion. Dr. Heiser teaches you the concepts and introduces you to the tools, and then walks you through each step of interpretation.
New content and examples have been added throughout the course, including a revised and expanded word study section, coverage of prepositions and conjunctions, the Aramaic verb system, and more.
Contents:
Preliminary Matters
Tools for Word Studies
English Words and Word Meanings
Hebrew Words and English Translations
Methods for Studying Hebrew Words
Nouns
Preposition
Conjunctions
Verbs: Terminology
Verbal Tense, Aspect, and Mood
Verbal Stems
Verb Changes with Vav Conjunction
Aramaic and Transliteration
Appendix: The Lexham Discourse Hebrew Bible and the High Definition Old Testament
Michael S. Heiser is the academic editor for Logos Bible Software, Bible Study Magazine, and the Faithlife Study Bible. He is the coeditor of Old Testament Greek Pseudepigrapha with Morphology and Semitic Inscriptions: Analyzed Texts and English Translations and can do translation work in roughly a dozen ancient languages. He earned his PhD in Hebrew Bible and Semitic languages and holds an MA in ancient history and Hebrew studies. In addition, he was named the 2007 Pacific Northwest Regional Scholar by the Society of Biblical Literature.
Joshua R. Westbury holds an MA and PhD in biblical languages from the University of Stellenbosch in South Africa. He also holds an MDiv with a focus on exegesis and biblical languages from Southwestern Baptist Theological Seminary and a BA in theology and biblical languages from Houston Baptist University. Josh currently serves as a scholar-in-residence at Faithlife.
When it comes to biblical Greek, one of the first things people want to know is what a given word means, where it occurs, and how often. Johnny Cisneros shows you how to answer these questions right from the beginning, with just a few clicks in Logos. He also introduces you to nearly a dozen Greek dictionaries, commentaries, and Bible dictionaries and how to use them for interpretation.
Similar to a seminary's first year of Greek courses, you'll get a firm foundation in Greek grammar. Each concept is thoroughly explained with fresh examples. But instead of using memorization, Cisneros takes a tools-based approach, showing you how to use Logos 6 to identify those grammatical concepts in the biblical text.
Next, Cisneros takes you through the three-step process of doing a Greek word study. You'll learn how to do your own research and interpretation and compare it to the findings of other scholars. He then brings all the information and tools together into a systematic approach you can use to interpret whole passages of Scripture.
Contents:
Reverse Interlinear
Tools
Context
Grammar: Verbs
Grammar: Other Parts of Speech
Word Studies
Application
Johnny Cisneros is a PhD student in E-Research and Technology Enhanced Learning at Lancaster University in England and earned a Master of Christian Studies degree in Biblical Languages from Regent College in Vancouver, BC.
Getting the most out of Mobile Ed
Logos Mobile Education is a highly effective cross-platform learning environment that integrates world class teaching with the powerful study tools and theological libraries available in Logos Bible Software. Every course provides links to additional resources and suggested readings that supplement the lecture material at the end of every transcript segment.
More details about these resources