Lifeworks of Monte Sahlin, Part 3 (95 docs.)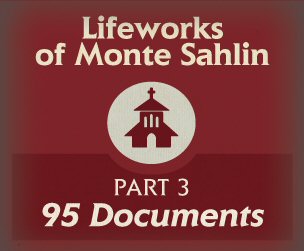 Lifeworks of Monte Sahlin, Part 3 (95 docs.)
•
Runs on Windows, Mac and mobile.
Your Custom Discount
Reg. Price $79.95
Sale Price $59.95
Your Price $59.95
You Save $20.00 25%
Your Price
What's Pre-Pub?
$59.95
Overview
Continue your study of Adventist history and contemporary issues facing the SDA Church with the Lifeworks of Monte Sahlin, Part 3. Seventh-day Adventist researcher, pastor, and writer Monte Sahlin has served more than 100 community-based ministries, church plants and nonprofit organizations. Dr. Sahlin's research reflects his wealth of experience and insight to the study of the SDA church, its members, and its mission—equipping you to better serve in your own community.
In this collection of articles, Sahlin presents SDA research findings and informed discussion on important topics relating to evangelism, church growth, urban ministry, social issues, and lay ministry development. Check out Sahlin's discussion of cross cultural leadership, the history of the Ohio conference, mission group process, friendship evangelism, ethics, World AIDS Sabbath, social action, and much more. Combining data, discussion, and direction, Part 3 of this expansive collection is an indispensable tool for pastors, teachers and other leaders as they serve Adventist congregations.
In the Logos edition, the Lifeworks of Monte Sahlin, Part 3 is enhanced by amazing functionality. Scripture citations link directly to English translations, and important terms link to dictionaries, encyclopedias, and a wealth of other resources in your digital library. Perform powerful searches to find exactly what you're looking for. Take the discussion with you using tablet and mobile apps. With Logos Bible Software, the most efficient and comprehensive research tools are in one place, so you get the most out of your study.
Key Features
Presents SDA research on urban ministry, church growth, contemporary ethical issues and more
Offers compelling insights on a range of topics concerning Seventh-day Adventists
Covers friendship evangelism and mission group process
Individual Titles
Adventist History
GODencounters: An Initiative to Engage Young Adults Is Still Going Strong after a Decade
Why You Should Take More than Passing Notice of the Death of Harold Richards
An Information Base for Strategic Planning
A Century of Adventist Presence in Takoma Park
Church Resources Consortium Future
The Ohio Conference: 150 Years Serving the Adventist Movement
Possible Outline for Call to the City [EGW Compilation]
City Lights
What Is a "Green" City?
What Are Individual Development Accounts?
Troubled Inner City Hospitals
CityLife
Online Training for Community Planning Volunteers
Cody's Books: A Neighborhood Institution
Commuting—Is It Worth It?
Cut Your Electric Bill
Freezing to Death at Home in Our Community?
Metropolitan Blind Spots: The First Suburbs
Minimum Wage Will Not Pay the Rent
Mother Church of Gospel Music Burns
Movie about Metros
The Ethics of Hassling the Homeless
Emergency Food Pantry Faces an Emergency
Keller – NYC Evangelist
Leaving the Cities?
Goals for Rebuilding in Louisiana
Traffic Woes; Transit Grows
Come to Urban Congress
Does Suburban Sprawl Cause Violence and Crime?
Who Lives Downtown?
Sidewalk Art



Urban SDA Ministry
Cross Cultural Leadership with the Ethnic Majority
Mission Group Process, Part One: Finding a Call
Mission Group Process, Part Two: Sharing a Call
Mission Group Process Part Three: Developing a Covenant
Mission Group Process, Part Four: Exploring the Mission
Mission Group Process, Part Five: Getting Acquainted with Mission Context
Mission Group Process, Part Seven: Seeking Partnerships
When the Lights Go Out
Holidays—Special Opportunity
Pray for the Welfare of the City
Baltimore: Good News in a Blue-Collar City
Commentary on French Riots of 2005
Missionaries on an Island Named Manhattan
New York Metro Ministries Reviews First Year of Operations





Evangelism and Church Growth
An Expanding View of God's Purpose
Bench-marking for Mission: Outreach and Nurture Ministries in Congregations, Revised Version
The Environment of the Church: Government, Networking and Partnerships
Why Friendship Evangelism?
Friendship Evangelism—Mingling with Others
Friendship Evangelism—How to Show Compassion
Friendship Evangelism—Ministering to People's Needs
Friendship Evangelism—Winning Confidence
Friendship Evangelism—Following Jesus
Friendship Evangelism: The Seven Core Concepts
Friendship Evangelism Newsletter: June 1998
Friendship Evangelism Newsletter: March 2000
Friendship Evangelism Newsletter: September 1998
Friendship Evangelism Newsletter: Number 4, 1999
How to Start a Mission
Membership Audit
Personal Evangelism, Part One: Readiness for Bible Studies
Personal Evangelism, Part Two: Giving Bible Studies
Personal Evangelism, Part Three: Getting Decisions
Personal Evangelism, Part Four: Preparing a Person for Baptism
NET 2004: Pastor's Manual
Net '96: Follow-up Survey of Participating Churches
Net Results
What Does Membership Mean Today? Part 1
What Does Membership Mean Today? Part 2
The Parable of the Seed & the Sower
What's Happening to the Mission of the Church?
Real Estate and Stewardship: The Larger Issues of Christian Mission and Ethics
Sowing and Reaping: Evangelism and Outreach Activities in Local Churches across North America in 2004–2006




Compassion Ministries and Social Issues
Mobilize Your Community against the Number One Killer
Disaster: Devastation and Opportunity
Bioethics: Abortion, Euthanasia, End of Life Issues
Ethical Issues–War And Peace
The Mission of ADRA in the End of Time
Adventist Action against Torture
Why ADRA Does Not Discriminate
Why ADRA's Work Is So Important to the Church
Adult: World Aids Day Program Guide
World AIDS Sabbath 2002
World AIDS Sabbath 2003
World AIDS Sabbath 2004
World AIDS Sabbath 2005
World AIDS Sabbath 2006
World AIDS Sabbath 2007
Worship through Service
Adventist Youth Honors Answer Book
Serving the Well-known and the Forgotten
What the Bible Really Teaches about Social Action




Lay Ministry Development
Is God Calling You?
Participant's Workbook: Listening Lab Retreat
About Monte Sahlin
Monte Sahlin is chairman of the board for the Center for Creative Ministry, a research organization and research center for SDA pastors and their congregations. He is also a senior fellow at the Center for Metropolitan Ministry, based at Washington Adventist University, as well as an adjunct faculty member at the Campolo Graduate School at Eastern University in Philadelphia and the Doctor of Ministry program at Andrews University. He is an ordained pastor in the Seventh-day Adventist Church, serving as a regional vice president as well as pastor of congregations in both major metropolitan areas and Appalachia. He's been awarded an Outstanding Public Service Award by the US government. He has also written 21 books, over 100 research monographs, and many magazine articles.