Mobile Ed: PD101 Our Identity in Christ (2 hour course)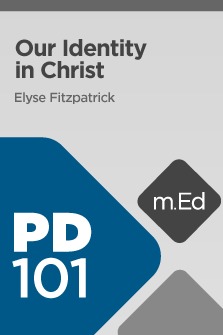 Mobile Ed: PD101 Our Identity in Christ (2 hour course)
•
Runs on Windows, Mac and mobile.
Overview
Grow your identity in Christ further with this course from renowned author and biblical counselor Elyse Fitzpatrick. God has the power to transform lives through his love. In this course, learn what the Bible says about our identity in Christ, including how we are chosen, justified, adopted, and delivered from darkness. Then examine the implications of our identity in Christ, including what we can believe about ourselves, how we can respond to others, and where we can place our hope. Whether you're a counselor, a pastor, or a new Christian, Elyse Fitzpatrick's lessons will be foundational for helping you cultivate a Christ-centered identity.
Learning Objectives
Upon successful completion you should be able to:
Identify the truths of the gospel with respect to a believer's identity
Discuss the implications of a Christian's identity in Christ
Articulate ways in which the gospel can transform believers' views of themselves
Describe how the gospel can affect believers' response to other people
Course Outline
Unit 1: How Does God Describe You?
Uniquely Crafted and Known
Searching for Topics with Bible References
Particularly Chosen
Loved by God
Using Bible Word Study to Find Words Related to "Conqueror"
Born Again to a Living Hope
Declared Righteous
Freed from Debt
Freed from Bondage and Adopted
Kept and Delivered
Using Passage Lists to Help You Memorize Bible Verses
A Citizen of Heaven Supplied with Everything
Quiz - Unit 1
Unit 2: Implications of Your Identity in Christ
We Can Be Transparent
We Can Rejoice
We Can Believe God Is for Us
We Have Hope
We Have a New Identity
Looking at Greek Prepositions to See All that We Have in Christ
We Can Glorify God
We Can Live Righteously
We Can Believe God Is Pleased with Us
We Can Welcome and Love Others
We Are Free from Legalism and Guilt
Finding Verses about Failure Using the Dictionary of Bible Themes
We Can Act as Free People
We Can Suffer Well
We Don't Need to Worry What Others Think
We Share Christ's Inheritance
We Can Be Content and Generous
Quiz - Unit 2
Final Exam
About Elyse Fitzpatrick
Elyse Fitzpatrick has been counseling women since 1989. She is a member of the National Association of Nouthetic Counseling, a retreat and conference speaker, and is the head of Women Helping Women Ministries. Fitzpatrick has a certificate in biblical counseling from CCEEF in San Diego and an MA in biblical counseling from Trinity Theological Seminary.
She is the author of more than 15 books, including Love to Eat, Hate to Eat. Fitzpatrick has developed an extensive curriculum in biblical counseling and has trained students in both North and South America.
Getting the most out of Mobile Ed
Logos Mobile Education is a highly effective cross-platform learning environment that integrates world class teaching with the powerful study tools and theological libraries available in Logos Bible Software. Every course provides links to additional resources and suggested readings that supplement the lecture material at the end of every transcript segment.
This course was produced with screencast videos. These videos provide tutorials showing you how to use Logos Bible Software in ways that are tied directly into the content of the course. We are now producing Activities resources as a replacement for screencast videos. We plan on updating this course to include this additional Activities resource in the future for no extra charge.
More details about these resources