Day One Creation and Science Collection (10 vols.)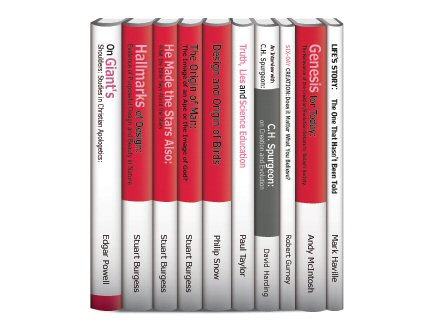 Overview
The fierce debate between proponents of creationism and evolutionism addresses the most fundamental questions of existence: What is life and how did life arise? What makes us human? Do we exist by chance, or do we fulfill a divine purpose? The authors of the Day One Creation and Science Collection contribute well-reasoned and thoughtful perspectives to the debate, drawing from their expertise in the fields of philosophy, science, and medicine. They allow antagonists to speak for themselves, yet offer reasoned counter-arguments in easy-to-understand language.
This collection re-examines the evidence and reasserts biblical and rational truth. The authors engage evolutionary thought, and offer possible ways in which science and faith can interact. They argue that evolution is incompatible with Scripture, that the theory of evolution assumes the falsity of Christian faith and doctrine, and that naturalism itself is scientifically incorrect. They contrast evolutionary theory—which, they say, diminishes scriptural authority and limits divine intentionality—with a theory of Design, by reexamining not only the book of Genesis, but also scientific evidence. All of creation has its origins in God, and the meaning of life is derived from divine purpose.
This collection includes discussion questions and study guides, along with helpful diagrams and illustrations to enhance your study and engage your mind. Complex scientific theory and difficult philosophy are clearly presented in easy-to-understand language, making these books ideal for teachers and students, for anyone seeking to determine the relationship between science and faith, and for individuals wrestling with the fundamental questions of existence.
Key Features
Addresses the key issues of biblical creation from within a God-honoring scientific framework
Examines important scientific facts
Numerous illustrations and diagrams
Study guides and discussion questions
Praise for the Print Edition
"I continue to be thankful for the publications of Day One. They are biblical; they have sound theology; and they are relative to the issues at hand. The material is condensed and manageable while, at the same time, being complete—challenging balance to find. We are happy in our ministry to make use of these excellent publications."
—John MacArthur, Pastor-Teacher, Grace Community Church, California
Product Details
Title: Day One Creation and Science Collection
Publisher: Day One Publications
Volumes: 10
Pages: 1,816

On Giant's Shoulders: Studies in Christian Apologetics
Author: Edgar Powell
Publisher: Day One Publications
Publication Date: 1999
Pages: 280
Are Christians mindless enthusiasts who need religion as a form of security in an uncertain life? Far from it! It takes courage and conviction to stand up for what you believe is right. This book examines basic questions, and provides honest answers. It encourages you to go deeper into questions that you may have taken for granted.
The topics covered in this book show how God's Word is reliable and relevant to our daily needs and problems. Today, people have questions about God and his existence. In this information age, the Christian answer is one of the most intellectually satisfying solutions. The Bible's message is simple, but profound, and deals with the mystery of life itself. You will find references to resources and materials that will strengthen your faith and keep you up-to-date.
A splendid overview of contemporary apologetic challenges.
—Christianity Today
An outstanding achievement; food for thought on every page.
—Professor William Edgar, Westminster Theological Seminary, Philadelphia
…This makes for an excellent read, and a valuable source book.
—Professor Derek Linkens, Research Professor, University of Sheffield
Edgar Powell is currently a curriculum director in computing at a further education college. He teaches computing, information technology, and geology, having over twenty-eight years' teaching experience. He has contributed articles to Creation Research Quarterly, Evangelicals Now, Evangelical Times, Grace Magazine, and Monthly Record.

Hallmarks of Design: Evidence of Purposeful Design and Beauty in Nature
Author: Stuart Burgess
Publisher: Day One Publications
Publication Date: 2000
Pages: 256
The Design Argument contends that design in nature reveals a Designer. Hallmarks of Design presents this in light of the latest discoveries about the complexity and beauty of the natural world. Features of the book include:
Six clear hallmarks of design,
Over thirty diagrams,
Description of how the earth is designed for mankind,
Description of the Creator's attributes.
Compelling presentation of the evidence of design in the natural world.
—Banner of Truth
Dr. Stuart Burgess writes in plain, easy-to-understand terms of the complexity and beauty of living creatures all around us. God has placed his hallmark on creation, and it is this argument that Dr. Stuart Burgess brilliantly expounds. Readers of this book will be intrigued by the delightful summary of example after example, showing hallmarks of design in the natural world.
—Professor Andy McIntosh, University of Leeds
Stuart Burgess is a reader in engineering design at Bristol University. His research areas include the study of design in nature. He previously worked in industry, designing rocket and satellite systems for the European Space Agency.

He Made the Stars Also: What the Bible Says About the Stars
Author: Stuart Burgess
Publisher: Day One Publications
Publication Date: 2002
Pages: 192
This book teaches clearly and biblically the purpose of the stars and addresses the question of extraterrestrial life. Dr. Burgess explains how the earth has a unique purpose in supporting life, and how the stars have a singular purpose in shining light on it. He explains why the universe contains such natural beauty and how the stars reveal God's character. This book presents many fascinating facts about the universe.
Dr. Burgess has a very clear style, and his book brims with interesting material. It will be greatly appreciated.
—Dr. Peter Masters, Metropolitan Tabernacle
Both our world and the heavens seem to sparkle with a new identity as a consequence of this book.
—Geoff Thomas
There is a great need for a book which gives clear biblical teaching on the purpose of the stars and the question of extra-terrestrial life. This book meets that need.
—Creation Science Movement
Stuart Burgess is a reader in engineering design at Bristol University. His research areas include the study of design in nature. He previously worked in industry, designing rocket and satellite systems for the European Space Agency.

The Origin of Man: The Image of an Ape or the Image of God?
Author: Stuart Burgess
Publisher: Day One Publications
Publication Date: 2004
Pages: 192
Have humans descended from apes, or was man specially created? Do humans have unique characteristics and abilities that set them apart from all the animals? The answers to these crucial questions determine whether man is just an animal or a special spiritual being. This book shows that there is overwhelming evidence that man has a Creator. The book contains many diagrams and includes explanations of:
Similarities between humans and apes,
Unique characteristics and abilities of humans,
Unique beauty of humans,
Archaeological and fossil evidence,
The importance and relevance of the origins debate.
How God made man, by what process, we do not know. We do know it was not by chance. This tour de force instills reverence and great admiration for God's creation. It is a thought-provoking and powerfully argued book.
—Professor Andrew Sims, emeritus professor of Psychiatry, University of Leeds
Stuart Burgess is a reader in engineering design at Bristol University. His research areas include the study of design in nature. He previously worked in industry, designing rocket and satellite systems for the European Space Agency.

Design and Origin of Birds
Author: Philip Snow
Publisher: Day One Publications
Publication Date: 2006
Pages: 240
Birds are among the world's most beautiful and beloved creations, so it is unsurprising that they have been so widely studied. This book closely examines their aerial lifestyle and unique, warm-blooded design—often so different from the cold-blooded dinosaurs that they are claimed to have evolved from. They often precede dinosaurs in the fossil record, and their miraculous genetics, as ours, speaks of special Creation—not random, chance chemical soups and endless genetic mistakes. They have been carved and painted since earliest times on rocks and temples, and they are associated with pyramids and religions, art and literature, sport and farming, war and peace, and even heaven and hell.
Philip Snow has produced a unique book which expertly describes and illustrates the design, life and beauty of birds.
—Stuart Burgess, Professor of Design and Nature, Bristol University
Philip Snow is a wildlife and landscape painter, illustrator, and writer. His work appears in many publications and galleries, and he has illustrated or contributed work to over sixty books and many magazines, prints, cards, calendars, reserve guides, and decorated maps. His publications include several Collins guides to UK and European birds, and his paintings have been exhibited in many top galleries, in the UK and abroad. His latest books include a wildlife and landscape sketchbook, several children's biblical coloring books, a book on estuary life and migration, and regular exhibitions of paintings and prints.

Truth, Lies and Science Education
Author: Paul Taylor
Publisher: Day One Publications
Publication Date: 2007
Pages: 160
Most people are totally unaware of what actually goes on in the teaching environment in the classroom. Parents and grandparents talk with their children and grandchildren about what they are taught, but the children are unable to explain the philosophical ideologies behind the teaching. In this carefully researched book, Paul Taylor powerfully and devastatingly brings to light the underlying thinking that is the basis for so much of what is taught in modern schools.
Students spend more time with their teachers/professors than they do with their parents in learning to understand what life is all about. As a result, their formalized education has a great impact on their worldview. Truth, Lies and Science Education is a valiant attempt to tackle this issue head on to engage the education system and parents in understanding the realities of what is being taught to children and how they are being conformed to a secular way of thinking about every aspect of reality.
—Ken Ham, president of Answers in Genesis, USA
Paul Taylor spent seventeen years teaching science, and gained a masters degree in science education at Cardiff University. He became a Christian in his late teens. His first book, Just Six Days, arranged contemporary creationist thinking into biblical order as a commentary of Genesis 1–11. Paul joined Answers in Genesis (UK/Europe) in August 2005 as a writer and speaker. He is a regular contributor to the Answers in Genesis website and Answers Magazine and is busy writing numerous articles, many of which are published in various Christian magazines. Paul is also an engaging speaker, and has made several television and radio appearances, debating leading evolutionists. A single parent, Paul looks after his three teenage children, Gemma, Adam and Jack, and his elderly mother.

An Interview with C.H. Spurgeon: C. H. Spurgeon on Creation and Evolution
Author: David Harding
Publisher: Day One Publications
Publication Date: 2006
Pages: 128
C. H. Spurgeon, who is known to be theologically robust about the verbal inspiration, infallibility, perspicuity, and preservation of the text of the Bible, made many forthright statements about Darwinism, and his sermons and writings are liberally sprinkled with references to the subject. In this virtual interview, David Harding takes us through his general thoughts on the matter, on science and the Bible, and then his more specific attitudes to science. This volume contains both advice to young people and comments for preachers. What of those who disagree? He had a few words for them too! The appendix explores Spurgeon's attitude to his own fallibility and is relevant in view of his opinions and judgments about when the world was made.
A masterpiece of writing.
—Professor Andy McIntosh, University of Leeds
A lucid, forceful, definitive, biblical answer to the theory of evolution in Spurgeon's own words... invaluable for both its historic significance and its timeless insight.
—Phil Johnson, Grace to You
David Harding is pastor of the Milnrow Evangelical Church, Lancashire, where he has ministered for the last thirteen years. His background was in local government work, and he has also been an elder at Garforth Evangelical Church and an evangelist and elder at Flitwick Baptist Church. He and his wife, Colette, have two adult sons, Matthew and Joel.

Six-Day Creation: Does it Matter What You Believe?
Author: Robert Gurney
Publisher: Day One Publications
Publication Date: 2007
Pages: 64
Ever since long-age geology and the theory of evolution became established in the nineteenth century, Christians have been divided over how to respond to the secular view of origins. Among evangelicals, there are two main positions. One is to accept the secular view in whole or in part, and to reinterpret the Bible to harmonize it with that view. The other is to reject the secular view, believing it to be incompatible with the Bible and contrary to the evidence. Are both these positions equally valid, or is one right and the other wrong? And does it really matter? This booklet examines some of the biblical, scientific and historical issues, and helps readers understand the debate and to make an informed choice.
The author has provided a valuable introduction to the matters of greatest importance in this crucial debate, upon which, I believe, hinges the very survival of a Christian witness in many once-Christian nations. Heartily recommended.
—Don Batten, senior writer, researcher, and lecturer, Creation Ministries International, Brisbane, Australia
Robert Gurney was born in Burma to missionary parents. After qualifying in medicine at Bristol University, he worked in a hospital in Nazareth, Israel, as a medical missionary in Tanzania and Kenya, and as a general practitioner in Devon before his retirement. He is the author of a book and a number of articles in theological journals on the subject of Daniel's prophecies. He has been interested in creation and evolution since his school days, and this booklet has been written after many years of searching for the truth concerning this issue.

Genesis for Today: The Relevance of the Creation/Evolution Debate to Today's Society
Author: Andy McIntosh
Publisher: Day One Publications
Publication Date: 2006
Pages: 2006
Professor McIntosh is a scientist who sees no contradiction between science and the events of creation in the book of Genesis. He believes that all Christian doctrine, directly or indirectly, has its basis in the literal events of the first eleven chapters of the Bible, and that these foundations of the faith have been undermined in the church by the fallible theories of evolution.
This book argues for the complete accuracy of Genesis and the Bible. All fundamental Christian doctrine is found in Genesis 1–11. It provides key support in the creation/evolution debate and is written in such a way that non-scientists can understand it easily. The burden of Professor McIntosh is that creation is no periphery issue. True revival of Christianity in the decadent West today will never be known unless we get back to believing God's Word from the very beginning.
I appreciate Andy McIntosh's obvious love for the Bible and his conviction that God's Word will always triumph over every falsehood. He shows in simple language why many of the evolutionists' claims are demonstrably false. In the process, he allows the Word of God to speak plainly for itself. For those who have eyes to see, here is ample proof that God's revealed truth is as trustworthy as ever—and infinitely more certain than every human speculation.
—John MacArthur, Pastor-Teacher, Grace Community Church, California
Andy McIntosh is professor of thermodynamics and combustion theory at the University of Leeds. He has had a career spanning thirty years of conducting scientific research in mathematics, combustion, and aeronautics both in academic and government establishments. He is married with three children, and speaks regularly both in the UK and abroad concerning the importance of origins.

Life's Story: The One That Hasn't Been Told
Author: Mark Haville
Publisher: Day One Publications
Publication Date: 2004
Pages: 64
How much can animals change? Why do so many species depend upon one another to survive? Where do instinct and intelligence come from? What does the design of creatures reveal about their history? In Life's Story, author Mark Haville takes the reader on a journey to discover the story of life itself. This book challenges the long-held beliefs that have underpinned the whole understanding of natural selection.
Where did I come from? Where am I going? Life's Story answers both questions with spectacular photography that shows life as it is, and an engaging text that tells it like it is. Do you want to know the truth? Here it is in full color!
—Jobe Martin
Best in class!
—John Blanchard
Mark Haville is a biblical creationist with a wide-ranging ministry.