Classic Studies on Old Testament Theology (22 vols.)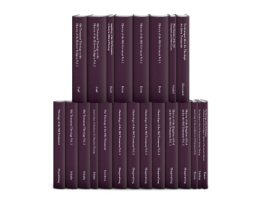 Classic Studies on Old Testament Theology (22 vols.)
•
Runs on Windows, Mac and mobile.
$48.00
Reg.: $299.95
Print: $509.99
* Projected price. Future bids may change this price.
Place Your Bid!
Click on the highest price you'd pay. If the final price is lower, that's what you'll pay.
Overview
This collection compiles classic studies on a variety of areas within Old Testament theology, providing contributions from skillful late nineteenth- and early twentieth-century scholars including Hermann Gunkel, E. W. Hengstenberg, and A. B. Davidson. Contributors expound on topics within Christology, angelology, the history of the Old Covenant, the use of Assyriology, and much more. Classic Studies on Old Testament Theology offers over eight thousand pages of interpretation, observations, translations, contextual history, and practical application. The 22 volumes have had an enduring impact on Old Testament scholarship, and this extensive collection provides easy access to that wealth of knowledge and analysis.
This collection is invaluable for students, scholars, pastors, historians, teachers of the Bible, and anyone else studying the Old Testament. With Logos, this collection is completely searchable, with passages of Scripture appearing on mouseover, as well as being linked to the original language texts and English translations in your library. These texts are more powerful and easier to access than ever before for scholarly work or personal Bible study. With the advanced features of Logos Bible Software, you can perform powerful searches by topic or Scripture reference—finding, every mention of "covenant," for example, or "Genesis 3:15."
Key Features
Combines the perspectives of notable authors from a variety of backgrounds
Offers over eight thousand pages of notable scholarship on Old Testament theology
Details the history of the Old Covenant
Includes an extensive Christology of the Old Testament
Product Details
Title: Classic Studies on Old Testament Theology
Volumes: 22
Pages: 8,471