Psalms: A Commentary, and its use in the New Testament (2 vols.)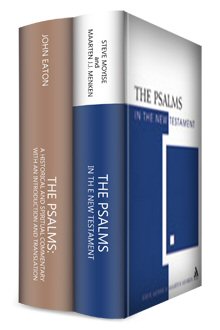 Psalms: A Commentary, and its use in the New Testament (2 vols.)
•
Runs on Windows, Mac and mobile.
Overview
The Psalms have been a source of encouragement and hope for millennia. They express our deepest yearnings, our greatest sins and God's wonderful forgiveness. John Eaton, a distinguished Old Testament scholar, has spent a lifetime studying the Psalms. His exceptional commentary represents the culmination of his lifework and is a great resource for the student, pastor and layperson. Steve Moyise and Maarten J. J. Menken, along with ten other contributors, present essays which reveal the importance of Psalms to Jesus and the writers of the New Testament.
Scroll through these other great resources on the Psalms.
Individual Titles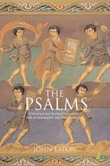 The Psalms: A Historical and Spiritual Commentary with an Introduction and Translation
Author: John Eaton
Publisher: T & T Clark
Publication Date: 2003
Pages: 544
Eaton devotes the first fifty-eight pages to surveying the historical areas surrounding the Psalms, delving into such topics as the Psalms' authors, music, poetry, and divine names and titles, including a look at how the book of Psalms has been viewed through the ages. In the commentary, Eaton follows a simple pattern for each psalm: he offers his own translation; provides introductory remarks on the psalm's character, position and setting; then proceeds with the commentary, concluding with a holistic appreciation of the psalm and a prayer. For closer study, Eaton has placed notes on textual details, poetic parallels and the views of other scholars in an Appendix.
John Eaton taught Old Testament at Birmingham University in England until his retirement. He is the author of many notable books on the psalms and the Old Testament, including Vision in Worship, Job and The Circle of Creation.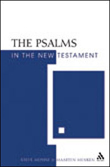 The Psalms in the New Testament
Editors: Steve Moyise and Maarten J.J. Menken
Publisher: T & T Clark
Publication Date: 2004
Pages: 262
The Psalms in the New Testament offers a comprehensive summary of the use of the Psalms at Qumran and in the New Testament and provides an overview of the role and function of the Psalms in the first century. Each chapter considers matters of textual form, points of particular interest, and hermeneutics, creating an important research tool for Septuagintal and manuscript studies, first-century hermeneutics and the development of Christian apologetics and theology. The contributors have all either written or are writing monographs on their particular section of the New Testament/Qumran. In a number of cases, the particular chapter will be the first of its kind, such as Steve Moyise's discussion of Psalms in Revelation.
Steve Moyise is Professor of New Testament at the University of Chichester and author of several books in the T&T Clark Approaches to Biblical Studies Collection (6 volumes).
Maarten J. J. Menken is Professor of New Testament at the Catholic Theological University, Utrecht, The Netherlands. He is the author of Deuteronomy in the New Testament and Isaiah in the New Testament.
Product Details
Title: Psalms: A Commentary, and its New Testament Relevance
Publisher: T & T Clark
Volumes: 2
Pages: 806
More details about these resources