Wipf & Stock Eastern Christian Studies, Part 1 (7 vols.)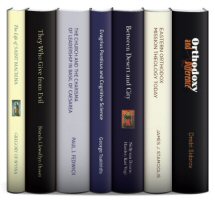 Wipf & Stock Eastern Christian Studies, Part 1 (7 vols.)
•
Runs on Windows, Mac and mobile.
Your Custom Discount
Reg. Price $134.95
Pre-order Price $99.95
Your Price $99.95
You Save $35.00 25%
Your Price
What's Pre-Pub?
$99.95
Reg.: $134.95
Print: $172.00
Overview
This collection brings together seven texts on an engaging array of subjects within Eastern Christian studies. You will find varied perspectives covering topics such as St. Basil's teaching about the role of the Holy Spirit in the edification of the church, St. Basil and St. Gregory of Nyssa's teaching on usury, an analysis of missions within the Eastern Orthodox Church, and the story of the life of St. Macrina. Discussion of early Eastern Christianity is fleshed out with modern angles as well in this diverse collection, including a volume on the Coptic Church in Egypt, and George Tsakiridis' study combining Evagrius Ponticus' teaching on evil and modern cognitive science.
Logos Bible Software connects these volumes with a wealth of other resources in your library, giving you access to insight from every angle. Scripture references appear on mouseover and link directly to your preferred English translation and original-language texts. Perform powerful searches with the Topic Guide to instantly gather relevant biblical texts and resources, enabling you to jump into the conversation with the foremost scholars on issues Eastern Christianity. Tablet and mobile apps let you take the discussion with you. With Logos Bible Software, the most efficient and comprehensive research tools are in one place, so you get the most out of your study.
Key Features
Examines multiple facets of the Eastern Orthodox Church and teachings of prominent figures
Offers unique insights on Basil of Caesarea
Provides a wealth of material for patristic study
Includes a fascinating study of the Coptic Church
Individual Titles
The Life of Saint Macrina
Author: Gregory of Nyssa
Publisher: Wipf & Stock
Publication Date: 2005
Pages: 74
Saint Macrina was a major guiding force in the early development of monasticism and it was through her example that her brother, Basil of Caesarea, was inspired to establish one of the first monastic communities. Adhering to asceticism throughout her life, she rejected all Classical education and spent her life studying Scripture and other sacred texts. The story of her life, written by her other famous brother, Gregory of Nyssa, is a masterpieces of Christian literature.
One of the most extraordinary texts in early monastic literature and full of unique information about female monasticism, it is an essential complement to Basil's monastic writings.
—Columba Stewart, OSB, author of Cassian the Monk
A luminous account of the practical, forceful, and effective work of this monastic founder and spiritual guide.
—Susan Ashbrook Harvey, author of The Lives of the Eastern Saints
Saint Gregory, Bishop of Nyssa (ca. 330–395 AD) was a theologian, philosopher, and orator. He was last of the great Cappadocian fathers and an ardent supporter of Christian orthodoxy. The profundity and richness of his thought are revealed in his many doctrinal, exegetical, polemical, and ascetical treatises.
They Who Give from Evil considers Basil of Caesarea (St. Basil the Great) and St. Gregory of Nyssa's fourth-century sermons against usury. Both brothers were concerned with the economic and theological implications of destructive and corrosive practices of lending at high rates of interest, as well as the implications for the community, and the individual soul of lender and debtor. In this text, analysis of their sermons is placed within the context of early Greek Christian responses to lending and borrowing, which were informed by Jewish, Greek, and Roman attitudes toward debt.
Focusing on the Greek patristic tradition, Ihssen shows how a millennium of reflection on the problem of usury, codified in ancient Greek philosophy, the Hebrew Scriptures, Roman law, and the New Testament, was used to elaborate a nuanced and consistently critical attitude towards the practice of taking interest on a loan, culminating in the brilliant writings of Gregory of Nyssa. Witty and engaging, this book will interest a wide readership.
—T. Allan Smith, Pontifical Institute of Mediaeval Studies
Ihssen's patient study describes Basil of Caesarea and Gregory of Nyssa's teachings on usury against the backdrop of the ancient world, of biblical teaching, and of other Christian voices in late antiquity. The result is a book that is both timely in its warnings against economic injustice, and illuminating in its elucidation of early Christian teachings on usury. Most importantly, Ihssen shows that Nyssa's approach to usury has its own unique emphases.
—Hans Boersma, Regent College
They Who Give from Evil attempts something quite bold: to ask the modern world to rethink its passive acceptance of buying and selling interest-earning loans with the moral and ethical insights of two writers who died sixteen centuries ago. . . . By the end, readers will have enjoyed learning something about moneylending in late antiquity as much as they will have enjoyed Ihssen's subtle questioning of ourselves.
—Brian Matz, Carroll College
Loans and debts have a timeless power to foster shame, moral silence, and dehumanizing injustices that cripple individuals, societies, and nation-states. Ihssen's welcomed scholarly overview of early Greek and Christian voices about this 'evil gift' tells stories that are painfully familiar even today. Her book will appeal to anyone interested in the problem of poverty and ethical responses to economic rights.
—Susan R. Holman, Harvard School of Public Health
Brenda Llewellyn Ihssen is a visiting assistant professor of religion at Pacific Lutheran University, where she teaches courses in the early and medieval history of Christianity and Islam, and Eastern Orthodox theology.
The Church and the Charisma of Leadership in Basil of Caesarea
Author: Paul J. Fedwick
Publisher: Wipf & Stock
Publication Date: 2001
Pages: 246
Basil of Caesarea (ca. 330–379) was a crucial figure in the history of the early church. Greek bishop of Caesarea Mazaca in what is now Turkey, he was an eminent theologian, recognized as a Doctor of the Church in both Eastern Orthodoxy and the Roman Catholic Church. Recent scholarship has focused on St. Basil's focus on the role of Holy Spirit in the edification and growth of the church, and this text from Paul J. Fedwick adds to that dialogue, exploring the charismatic nature of the church and its leadership through analysis of St. Basil's writings. Included are appendices that gather recent scholarship on the chronology of the life and works of Basil, as well as a bibliography listing English translations of Basil's works.
Paul J. Fedwick (PhD) is also the editor of Basil of Caesarea: Christian, Humanist, Ascetic, and author of Bibliotheca Basiliana Universalis: A Study of the Manuscript Tradition of the Works of Basil of Caesarea.
This study puts the thought of fourth-century theologian Evagrius Ponticus into dialogue with modern cognitive science on moral evil. Evagrius, in his writings about prayer and the ascetic life, addressed the struggle with personal moral evil in terms of the eight "thoughts" or "demons," eventually recast by Gregory the Great as the Seven Deadly Sins. In this volume, using the work of Pierre Hadot to recover Evagrius' context, and the work of Paul Ricoeur to discuss how we construct descriptions and myths of evil, Tsakiridis analyzes Evagrius' writings through cognitive science. Also using current research, especially the work of Eugene d'Aquili and Andrew Newberg, Tsakiridis reveals the contemporary relevance of Evagrius' approach to combating evil. Additionally, the interdisciplinary study of patristics and cognitive science opens the pathway to a better understanding between Christian tradition and the modern sciences.
Recent years have seen a resurgence in studies of Evagrius of Ponticus bringing his work into a new relevance to today's world. This book by Dr. Tsakiridis examines the work of Evagrius and focuses on a perspective not well-covered in the literature—Evagrius' importance to science especially the cognitive sciences. The book is insightful and represents an important new contribution to studies of Evagrius' work and to the science and religion discussion as a whole.
—Gayle E. Woloschak, the Feinberg School, Northwestern University
Few writers in the field of religion and science have the competence to interpret so many and varied texts in patristic mystical and moral theology, contemporary neuroscience, and the turn to spirituality in contemporary theology . . . He shows how both cognitive science and mystical theology can mutually enrich and inform each other in ways unimagined by today's popular neo-atheists and agnostics.
—Robert A. Cathey, McCormick Theological Seminary
In a thoroughly limpid style, George Tsakiridis sets before us an exceptionally interesting project: (1) he centers on sin, evil, and prayer in a way that is central to the religious life; (2) he engages the cutting edge domain of cognitive sciences; and (3) he invites us to take seriously both a much neglected fourth century religious thinker and the most contemporary work of scientists who focus on the mind and its activities.
—Philip Hefner, professor emeritus, Lutheran School of Theology at Chicago
George Tsakiridis artfully compares and clarifies the concepts used by ancient and modern thinkers to describe meditation, ways to deal with good and evil, and mysticism, and adds neuroscientific studies of such experiences. Though the times were vastly different, enlightening human commonalities emerge.
—Carol Rausch Albright, Lutheran School of Theology at Chicago
George Tsakiridis earned his PhD from the Lutheran School of Theology at Chicago. He currently teaches philosophy and religion at South Dakota State University. Previously he has instructed at Saint Xavier University, Chicago. He is also an active part of the Pappas Patristic Institute at the Holy Cross Greek Orthodox School of Theology, Brookline, Massachussetts.
Between Desert and City: The Coptic Orthodox Church Today
Editors: Nelly van Doorn-Harder and Kari Vogt
Publisher: Wipf & Stock
Publication Date: 2012
Pages: 290
The Coptic Orthodox Church in Egypt represents the largest Christian community in the Middle East today, preserving ancient Christian traditions in a unique way. Not only has it survived centuries of living in a predominantly Muslim environment, but it has also managed to renew itself continuously during its long history. This volume collects articles and essays, presenting the most important aspects of the contemporary Coptic Orthodox Church in Egypt and in the diaspora, bringing together knowledge which would otherwise remain largely inaccessible.
Nelly van Doorn-Harder teaches Islamic studies at Wake Forest University in North Carolina. Previously she taught at universities in the Netherlands and Indonesia. She earned her PhD from Vrije Universiteit in Amsterdam on the topic of women in the Coptic Orthodox Church. Formerly director of a refugee program in Cairo, Egypt, she is also the author of Contemporary Coptic Nuns and has written several papers on the contemporary Coptic Church.
Kari Vogt is professor emerita in the department of culture studies and Oriental languages at the University of Oslo, Norway. She has written widely on Christian and Islamic issues, and co-wrote Women's Studies of the Christian and Islamic Traditions.
Eastern Orthodox Mission Theology Today
Author: James J. Stamoolis
Publisher: Wipf & Stock
Publication Date: 2001
Pages: 208
This volume continues the study of the Eastern Orthodox Church, as author James Stamoolis addresses another facet of the Church's role: missions. Stamoolis' work speaks valuably into an area with limited devoted study. In this book he makes a comprehensive examination of missionary efforts by the Orthodox Church, including their history and theology.
Dr. Stamoolis has provided an extremely important service for the budding discipline of Orthodox missiology in this country. He has provided us with the first comprehensive survey of Orthodox mission theology, history, and problematics. Anyone interested in the development of mission thought and, in particular, Eastern Christian missions, will want to read this work with care. I believe it will remain a standard work in the field for a long time to come.
—Stanley Harakas, professor of Christian ethics, Holy Cross Greek Orthodox School of Theology, Boston, Massachusetts
This study is a valuable survey of the principles and insights which penetrate the missionary efforts and thought of the Orthodox Church; it is a first attempt on this subject, made with diligence, clarity and missionary sensitivity.
—Bishop Anastasios Yannoulatos, Moderator of the Commission on World Mission and Evangelism, World Council of Churches
This represents a truly pioneering study. It is likely to become a standard reference in the field. To my knowledge, there has never been such a systematic and comprehensive study of Orthodox missiology.
—Gerald H. Anderson, director of Overseas Ministries Study Center, Ventor, New Jersey
This book fills a real gap in the available documentation on the subject. It is essentially a very comprehensive survey, but it is also helpfully critical. I consider the publication of this book to be a very helpful contribution to a better understanding of Orthodoxy in the English-speaking world.
—John Meyendorff, dean of St. Vladimir's Orthodox Theological Seminary
James J. Stamoolis holds a ThD from the University of Stellenbosch, South Africa and has taught in theological colleges in southern Africa. He also served as graduate academic dean at Wheaton College, Wheaton, Illinois for nine years. He is currently the North American director of the Caspari Center for Biblical and Jewish Studies. Stamoolis continues to be an educational and ministry consultant to several organizations. He is also the author of Three Views on Eastern Orthodoxy and Evangelicalism.
Orthodoxy and Difference: Essays on the Geography of Russian Orthodox Church(es) in the 20th Century
Author: Dmitrii Sidorov
Publisher: Wipf & Stock
Publication Date: 2001
Pages: 384
This volume, by geographer Dmitrii Sidorov, gives readers a overview of the geography of the Russian Orthodox Church, examining little explored territory of the geo-politics of Russian Orthodoxy in the 20th century, and its force on Russian history.
Dmitrii Sidorov earned his PhD from the University of Minnesota in 1998. He is currently an associate professor in the department of geography at California State University, Long Beach.
Product Details
Title: Wipf & Stock Eastern Christian Studies, Part 1
Publisher: Wipf & Stock
Volumes: 7
Pages: 1,560