Select Works of John Howard Yoder (3 vols.)
Overview
Long familiar to theologians and theology students, John Howard Yoder is increasingly recognized as one of the most significant theologians of the late-twentieth century. Hailed as a gifted proponent of Anabaptist social ethics, Yoder was also an astute and ecumenically-minded constructive theologian. His insightful theological writings emphasized the ethics of nonviolence and peacemaking.
The Select Works of John Howard Yoder brings together three significant texts illuminating Yoder's wisdom and theological depth. Preface to Theology introduces Yoder's theology right out of his seminary curriculum and reveals his passionate commitment to Christology. The War of the Lamb and Christian Attitudes to War, Peace, and Revolution present Yoder's writings and theology on pacifism, violence, just war theory, and just peacemaking theory. These works only became available to the public posthumously, and each text fills a theological need still present today. Students and teachers of theology, as well as those who are curious about the theology of peace and war will find these eye-opening texts highly valuable.
With the Logos edition of Select Works of John Howard Yoder, these powerful reference tools automatically integrate with your Logos library, allowing you to cross-reference them and study these relevant issues like never before. Pull up Yoder's works with other great theologians like Dietrich Bonhoeffer to compare what they have to say about the theology of peace and war. Instantly link to dictionaries, encyclopedias, and other relevant texts to decipher difficult words. Perform powerful searches with the Topic Guide to gather all the related materials in your library. Use Logos Mobile apps to take the conversation with you. With Logos Bible Software, the most comprehensive study tools are a click or touch away, helping you maximize your studies and get the most out of your time.
Key Features
One of the most significant theologians of the late-twentieth century
Eye-opening theology on violence, pacifism, just war theory, and just peacemaking theory
Easily accessible introduction to Yoder's theological principles
Product Details
Title: Select Works of John Howard Yoder
Author: John Howard Yoder
Editors: Theodore J. Koontz, Andy Alexis-Baker, Glen Stassen, Mark Thiessen Nation, and Matt Hamsher
Publisher: Baker
Volumes: 3
Pages: 1,144
Individual Titles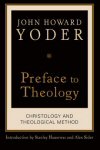 Preface to Theology, initially developed as seminary course material, is key to understanding Yoder's theology and his ever central commitment to Christology. It provides an introduction to the traditional categories of systematic theology, suggesting Yoder's concern with our posture toward theological study and the importance of viewing this study as a vital, ongoing process. Stanley Hauerwas and Alex Sider introduce the text and include updated documentation of Yoder's sources. The approachable, student-friendly format makes this volume ideal for both the beginning theology student and the advanced scholar. Readers in all Christian traditions will find it a penetrating introduction to theology, and students of Yoder's thought will find it indispensable.
I wish this book had been available when I first studied systematics . . . Yoder offers truly refreshing insights into the authority of the biblical canon, the significance of the Trinity, and the development of the doctrine of Christ's two natures. Yoder's clarifications have been embraced by both mainline and evangelical clergy and students in my seminars.
—Pheme Perkins, Theology Today
The book, a testimony to [Yoder's] faith, reveals not only a great teacher, but a passionate believer . . . The book evokes the testimony of a born theologian and a magisterial articulation of the peaceable Anabaptist tradition. That alone is worth an encounter with this book.
—John Van Den Hengel, S. C. J. Theological Studies
Though his Anabaptist heritage shines through unashamedly throughout his work, Yoder does display an impressive grasp of the history of theology and often maintains a critical posture toward his own heritage . . . This work is undoubtedly an important addition to theological literature and can serve as a very helpful introduction to the thought of Yoder particularly and to contemporary Anabaptist/Mennonite thought more generally.
—David VanDrunen, Modern Reformation
One of its strengths is that it is structured and written in a style and manner conducive for self-study: one could easily read this to great benefit without the guidance of a classroom or instructor . . . It is a witness to the commitment one should undertake in introducing students to the Christian faith and tradition—a task which Yoder properly regarded and valued.
—Mark Alan Bowald, Toronto Journal of Theology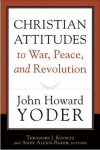 This collection of Yoder's lectures and writings on just war and pacifism describes, analyzes, and evaluates various patterns of thought and practice in Western Christian history. The volume makes Yoder's stimulating insights more accessible to a broader audience and substantially contributes to ongoing discussions concerning the history, theology, and ethics of war and peace. Theologians and ethicists, students of Yoder's thought, and all readers seeking a better understanding of war and Christian pacifism will value this work.
A most significant contribution to Yoder scholarship as well as to contemporary theological reflection upon Christian pacifism.
—Nathan R. Kerr, Modern Theology
Through his careful theological interpretation, [Yoder's] contribution over the last half of that century has touched minds and hearts across the Christian spectrum and in many parts of the larger world . . . The reader will be amazed at the breadth of Yoder's scholarship and the force of his intellectual perception as he inter-faces with other scholars . . . I highly recommend a careful reading of this work.
—Myron S. Augsburger, Brethren in Christ History & Life
The scope of this work is remarkable. Yoder's theoretical analysis of just war doctrine and his thorough investigation of pacifist expressions in the pre-Reformation and Reformation periods are substantial . . . He takes historical analysis deeper and asks questions that are more pertinent to current ecumenical discussions. This resource will be useful for those involved in ecumenical conversations on issues such as the 'responsibility to protect,' selective conscientious objection, just policing, and nuclear pacifism. This book is essential reading for those on any side of this ecumenical conversation.
—Kent Yoder, Mennonite Quarterly Review
The posthumous publication of [this book] significantly deepens our understanding of the nuances of John Howard Yoder's views regarding both peace and war, both 'nonviolence' and 'violence.' . . . [This book] offers acute insight into the nature, interrelations, and distinctions of these realities from one of 20th-century theology's best social ethicists.
—Scott Prather, Scottish Bulletin of Evangelical Theology
Theodore J. Koontz (PhD, Harvard University) is a professor of ethics and peace studies at Associated Mennonite Biblical Seminary in Elkhart, Indiana.
Andy Alexis-Baker is an adjunct professor of peace, justice, and conflict studies at Goshen College.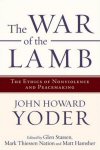 Before his sudden death, Yoder planned the essays and structure of The War of the Lamb, which he intended to be his last work. Now leading interpreters of Yoder bring that work to fruition.
The War of the Lamb covers pacifism, just war theory, and just peacemaking theory. It crystallizes Yoder's argument that his proposed ethics is not sectarian and a matter of withdrawal. Yoder also clearly argues that Christian just war and Christian pacifist traditions are basically compatible—and more specifically, that the Christian just war tradition itself presumes against all violence. Theology and ethics professors, students, and scholars will value this final work from Yoder.
A profound book that covers a lot of ground and deserves careful study . . . This is perhaps Yoder's best work because of how he deepens the theological critique of violence and thoroughly grounds nonviolence theologically. We are all in Stassen's and Nation's debt for bringing this work to fruition.
—Andy Alexis-Baker, Mennonite Quarterly Review
If any book well proclaims the very private and public, social and political goodness of the nonretaliatory love made incarnate in Jesus, The War of the Lamb is it. And if any book puts the final nail into the coffin of the false notion given us by Troeltsch, the Niebuhrs, and their students, that such love is publically irrelevant, The War of the Lamb is it. This is one of Yoder's most-important and one of American Christianity's most-needed works.
—Lee C. Camp, author, Who Is My Enemy?
Full of challenging insight—not least of which is the argument that just war and pacifist traditions are complementary—this culminating Yoder book is required reading for every Christian working for the peace witness of the church. Readers impressed by Bonhoeffer's Christian peace witness will be especially intrigued by Yoder's essays.
—Clifford Green, executive director, Dietrich Bonhoeffer Works
Glen Stassen (PhD, Duke University) is Lewis B. Smedes Professor of Christian Ethics at Fuller Theological Seminary in Pasadena, California.
Mark T. Nation (PhD, Fuller Theological Seminary) is a professor of theology at Eastern Mennonite Seminary in Harrisonburg, Virginia, and has authored several books, including John Howard Yoder: Mennonite Patience, Bonhoeffer the Assassin? Challenging the Myth, Recovering His Call to Peacemaking, Evangelical Witness, and Catholic Convictions.
Matt Hamsher is working toward his PhD in Christian ethics at Fuller Theological Seminary in Pasadena, California.
About John Howard Yoder
John Howard Yoder (1927–1997) taught ethics and theology at Notre Dame University and Associated Mennonite Biblical Seminary. He received his doctorate from the University of Basel, Switzerland, and was a member of the Mennonite Church in Elkhart, Indiana. Widely sought around the world as a theological educator, ethicist, and interpreter of biblical pacifism, he is best known for writing The Politics of Jesus.
More details about these resources