Theopolitical Visions Series (15 vols.)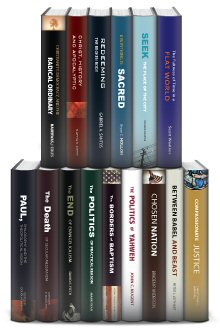 Overview
Theopolitical Visions seeks to open up new vistas on public life, hosting fresh conversations between theology and political theory. This series assembles writers who wish to revive theopolitical imagination for the sake of our common good.
Theopolitical Visions hopes to re-source modern imaginations with those ancient traditions in which political theorists were often also theologians. Whether it was Jeremiah's prophetic vision of exiles "seeking the peace of the city," Plato's illuminations on piety and the civic virtues in the Roman Republic, St. Paul's call to "a common life worthy of the Gospel," St. Augustine's beatific vision of the City of God, or the gothic heights of medieval political theology, much of Western thought has found it necessary to think theologically about politics, and to think politically about theology. This series is founded in the hope that the renewal of such mutual illumination might make a genuine contribution to the peace of our cities.
With the Logos Bible Software edition of Theopolitical Visions, you have unprecedented access to resources that offer relatable and insightful material for your study. You can do hours of biblical research with a click. With powerful searching by topic or Bible passage, instantly viewable Scripture references, a vast library of resources, and much more, Logos is the perfect software to expand your understanding of the debate between theology and political theory.
Key Features
Addresses contemporary topics, including globalization, church missions, and democracy
Discusses the relationship between theology and political theory
Includes insights from ancient and modern philosophers and scholars
Product Details
Title: Theopolitical Visions Series
Series: Theopolitical Visions
Publisher: Wipf & Stock
Volumes: 15
Pages: 4,412
Individual Titles