John Howard Yoder Collection (12 vols.)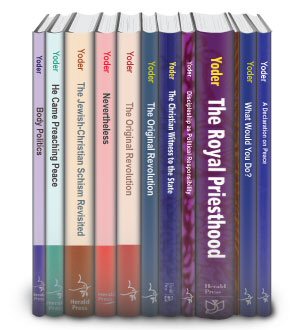 Overview
John Howard Yoder (1927–1997), professor of theology and ethics, was widely respected for his work on Christian pacifism, ecclesiology, and ethics. After leading relief and revival efforts in Europe after World War II, Yoder began teaching at both Goshen Biblical Seminary and Mennonite Biblical Seminary, where his ideas on Christian pacifism made an indelible mark on his students. His influential works stirred up a whole new discourse in Christian political involvement.
This collection offers insight into Yoder's thought, providing translations of the books that most deeply influenced his views on Christianity, pacifism, and war, as well as clear arguments for politically-active, peace-focused belief. Yoder's own well-known titles, including What Would You Do? and A Declaration of Peace, reflect this eminent theologian's stance on morality and ethics and open up the conversation for readers to explore.
Now, with this powerful 12-volume collection, you can study Yoder's works more closely than ever before. With Logos Bible Software, Yoder's works are completely searchable, Scripture references, just a click away, link to your favorite translation and to the original-language texts, and every word ties in to the rest of your digital library, opening up Yoder's thought like never before. Yoder's challenging and life-changing messages, sure to enrich your Bible study, will be a valuable addition to your study of pacifism, the church, or ethics.
Key Features
Yoder's own translations of the books that most deeply influenced his thinking
Clear arguments for a politically active, peace-focused Christianity
Deep engagement with modern ecumenical discourse
Product Details
Title: The John Howard Yoder Collection
Author: John Howard Yoder
Publisher: Herald Press
Volumes: 12
Pages: 1,825
About John Howard Yoder
John Howard Yoder (1927–1997) taught ethics and theology at Notre Dame University and Associated Mennonite Biblical Seminary. He received his doctorate from the University of Basel, Switzerland, and was a member of the Mennonite Church in Elkhart, Indiana. Widely sought around the world as a theological educator, ethicist, and interpreter of biblical pacifism, he is best known for writing The Politics of Jesus.
More details about these resources
Show More