The Latin Works of John Owen, in English (3 vols.)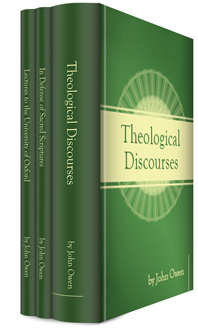 The Latin Works of John Owen, in English (3 vols.)
•
Runs on Windows, Mac and mobile.
Your Custom Discount
Reg. Price $69.95
Sale Price $49.95
Your Price $49.95
You Save $20.00 28%
Your Price
What's Pre-Pub?
$49.95
John Owen's Latin Theology and Lectures
John Owen influenced not only Puritan and Reformed theology, but arguably inspired centuries of Protestant theology in every denomination with his discourses and writings. He considered his Theologoumena Pantodapa to be his magnum opus. This volume contains some of John Owen's most profound and influential theological writings, and our translation is not available anywhere else. While most of it is his Theologoumena Pantodapa—his history of theology from Adam to the present—it also contains his never-before-translated poetry and lectures. Additionally, it contains his work on the sacred authority of Scripture—a fundamental work for the development of early Protestantism.
In this unique Logos edition, every word becomes a hyperlink to dictionaries, encyclopedias, and reference material. See John Owen's chief theological work appear in your Cited By tool or in topical search results, or search this volume for key words and phrases. Not only is this translation unique to Logos, but Logos brings you more research capability than you could ever find in print.
A New Approach to Translation Projects
Lexham Press is pleased to announce our own English translation of John Owen's Theologoumena Pantodapa. Using the Pre-Pub Process for this project allows us to invest resources in translating Theologoumena Pantodapa only if there is sufficient demand. The books that have been available only to specialists will soon be accessible to everyone. As the scope of the project becomes clearer, the price might increase—such as when we announce the translator and we begin the work of translation. That means users who pre-order the earliest—with the fewest details available—will always get the best price.
Key Features
Expert English translations true to the original Latin
John Owen's history of theological thought
Appendixes that include his Latin poem and preface to Oliver Cromwell
Praise for John Owen
John [Owen], English theologian, was without doubt not only the greatest theologian of the English Puritan movement but also one of the greatest European Reformed theologians of his day, and quite possibly possessed the finest theological mind that England ever produced.
—Carl R. Trueman, professor of historical theology and church history, Westminster Theological Seminary
In all our life and ministry, as we care for people and contend for the faith, we can learn much from Owen's pursuit of holiness in private and public. . . . I thank God for John Owen's unwavering passion for communion with God. We are debtors to his mighty pen and to the passion for God's glory . . . that drove it.
For solidity, profundity, massiveness and majesty in exhibiting from Scripture God's ways with sinful mankind there is no one to touch him.
Probably no other theologian has more deeply affected my thinking and life than John Owen. His ability to hold together the wonders of the Gospel are astounding as he explores the depth of our human need in light of the glory of our Triune God. He never forgot that all good theology is necessarily pastoral.
—Kelly M. Kapic, professor of theological studies, Covenant College
To have known the pastoral ministry of John Owen . . . (albeit in written form) has been a rich privilege; to have known Owen's God an even greater one.
—Sinclair Ferguson
. . . the greatest theologian who has ever written in the English language.
—Roger Nicole
. . . one of the most thorough and thoughtful theologians.
—Sebastian Rehnman, professor of the philosophy of religion, Misjonshøgskolen
Individual Titles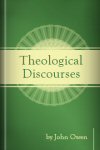 Theological Discourses
Author: John Owen
Translator: TBA
Publisher: Lexham Press
Publication Date: 2013
Pages: 699
This volume contains Owen's treatise on the origin, history and progress of theology from the Fall to the present. The last chapter describes Owen's method of theological study and prospects for the future of theology. Owen carefully analyzes the theological perspectives demonstrated throughout the ages by Adam, Noah, Abraham, Moses, and, in the end, Jesus and the future of theology thereafter.
Contents
Natural Theology
Theology of Adam
Theology of Noah
Theology of Abraham
Theology of Moses
Evangelical Theology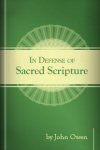 In Defense of Sacred Scripture
Author: John Owen
Translator: TBA
Publisher: Lexham Press
Publication Date: 2013
Pages: 52
This concise treatise is John Owen's defense on the sole and supreme authority of Scripture in the church and in spiritual affairs. He asserts that Scripture is the Word of God, that Scripture is complete and lacks nothing, and that the interpretation of the Word of God should be for the entire Christian community (not just individuals interpreting Scripture for themselves).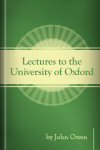 Lectures to the University of Oxford
Author: John Owen
Translator: TBA
Publisher: Lexham Press
Publication Date: 2013
Pages: 49
These lectures are among the little that remains of Owen's work at Oxford. This volume contains six lectures and a poem to Oliver Cromwell, which was included as part of a literary tribute presented by Oxford to Oliver Cromwell, the "Protector of England." Owen wrote the introduction to that tribute, as well as his own poem, "Ad Protectorum," or, "To the Protector." The first five lectures are his addresses to the University of Oxford as its vice-chancellor, which include his inaugural address and his resignation address.
Product Details
Title: The Latin Works of John Owen, in English (3 vols.)
Author: John Owen
Publisher: Lexham Press
Volumes: 3
Pages: 800
About John Owen
John Owen (1616–1683) was born at Stadhampton, Oxfordshire in 1616. He entered Queen's College, Oxford, at the age of twelve and completed his MA in classics and theology in 1635 at the age of nineteen. He was ordained shortly thereafter and left the university to be a chaplain to the family of a noble lord. His first parish, in 1637, was at Fordham in Essex, to which he went while England was involved in civil war. It was here that he became convinced that the Congregational way was the scriptural form of church government. In the 1640s he became chaplain to Oliver Cromwell, the new "Protector of England," and traveled with him on his expeditions to Ireland and Scotland. Between 1651 and 1660, he played a prominent part in the religious, political, and academic life of the nation. In 1651 he was appointed dean of Christ Church and in 1652 made Vice-Chancellor of Oxford—positions which allowed him to train ministers for the Cromwellian state church. He lost his position in 1660, however, when the restoration of the monarchy began after the death of Cromwell in 1658. Owen moved to London and led the Puritans through the bitter years of religious and political persecution—experiences which shaped his theological inquiry, pastoral reflection, and preaching. He also declined invitations to the ministry in Boston in 1663, and declined an offer to become president of Harvard in 1670. He died in August, 1683.