Lexham Methods Series (4 vols.)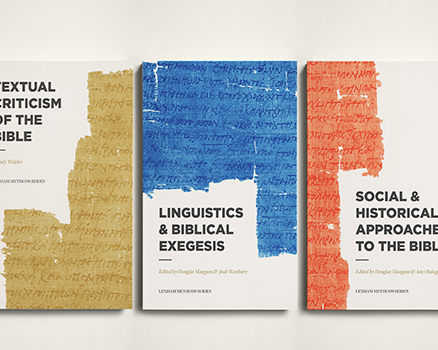 Lexham Methods Series (4 vols.)
•
Runs on Windows, Mac and mobile.
$60.00
* Community bid. May go even lower.
Place Your Bid!
Click on the highest price you'd pay. If the final price is lower, that's what you'll pay.
Overview
Learn interpretation methods or refresh your knowledge. Understand the Bible better than ever before. Absorb the methods behind commentators' works—and the history that led to the formation of their methods. This designed-for-digital resource combines the expertise of a highly educated research team with the interconnectivity of your Logos software and library. Each volume is your guidebook for self-study and deeper research, and the foundation for sharing with others through professionally designed slides.
The Lexham Methods Series enables pastors to learn, refresh, or master the tools of biblical scholarship—and feel confidently equipped to share the materials with others. This resource will deepen and reinforce seminary and Bible students' understanding of materials presented in class and enable them to conduct more extensive research. Serious learners will gain the same breadth and depth of knowledge as intensive Bible college courses without the imposing schedule and expense of graduate school.
Lexham Methods Series:
Easily reference details about methods of biblical interpretation—Each book is a quick reference for an overview of a type of biblical interpretation, the major elements and terminology of that type of criticism, and examples of using the affiliated methods.
Teaches biblical interpretation methods—This educational resource leads you through a self-study, including a how-to section with numerous examples. Whether you need a refresher or have never learned biblical interpretation methods, this resource will guide you through what you need to know.
Share what you've learned—The professionally designed slides present key terms, allowing pastors, academics, and teachers to present the major ideas in a memorable way.
Introduces new research and resources—You may encounter new insights and content in these volumes.
Curates your library—The links to your Logos library allow you to take your learning to a deeper level. You will agree with some aspects of the content, disagree with others, but you will encounter all of it in biblical studies. This resource guides you through the major elements of biblical studies.
Broadens and deepens your biblical education—Each volume clearly and accessibly presents the key figures and moments in the historical development of the type of biblical interpretation, the steps involved in executing the methods affiliated, and concrete examples of how to perform the methods.
Praise for the First Volume
First, I am a huge fan of how this volume is organized. It is easy to read through in a few sittings or to use as a reference guide. The table of contents is easily navigated and labeled so that it is simple to find the subject matter you might be looking for. This volume is perhaps one of the most thorough yet accessible introductions to textual criticism available. For the most part it finds a good balance between scholarly treatment of the issues and accessibility to the average reader. The sections on both Old and New Testament textual criticism have sub-sections on how to do textual criticism. These sections themselves are reason enough to get the volume.
—Matt McMains, PhD student, Southern Baptist Theological Seminary
Organizationally, it's fantastic. It addresses all the key issues without dumbing them down and yet balances scholarship and accessibility quite well. In short, readers of this book will learn why textual criticism matters and will be introduced to the method well enough to understand how it works and why it matters—as well as having a good foundation for further research.
—Jim West, ThD, professor of biblical studies, Quartz Hill School of Theology
Individual Titles
Content per Volume
Series Introduction
Volume Overview
Chapters (one per method) featuring history and key figures, methods and terms, and a how-to section
Conclusion presenting the implications of the interpretive method for ministry
Curated links to Logos library resources that illustrate the method or provide further discussion of the method itself
Professionally designed slides to display key terms and definitions for sharing and teaching—easily exports to PowerPoint
Volume 1: Textual Criticism of the Bible
Author: Wendy Widder
Editor: Douglas Mangum
Publisher: Lexham Press
Publication Date: 2013
Pages: 185
Contents
Introducing Textual Criticism
Overview of Textual Criticism
Introduction to Old Testament Textual Criticism
Introduction to New Testament Textual Criticism
Textual Criticism and the Bible Today
Volume 2: Linguistics & Biblical Exegesis
Editors: Douglas Mangum and Josh Westbury
Publisher: Lexham Press
Publication Date: 2014
Pages: 203
Contents
Introducing Language and Linguistics by Wendy Widder
Elements of Linguistics by Wendy Widder, Jeremy Thompson, and Daniel Wilson
Major Approaches to Language by Wendy Widder and Jeremy Thompson
Linguistic Problems in Biblical Hebrew by Wendy Widder
Linguistic Problems in Biblical Greek by Michael Aubrey
The Value of Linguistically Informed Exegesis by Michael Aubrey
Volume 3: Social & Historical Approaches to the Bible
Editors: Douglas Mangum and Amy Balogh
Publisher: Lexham Press
Publication Date: 2014
Pages: 243
Contents
Introducing Biblical Criticism by Douglas Mangum
The Historical-Grammatical Approach by Judith Odor
Source Criticism by Amy Balogh and Wendy Widder
Form Criticism by Gretchen Ellis
Tradition History of the Old Testament by Gretchen Ellis
Redaction Criticism by Jeffery M. Leonard
Social-Scientific Criticism by Coleman Baker
Volume 4: Literary Approaches to the Bible
Editors: Douglas Mangum and Douglas Estes
Publisher: Lexham Press
Publication Date: 2014
Pages: 309
Contents
The Literary Approach to the Bible by Douglas Estes
Canonical Criticism by David Schreiner
Rhetorical and Narrative Criticism of the Old Testament by Suzanna Smith
Inner-Biblical Interpretation and Intertextuality by Jeffery M. Leonard
Narrative Criticism of the New Testament by TBA
Rhetorical Criticism of the New Testament by Douglas Estes
Structural Criticism by Gretchen Ellis
Poststructuralist Criticism by John DelHousaye
Product Details
Title: Lexham Methods Series
Editor: Douglas Mangum
Publisher: Lexham Press
Volumes: 4
Pages: 940
About the Editors
Douglas Mangum is a PhD candidate in Near Eastern studies at the University of the Free State; he holds an MA in Hebrew and Semitic Studies from the University of Wisconsin–Madison. He is a Lexham English Bible editor, a Faithlife Study Bible contributing editor, a regular Bible Study Magazine contributor, and a frequently consulted specialist for the Lexham Bible Dictionary.
Josh Westbury holds a PhD in Biblical Languages from the University of Stellenbosch in South Africa. He also holds an MA in Biblical Languages from the University of Stellenbosch, a Master of Divinity degree from Southwestern Baptist Theological Seminary with a focus on exegesis and Biblical Languages, and a BA in Theology and Biblical Languages from Houston Baptist University. Josh currently serves as a Scholar-in-Residence at Faithlife.
Douglas Estes holds a PhD in Theology from the University of Nottingham. He is Assistant Professor of New Testament and Practical Theology and the Director of the DMin Program at South University—Columbia. Previously he served in pastoral ministry for sixteen years. He is a regular contributor to Bible Study Magazine.
Sample Screenshots from Volume 1