Lexham Methods Series (4 vols.)
Lexham Methods Series
Understand the Bible better than ever before. The Lexham Methods Series is designed for exegetes who need to learn, refresh, and master the tools of biblical scholarship. The books present scholarly information in an easy-to-understand format and focus on cutting-edge methods for biblical interpretation while avoiding jargon. The four volumes give you a complete overview of every major type of biblical interpretation, featuring history and key figures, methods and terms, and a how-to section, giving you a strong foundation for further research.
Key Features
Lexham Methods Series:
Easily reference details about methods of biblical interpretation—Each book is a quick reference for an overview of a type of biblical interpretation, the major elements and terminology of that type of criticism, and examples of using the affiliated methods.
Teaches biblical interpretation methods—This educational resource leads you through self-study, including a how-to section with numerous examples. Whether you need a refresher or have never learned biblical interpretation methods, this resource will guide you through what you need to know.
Share what you've learned—The professionally designed slides present key terms, allowing pastors, academics, and teachers to present the major ideas in a memorable way.
Introduces new research and resources—You may encounter new insights and content in these volumes.
Curates your library—The links to your Logos library allow you to take your learning to a deeper level. You will agree with some aspects of the content, disagree with others, but you will encounter all of it in biblical studies. This resource guides you through the major elements of biblical studies.
Broadens and deepens your biblical education—Each volume clearly and accessibly presents the key figures and moments in the historical development of each type of biblical interpretation, the steps involved in executing the methods affiliated, and concrete examples of how to practice the methods.
Praise for the Lexham Methods Series
Students entering biblical studies courses at the college or seminary level are often baffled by the array of new methodologies they encounter. Reading their Bible and going to church never prepared them for the likes of form criticism, redaction criticism, rhetorical analysis, narrative criticism, or structuralism! What these students need is a simple and clear introduction to the presuppositions, technical terms and goals of these methods. The Lexham Method Series meets this need. Highly recommended. I only wish these volumes were available when I was in seminary!
—Mark L. Strauss, professor of New Testament, Bethel Seminary San Diego
Product Details
Title: Lexham Methods Series
Editors: Douglas Mangum, Josh Westbury, Amy Balogh, and Douglas Estes
Publisher: Lexham Press
Volumes: 4
Individual Titles
Textual Criticism of the Bible: Revised Edition
Author: Amy Anderson and Wendy Widder
Editor: Douglas Mangum
Publisher: Lexham Press
Publication Date: 2018
Pages: 264
Textual Criticism of the Bible provides a starting point for the study of both Old and New Testament textual criticism. In this book, you will be introduced to the world of biblical manuscripts and learn how scholars analyze and evaluate all of that textual data to bring us copies of the Bible in Hebrew, Aramaic, and Greek that can be used for translating the Bible into modern languages. Textual Criticism of the Bible surveys the field, explains technical terminology, and demonstrates in numerous examples how various textual questions are evaluated. Complicated concepts are clearly explained and illustrated to prepare readers for further study with either more advanced texts on textual criticism or scholarly commentaries with detailed discussions of textual issues. You may not become a textual critic after reading this book, but you will be well prepared to make use of a wide variety of text-critical resources.
Praise for Textual Criticism of the Bible
An excellent, helpful, and practical introduction to the topic for beginners.
—Peter J. Gentry, Donald L. Williams Professor of Old Testament Interpretation, Southern Baptist Theological Seminary
Contents
Introducing Textual Criticism
Overview of Textual Criticism
Introduction to Old Testament Textual Criticism
Introduction to New Testament Textual Criticism
Textual Criticism and the Bible Today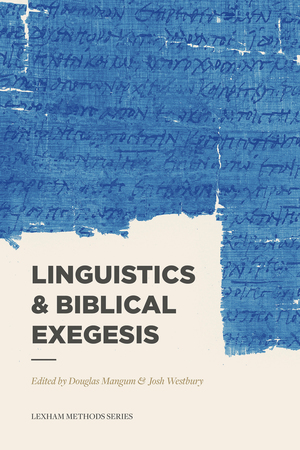 Linguistics & Biblical Exegesis
Editors: Douglas Mangum and Josh Westbury
Publisher: Lexham Press
Pages: 256
We rarely think about the way languages work because communicating in our native tongue comes so naturally to us. The Bible was written in ancient Hebrew, Aramaic, and Greek—languages no modern reader can claim to have a native understanding of. A better understanding of how language works should help us understand the Bible better as we seek to discern the original intent and meaning of each biblical author. In Linguistics & Biblical Exegesis, you will get a basic introduction to the field of linguistics—its history, its key concepts, its major schools of thought, and how its insights can shed light on various problems in biblical Hebrew and Greek. Learn how the study of language can enhance your Bible study.
Praise for Linguistics & Biblical Exegesis
This is a real gem. It provides an easy-to-follow bird's eye view of those developments and aspects of linguistics that may be helpful for better understanding the source texts of the Bible. It is a must read for students and exegetes who are serious about understanding the richness but also fascinating complexity of the Biblical texts that are so dear to us.
—Christo Van Der Merwe, professor of biblical Hebrew, Stellenbosch University, South Africa
Contents
Introduction to Linguistics and the Bible by Wendy Widder
Linguistic Fundamentals by Wendy Widder
Language in Use by Jeremy Thompson and Wendy Widder
Language Universals, Typology, and Markedness by Daniel Wilson and Michael Aubrey
Major Approaches to Linguistics by Jeremy Thompson and Wendy Widder
Linguistic Issues in Biblical Hebrew by Wendy Widder
Linguistic Issues in Biblical Greek by Michael Aubrey
The Value of Linguistically Informed Exegesis by Michael Aubrey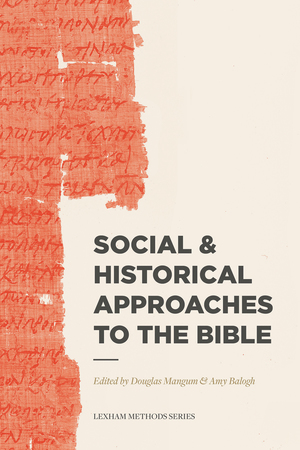 Social & Historical Approaches to the Bible
Editors: Douglas Mangum and Amy Balogh
Publisher: Lexham Press
Pages: 280
The Bible was not written and received in a historical vacuum—in fact, the social and historical context of the Bible illuminates key understandings that may have been otherwise missed. Biblical scholars use many different approaches to uncover this context, each engaging various aspects of the social and historical world of the Bible—from religious ritual to scribal practice to historical event. In Social & Historical Approaches to the Bible, you will learn how these methods developed and see how they have been used. Many of these approaches are still in use by biblical scholars today, though often evolved from their earliest form as ideas were revised in light of the challenges and questions posed by further research. You will be introduced to the strengths and weaknesses of each method, so you may understand its benefits as well as see its limitations.
Praise for Social & Historical Approaches to the Bible
Social and Historical Approaches to the Bible is essential reading for students of the content and context of the bible. Adeptly defining, unpacking, and examining several genres of biblical criticism—including chapters each for the historical-grammatical approach, source criticism, form criticism, tradition-historical criticism, redaction criticism, and social-scientific criticism—Social and Historical Approaches to the Bible offers clear, readable, and current information about fundamental perspectives and methods used in biblical studies. This is an indispensable handbook for the shelves of biblical students and professionals alike.
—Erica Muhaisen, professor of philosophy at the University of Colorado (Denver)
Contents
Introducing Biblical Criticism by Amy Balogh and Douglas Mangum
The Historical-Grammatical Approach by Judith Odor
Source Criticism by Amy Balogh, Dan Cole, and Wendy Widder
Form Criticism by Gretchen Ellis
Tradition-Historical Criticism by Gretchen Ellis
Redaction Criticism by Jeffery Leonard
Social-Scientific Criticsm by Coleman Baker and Amy Balogh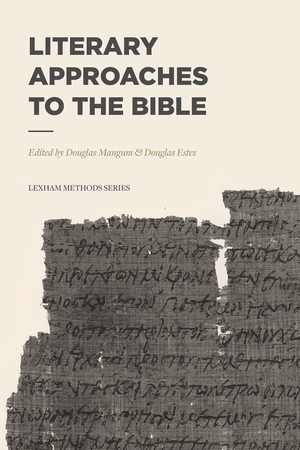 Literary Approaches to the Bible
Editors: Douglas Mangum and Douglas Estes
Publisher: Lexham Press
Pages: 344
The study of the Bible has long included a literary aspect with great attention paid not only to what was written but also to how it was expressed. The detailed analysis of biblical books and passages as written texts has benefited from the study of literature in classical philology, ancient rhetoric, and modern literary criticism. Literary Approaches to the Bible introduces the various ways the study of literature has been used in biblical studies. Most literary approaches emphasize the study of the text alone—its structure, its message, and its use of literary devices—rather than its social or historical background. The methods described in this volume are focused on different ways of analyzing the text within its literary context. Some of the techniques have been around for centuries, but the theories of literary critics from the early 20th century to today had a profound impact on biblical interpretation. In this book, you will learn about those literary approaches, how they were adapted for biblical studies, and what their strengths and weaknesses are.
Praise for Literary Approaches to the Bible
This collection provides an excellent introduction to various methodologies utilized in literary interpretation of the Bible. Each essay gives a definition and explanation of the method being presented, examples of its application to the biblical text, and a balanced assessment of its advantages and limitations. Students and practitioners of biblical interpretation will find this a very helpful introduction to various literary methods of interpretation, which are not presented as the means of interpreting the Bible, but rather one tool to be utilized alongside others to assist the interpreter in grasping the meaning and significance of the text.
—David R. Beck, associate dean of biblical studies, professor of New Testament and Greek, Southeastern Baptist Theological Seminary
Contents
The Literary Approach to the Bible by Douglas Estes
Canonical Criticism by David Schreiner
Old Testament Rhetorical and Narrative Criticism by Suzanna Smith
Inner-Biblical Interpretation and Intertextuality by Jeffery Leonard
Narrative Criticism of the New Testament by Daniel Brendsel
Rhetorical Criticism of the New Testament by Douglas Estes
Structural Criticism by Gretchen Ellis
Poststructural Criticism by John DelHousaye
About the Editors
Douglas Mangum is an academic editor for Lexham Press. He holds a PhD in Hebrew from the University of Free State and holds a Master of Arts in Hebrew and Semitic Studies from the University of Wisconsin–Madison. He is an associate editor of the Lexham Bible Dictionary, editor of the Lexham Methods Series, and a regular Bible Study Magazine contributor.
Josh Westbury holds a PhD in Biblical Languages from the University of Stellenbosch in South Africa. He also holds an MA in Biblical Languages from the University of Stellenbosch, a Master of Divinity degree from Southwestern Baptist Theological Seminary with a focus on exegesis and Biblical Languages, and a BA in Theology and Biblical Languages from Houston Baptist University. Josh currently serves as a Scholar-in-Residence at Faithlife.
Amy L. Balogh holds a PhD from the Illif School of Theology at the University of Denver. She is a visiting lecturer in the religion department at Colorado College and program coordinator at the Center for Judaic Studies at the University of Denver. She is a contributing editor for DIY Bible Study and a contributor to Lexham Bible Dictionary and Faithlife Study Bible.
Douglas Estes holds a PhD in Theology from the University of Nottingham. He is Assistant Professor of New Testament and Practical Theology and the Director of the DMin Program at South University—Columbia. Previously he served in pastoral ministry for sixteen years. He is a regular contributor to Bible Study Magazine.
Sample Pages from Textual Criticism of the Bible
More details about these resources