Lexham Methods Series (4 vols.)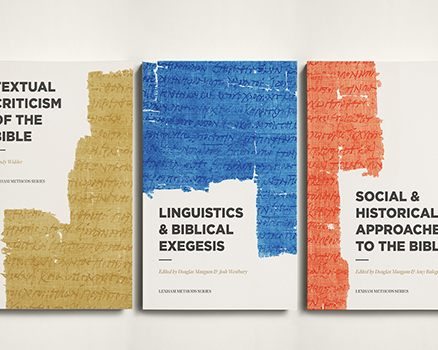 Lexham Methods Series (4 vols.)
•
Runs on Windows, Mac and mobile.
Your Custom Discount
Reg. Price $99.95
Sale Price $69.99
Your Price $69.99
You Save $29.96 29%
Your Price
What's Pre-Pub?
$69.99
Overview
Understand the Bible better than ever before. The Lexham Methods Series enables you to learn, refresh, and master the tools of biblical scholarship—and feel confidently equipped to share your learning with others. The series presents biblical interpretation, how-to instruction, and an annotated bibliography and shows real examples of the method in practice. Analyze the methods behind commentators' works as well as the history behind those methods.
This designed-for-digital resource leverages the vast power of the interconnectivity of your Logos software and library. Each volume is your guidebook for self-study and deeper research, and the foundation for sharing with others through professionally designed slides.
Lexham Methods Series:
Easily reference details about methods of biblical interpretation—Each book is a quick reference for an overview of a type of biblical interpretation, the major elements and terminology of that type of criticism, and examples of using the affiliated methods.
Teaches biblical interpretation methods—This educational resource leads you through a self-study, including a how-to section with numerous examples. Whether you need a refresher or have never learned biblical interpretation methods, this resource will guide you through what you need to know.
Share what you've learned—The professionally designed slides present key terms, allowing pastors, academics, and teachers to present the major ideas in a memorable way.
Introduces new research and resources—You may encounter new insights and content in these volumes.
Curates your library—The links to your Logos library allow you to take your learning to a deeper level. You will agree with some aspects of the content, disagree with others, but you will encounter all of it in biblical studies. This resource guides you through the major elements of biblical studies.
Broadens and deepens your biblical education—Each volume clearly and accessibly presents the key figures and moments in the historical development of the type of biblical interpretation, the steps involved in executing the methods affiliated, and concrete examples of how to perform the methods.
Key Features
Chapters (one per method) featuring history and key figures, methods and terms, and a how-to section
Conclusion presenting the implications of the interpretive method for ministry
Curated links to Logos library resources that illustrate the method or provide further discussion of the method itself
Professionally designed slides to display key terms and definitions for sharing and teaching
Praise for Textual Criticism of the Bible
First, I am a huge fan of how this volume is organized. It is easy to read through in a few sittings or to use as a reference guide. The table of contents is easily navigated and labeled so that it is simple to find the subject matter you might be looking for. This volume is perhaps one of the most thorough yet accessible introductions to textual criticism available. For the most part it finds a good balance between scholarly treatment of the issues and accessibility to the average reader. The sections on both Old and New Testament textual criticism have sub-sections on how to do textual criticism. These sections themselves are reason enough to get the volume.
—Matt McMains, PhD student, Southern Baptist Theological Seminary
Organizationally, it's fantastic. It addresses all the key issues without dumbing them down and yet balances scholarship and accessibility quite well. In short, readers of this book will learn why textual criticism matters and will be introduced to the method well enough to understand how it works and why it matters—as well as having a good foundation for further research.
—Jim West, ThD, professor of biblical studies, Quartz Hill School of Theology
Product Details
Title: Lexham Methods Series
Editors: Douglas Mangum, Josh Westbury, Amy Balogh, and Douglas Estes
Publisher: Lexham Press
Volumes: 4
Individual Titles
Textual Criticism of the Bible
Author: Wendy Widder
Editor: Douglas Mangum
Publisher: Lexham Press
Publication Date: 2013
Pages: 185
Textual Criticism of the Bible provides a starting point for the study of both Old and New Testament textual criticism. In this book, you will be introduced to the world of biblical manuscripts and learn how scholars analyze and evaluate all of that textual data to bring us copies of the Bible in Hebrew, Aramaic, and Greek that can be used for translating the Bible into modern languages. Textual Criticism of the Bible surveys the field, explains technical terminology, and demonstrates in numerous examples how various textual questions are evaluated. Complicated concepts are clearly explained and illustrated to prepare readers for further study with either more advanced texts on textual criticism or scholarly commentaries with detailed discussions of textual issues. You may not become a textual critic after reading this book, but you will be well prepared to make use of a wide variety of text-critical resources.
Contents
Introducing Textual Criticism
Overview of Textual Criticism
Introduction to Old Testament Textual Criticism
Introduction to New Testament Textual Criticism
Textual Criticism and the Bible Today
Linguistics & Biblical Exegesis
Editors: Douglas Mangum and Josh Westbury
Publisher: Lexham Press
Pages: 203
We rarely think about the way languages work because communicating in our native tongue comes so naturally to us. The Bible was written in ancient Hebrew, Aramaic, and Greek—languages no modern reader can claim to have a native understanding of. A better understanding of how language works should help us understand the Bible better as we seek to discern the original intent and meaning of each biblical author. In Linguistics & Biblical Exegesis, you will get a basic introduction to the field of linguistics—its history, its key concepts, its major schools of thought, and how its insights can shed light on various problems in biblical Hebrew and Greek. Learn how the study of language can enhance your Bible study.
Contents
Introducing Language and Linguistics by Wendy Widder
Elements of Linguistics by Wendy Widder, Jeremy Thompson, and Daniel Wilson
Major Approaches to Language by Wendy Widder and Jeremy Thompson
Linguistic Problems in Biblical Hebrew by Wendy Widder
Linguistic Problems in Biblical Greek by Michael Aubrey
The Value of Linguistically Informed Exegesis by Michael Aubrey
Social & Historical Approaches to the Bible
Editors: Douglas Mangum and Amy Balogh
Publisher: Lexham Press
Pages: 243
The Bible was not written and received in a historical vacuum—in fact, the social and historical context of the Bible illuminates key understandings that may have been otherwise missed. Biblical scholars use many different approaches to uncover this context, each engaging various aspects of the social and historical world of the Bible—from religious ritual to scribal practice to historical event. In Social & Historical Approaches to the Bible, you will learn how these methods developed and see how they have been used. Many of these approaches are still in use by biblical scholars today, though often evolved from their earliest form as ideas were revised in light of the challenges and questions posed by further research. You will be introduced to the strengths and weaknesses of each method, so you may understand its benefits as well as see its limitations.
Contents
Introducing Biblical Criticism by Douglas Mangum
The Historical-Grammatical Approach by Judith Odor
Source Criticism by Amy Balogh and Wendy Widder
Form Criticism by Gretchen Ellis
Tradition History of the Old Testament by Gretchen Ellis
Redaction Criticism by Jeffery M. Leonard
Social-Scientific Criticism by Coleman Baker
Literary Approaches to the Bible
Editors: Douglas Mangum and Douglas Estes
Publisher: Lexham Press
Pages: 309
The study of the Bible has long included a literary aspect with great attention paid not only to what was written but also to how it was expressed. The detailed analysis of biblical books and passages as written texts has benefited from the study of literature in classical philology, ancient rhetoric, and modern literary criticism. Literary Approaches to the Bible introduces the various ways the study of literature has been used in biblical studies. Most literary approaches emphasize the study of the text alone—its structure, its message, and its use of literary devices—rather than its social or historical background. The methods described in this volume are focused on different ways of analyzing the text within its literary context. Some of the techniques have been around for centuries, but the theories of literary critics from the early 20th century to today had a profound impact on biblical interpretation. In this book, you will learn about those literary approaches, how they were adapted for biblical studies, and what their strengths and weaknesses are.
Contents
The Literary Approach to the Bible by Douglas Estes
Canonical Criticism by David Schreiner
Rhetorical and Narrative Criticism of the Old Testament by Suzanna Smith
Inner-Biblical Interpretation and Intertextuality by Jeffery M. Leonard
Narrative Criticism of the New Testament by TBA
Rhetorical Criticism of the New Testament by Douglas Estes
Structural Criticism by Gretchen Ellis
Poststructuralist Criticism by John DelHousaye
About the Editors
Douglas Mangum is a PhD candidate in Near Eastern studies at the University of the Free State; he holds an MA in Hebrew and Semitic Studies from the University of Wisconsin–Madison. He is a Lexham English Bible editor, a Faithlife Study Bible contributing editor, a regular Bible Study Magazine contributor, and a frequently consulted specialist for the Lexham Bible Dictionary.
Josh Westbury holds a PhD in Biblical Languages from the University of Stellenbosch in South Africa. He also holds an MA in Biblical Languages from the University of Stellenbosch, a Master of Divinity degree from Southwestern Baptist Theological Seminary with a focus on exegesis and Biblical Languages, and a BA in Theology and Biblical Languages from Houston Baptist University. Josh currently serves as a Scholar-in-Residence at Faithlife.
Douglas Estes holds a PhD in Theology from the University of Nottingham. He is Assistant Professor of New Testament and Practical Theology and the Director of the DMin Program at South University—Columbia. Previously he served in pastoral ministry for sixteen years. He is a regular contributor to Bible Study Magazine.
Sample Pages from Textual Criticism of the Bible