The Select Works of Scott Hahn (2 vols.)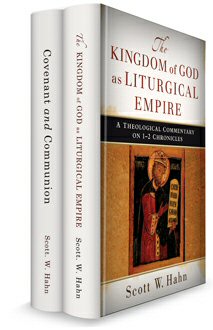 Overview
The Select Works of Scott Hahn contains two important titles by this eminent Catholic apologist, theologian, author, and professor. Hahn's Covenant and Communion presents a careful study of the life, work, and thought of one of the most important twentieth- and twenty-first-century theologians: Pope Benedict XVI. In it, Scott Hahn reveals how the 265th pope has applied Scripture to support his hermeneutical and doctrinal views. The other Hahn title, Kingdom of God as Liturgical Empire, provides commentary on 1 and 2 Chronicles. Its seven chapters include a synopsis, theological exegesis, and commentary. Kingdom presents each passage's major divisions, liturgical and theological interpretations, and key New Testament themes.
The Logos Bible Software edition of The Select Works of Scott Hahn is designed to encourage and stimulate your Bible study. With Logos, every word is essentially a link, and double-clicking any Scripture reference brings you straight to the original-language text or your preferred English translation. In addition, you can perform powerful searches by topic and find what other authors, scholars, and theologians have to say, making this collection ideal for studying and interpreting the Bible.
Key Features
Analyzes Pope Benedict XVI's biblical theology
Provides commentary on 1 and 2 Chronicles
Individual Titles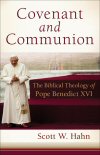 Cardinal Joseph Ratzinger's election as Pope Benedict XVI brought a world-class theologian to the papacy. With an intensely biblical quality to his pastoral teaching, he has demonstrated a keen concern for the authentic interpretation and application of sacred Scripture.
In Covenant and Communion, Scott Hahn, a preeminent interpreter of Catholic thought and life, offers a probing look at Benedict's theology, providing a clear and concise introduction to the 265th pope's life and work. Hahn argues that the heart of Benedict's theology is salvation history and the Bible, and he shows how Benedict accepts historical criticism—but recognizes its limits. Examining how Benedict reads the overall narrative of Scripture, Hahn shows how Benedict puts it to work in theology, liturgy, and Christian discipleship.
Scott Hahn offers us a lucidly written and trenchant study of the biblical theology of Joseph Ratzinger/Pope Benedict. He shows how one of the most important theologians of the twentieth century gently but firmly corrected the historical critics who dominate much of contemporary academic Scripture study. Hahn further demonstrates how, in making this correction, Ratzinger/Benedict allowed for the recovery of much of the richness of patristic biblical interpretation, including typology, an integrated understanding of the Old and New Testaments, a sense of Jesus as the interpretive key for the whole of revelation, and the deep rapport between kingdom and Church. This is a beautiful and thought-provoking text, one that will prove helpful to any serious student of the sacred page.
—Robert Barron, Francis Cardinal George Professor of Faith and Culture, Mundelein Seminary, University of St. Mary of the Lake
Scott Hahn has done us a tremendous service by synthesizing Benedict's erudite and prayerful biblical theology into a lively, readable, and intellectually reliable conspectus. This excellent volume will be indispensable for all Christians who seek to be more maturely grounded in Scripture.
—David L. Jeffrey, distinguished professor of literature and the humanities, Baylor University
I recommend Covenant and Communion to anyone who wishes to read a competent synthesis of one of the great theologians of our time on the questions of revelation, Church, history, and language.
—Francis Martin, professor of New Testament, Dominican House of Studies, Washington, DC
Theologically insightful and surefooted, this book is one of the best and certainly the most timely and urgent among the recent introductions to the theology of Pope Benedict XVI.
—Reinhard Huetter, professor of Christian theology, Duke Divinity School
Exploring the foundations of Benedict's theology, Hahn's latest book presents an in-depth exposition of the pope's theology of Scripture. This lucid exposition introduces the reader to Benedict's understanding of historical criticism, faith and reason, typology, covenant, sacrifice, liturgy, and a variety of other topics. The book beautifully models what for Pope Benedict is the central task of theology: it leads believers into a real participation in the mystery of faith.
—Hans Boersma, J. I. Packer Professor of Theology, Regent College
Scott Hahn here renders an important service in so clearly setting forth the hermeneutical principles, biblical framework, and doctrinal positions of Pope Benedict XVI, arguably the world's most important contemporary theologian. The parallels between the biblical theology of the pope and of evangelicals, together with their respective attempts to interpret Scripture theologically in an age marked by modern biblical criticism, are particularly fascinating.
—Kevin Vanhoozer, Blanchard Professor of Theology, Wheaton College and Graduate School
As a Protestant biblical scholar, I found Scott Hahn's exposition of Pope Benedict's biblical theology both informative and inspiring. In spite of differences, Protestants need to read this book to understand how deeply we can agree on the primacy of Christ and the Word. Through Hahn, I have a new appreciation for the mind and heart of Pope Benedict.
—Tremper Longman III, Robert H. Gundry Professor of Biblical Studies, Westmont College
Scott Hahn offers the reader a superb introduction to the way in which the theology of Pope Benedict XVI has been shaped by the Bible. Hahn's crisp and clear analysis puts the reader at the very center of this remarkable pope's thought.
—Gary Anderson, professor of Old Testament/Hebrew Bible, University of Notre Dame
This is an extraordinary book. Exploring Joseph Ratzinger/Benedict XVI's theology, Hahn masterfully sets forth the links between Scripture and Church, history and typology, Word and liturgy. In clear and succinct prose, Hahn shows how these links derive from Christ's Pasch. . . . Hahn's marvelous book provides an introduction to biblical exegesis, Catholic theology, and ultimately to the life of discipleship itself. This is a book for all readers, a rich feast of spiritual and intellectual transformation.
—Matthew Levering, professor of theology, University of Dayton
In this remarkable book, Scott Hahn has drawn out the central themes of Benedict's teaching in a highly readable summary that includes not only the pope's published works but also his less-accessible homilies and addresses. This is an eminently useful guide for introducing the thought of an important theologian of our time.
—Michael S. Horton, J. G. Machen Professor of Systematic Theology and Apologetics, Westminster Seminary California
For those in search of a holistic and comprehensive approach to biblical interpretation and theology, [this book] will be very helpful.
—America
Hahn's approach is descriptive and appreciative. His greatest service is gathering a large number of extensive quotations from many different sources. . . . At every point Hahn lets Benedict speak for himself, and so the reader not only gets a firsthand acquaintance with the pope's theological presuppositions and concerns but also is treated to his many brilliant and challenging insights about the significance of particular biblical texts and themes. . . . For biblical scholars and students of theology interested in theological exegesis (a growing and lively field in recent years), this volume presents a distinguished theologian's comprehensive and holistic approach to biblical interpretation that can be accepted or adapted in various ways.
—Catholic Biblical Quarterly
Scott Hahn has quickly become a prominent Catholic apologist. . . . His conversion from Protestantism is well known, and his persuasive scriptural exegesis has garnered the approbation of doctrinally diverse Christians. Add to that already impressive resume his latest volume . . . outlining Pope Benedict's emerging theology. . . . Hahn demonstrates Pope Benedict XVI's unprecedented reliance on Scripture . . . but Hahn accomplishes far more. He cues everything from papal addresses to dogmatic constitutions into an aria of catholic unity, demonstrating Benedict's awe-inspiring command of liturgy, prayer, philosophy, sacraments, salvation history, and even cosmology. . . . As the book nears its conclusion, Hahn's epiphanies multiply. . . . The reader is often moved here to put down the book and raise his heart in thanksgiving for both Benedict and Hahn. . . . We can hope that Hahn will expand this study into a multivolume work, adding another movement to an already concordant repertoire.
—National Catholic Register
[This book] makes an excellent contribution to the study of the pope's work by capturing how the Bible has shaped Benedict's entire approach to his theological enterprise. . . . By seamlessly weaving together numerous citations from the vast corpus of Benedict's major writings and pontifical addresses, Hahn shows how the Bible provides the raison d'etre of Benedict's 'polyphonic melody.' . . . Hahn makes his greatest contribution to the study of Benedict's thought by identifying the liturgy . . . as both the end and fulfillment of God's revelation. . . . Hahn clearly explains Benedict's theology of Scripture and he masterfully illuminates the heart and unity of Benedict's covenant theology, ecclesiology, and liturgical theology.
—Fellowship of Catholic Scholars Quarterly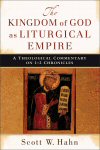 Chronicles presents the first attempt at understanding and interpreting the entire sweep of Old Testament history—from the creation of the world to the Israelites' return from exile. Scott Hahn's commentary on 1 and 2 Chronicles shows how the books' author acts as a biblical theologian. It identifies a decisive biblical worldview and highlights the Abrahamic key to the narrative. Hahn explores how Chronicles provides readers with important insights into key New Testament concepts such as Jerusalem, Zion, the Temple, the church, the Kingdom, and the messianic identification of Christ as King and Priest. In fact, Chronicles is the only work in the Old Testament to use the expression "Kingdom of God." This key helps readers see the importance of the Abrahamic covenant in New Testament theology.
Hahn presents 1 and 2 Chronicles as a theological interpretation of Israel's history, emphasizing the liturgical structure and content of Chronicles and providing fresh insight on salvation—past, present, and future. The book gives professors, students, and pastors a better understanding of Chronicles, salvation history, and Old Testament theological interpretation.
Drawing upon a wide array of Jewish and Christian interpreters, Hahn persuasively presents 1 and 2 Chronicles as a powerful exemplar of the typological, covenantal, and liturgical exegesis that has shaped the Christian tradition of biblical interpretation. For readers (like myself) who have tended to think of the Chronicles as rather dull, this book will reintroduce the richness of Scripture.
—Matthew Levering, professor of theology, University of Dayton
Scott Hahn's The Kingdom of God as Liturgical Empire is a scriptural symphony, weaving together themes from Old and New Testaments into a remarkable theological synthesis. Hahn deftly shows the Chronicler's work for what it is: a rich tapestry that reveals the ways of God with his people Israel in the past, as well as offering hope that God will ultimately fulfill the promises made to his servant David. This lucid and insightful volume deserves to be on the shelf of anyone interested in the burgeoning field of theological interpretation of Scripture.
—Rodrigo Morales, assistant professor, Marquette University
Scott Hahn's brilliantly illuminating commentary on 1 and 2 Chronicles represents an important contribution to the renewal of biblical scholarship. Demonstrating a master's command of the entirety of biblical revelation, Hahn shows how the Chronicler both gave focus to the story of Israel and provided the foundation for much of the New Testament meditation on Jesus as Messiah and Son of David. This book is written with extraordinary passion and intelligence. I would recommend it warmly to both scholars and preachers.
—Robert Barron, Francis Cardinal George Professor of Faith and Culture, Mundelein Seminary, University of St. Mary of the Lake
During his public ministry, Jesus of Nazareth spoke about the 'kingdom of God' more than any other theme. Yet the exact meaning of the phrase continues to be debated, and the precise expression, 'Kingdom of the LORD,' appears in only one part of Jewish Scripture: the books of Chronicles. In this masterful commentary, Scott Hahn shows that an essential key to understanding the biblical concept of the kingdom lies hidden in the often overlooked work of the Chronicler and his history of the liturgical empire of David. In this book, Hahn has produced something very rare: a commentary that is rigorously exegetical, profoundly theological, and a must-read for both Old and New Testament scholars. This is biblical theology at its best!
—Brant Pitre, professor of sacred Scripture, Notre Dame Seminary
For many Christians, the Old Testament is still a closed book, unconnected to the great themes of the church's proclamation and the believer's walk of faith. In this rich theological commentary, Scott Hahn gives a powerful account of Chronicles' inner unity: its creative recollection of Israel's canonical traditions and its inspiring vision of Israel as a priestly kingdom. The church, the sacraments, Marian devotion—these are all shown to have their roots in Chronicles in this profoundly Catholic reading that also offers a bracing rebuke to the long, sad history of Protestant disparagement of ritual, priests, and temple worship in the Bible.
—Stephen B. Chapman, associate professor of Old Testament, Duke Divinity School
I have always been impressed by Hahn's uncanny ability to not only hear and see both the wider and specific meanings of the biblical text—especially understanding the Old Testament in the light of the New Testament—but to convey this meaning vividly for serious lay readers and scholars alike. Here Hahn demonstrates what Pope Benedict XVI has affirmed, that authentic biblical criticism can be done best with a hermeneutic of faith and continuity. A thoroughly enjoyable read that shows how the key of liturgy unlocks a much deeper understanding of the whole of Scripture, I believe this is Hahn's magnum opus.
—Marcus Grodi, host, The Journey Home
Product Details
Title: The Select Works of Scott Hahn
Author: Scott W. Hahn
Volumes: 2
Pages: 448
About Scott Hahn
Scott Hahn has delivered numerous national and international talks on a wide variety of topics related to Scripture and the Catholic faith. Hundreds of these talks are available on audio and video through St. Joseph Communications. His lectures have been effective in helping thousands of Protestants and fallen-away Catholics embrace the Catholic faith. Currently a professor of theology and Scripture at Franciscan University of Steubenville, he is the founder and director of the Saint Paul Center for Biblical Theology. In 2005, he was appointed Pope Benedict XVI Chair of Biblical Theology and Liturgical Proclamation at St. Vincent Seminary in Latrobe, Pennsylvania.
Hahn is the bestselling author of numerous books, including The Lamb's Supper, Reasons to Believe, and Rome Sweet Home. Scott received his BA in theology, philosophy, and economics from Grove City College, PA, his Master of Divinity from Gordon-Conwell Theological Seminary, and his PhD in biblical theology from Marquette University. He entered the Catholic Church at the Easter Vigil, 1986.
More details about these resources