Catholic for a Reason Collection (4 vols.)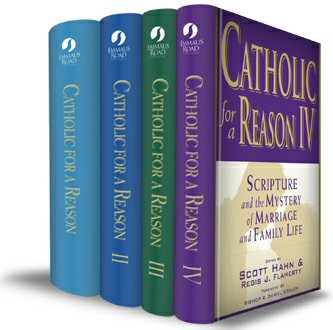 Overview
This benchmark collection brings together the expert knowledge and personal insight of today's top Catholic apologists. Whether you're a non-Catholic who wants to learn about the Church's core teachings or a Catholic who wants to become a more articulate defender of the faith, the Catholic for a Reason Collection is for you.
This collection will help Catholics and non-Catholics alike develop a better understanding of the Church, the Mother of God, the Mass, and marriage. The Logos Bible Software edition of the Catholic for a Reason Collection is designed to bring you a deeper understanding of the Catholic faith and its traditions. With Logos, every word is essentially a link. That means double-clicking on any Scripture reference brings you straight to the original language text or your preferred English translation. In addition, you can perform powerful searches by topic and find what other authors, scholars, and theologians have to say about the subject—making this collection ideal for Catholic studies.
Key Features
Addresses various Catholic traditions
Provides a biblical basis for Catholic doctrines and theology
Shows the importance and significance of certain aspects of Catholic tradition
Product Details
Title: Catholic for a Reason Collection (4 vols.)
Publisher: Emmaus Road Publishing
Volumes: 4
Pages: 992
About Scott Hahn
Scott Hahn has delivered numerous talks nationally and internationally on a wide variety of topics related to Scripture and the Catholic faith. Hundreds of these talks have been produced on audio and video by St. Joseph Communications. His talks have been effective in helping thousands of Protestants and fallen away Catholics reembrace the Catholic faith. He is currently a professor of theology and Scripture at Franciscan University of Steubenville, and he's the founder and director of the Saint Paul Center for Biblical Theology. In 2005, he was appointed Pope Benedict XVI Chair of Biblical Theology and Liturgical Proclamation at St. Vincent Seminary in Latrobe, Pennsylvania. Hahn is also the bestselling author of numerous books, including The Lamb's Supper, Reasons to Believe, and Rome Sweet Home. Scott received his BA in theology, philosophy, and economics from Grove City College, Pennsylvania, his Master of Divinity from Gordon-Conwell Theological Seminary, and his PhD in biblical theology from Marquette University. He entered the Catholic Church at the Easter Vigil, 1986.