The Lamb's Supper and Hail, Holy Queen (2 vols.)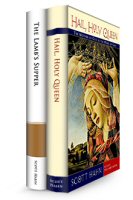 The Lamb's Supper and Hail, Holy Queen (2 vols.)
•
Runs on Windows, Mac and mobile.
Overview
This collection combines two of best-selling Catholic author Scott Hahn's most celebrated titles: The Lamb's Supper and Hail, Holy Queen. These titles offer insightful new perspectives on two familiar subjects: the Mass and Mary. See the Mass with new eyes as Hahn revisits a long-forgotten practice of the Church: using the book of Revelation as the key to understanding the mysteries of the Mass. Hahn also sheds fresh light on Mary, arguing for her essential role in Christianity's redemptive message. Scholarly and yet eminently readable, creative and clearly argued, these titles provide new insights to challenge and encourage you.
In the Logos editions, these valuable volumes are enhanced by amazing functionality. Scripture and ancient-text citations link directly to English translations and original-language texts, and important terms link to dictionaries, encyclopedias, and a wealth of other resources in your digital library. Perform powerful searches with the Topic Guide to instantly gather relevant biblical texts and resources. Tablet and mobile apps let you take the discussion with you. With Logos Bible Software, the most efficient and comprehensive research tools are in one place so you get the most out of your study.
Key Features
Combines two of Scott Hahn's most celebrated works
Offers a new look at the Mass, promoting new appreciation of a familiar ritual
Provides a fresh examination of Mary
Product Details
Title: The Lamb's Supper and Hail, Holy Queen
Author: Scott Hahn
Publisher: Random House
Volumes: 2
Pages: 400
Individual Titles

Best-selling author Scott Hahn sheds new light on the Mass, offering readers a deeper appreciation of the most familiar of Catholic rituals. Of all things Catholic, there is nothing so familiar as the Mass. Yet most Catholics sitting in the pews on Sundays fail to see the powerful supernatural drama that enfolds them. Pope John Paul II described the Mass as "Heaven on Earth," explaining that what "we celebrate on Earth is a mysterious participation in the heavenly liturgy." The Lamb's Supper reveals a long-lost secret of the Church: the early Christians' key to understanding the mysteries of the Mass was the New Testament Book of Revelation. With its bizarre imagery, its mystic visions of heaven, and its end-of-time prophecies, Revelation mirrors the sacrifice and celebration of the Eucharist. Beautifully written, in clear direct language, Hahn's book will help readers see the Mass with new eyes, pray the liturgy with a renewed heart, and enter into the Mass more fully, enthusiastically, intelligently, and powerfully than ever before.

Hail, Holy Queen is a fresh and enlightening new perspective on Mary, Mother of God, and her importance in the Christian faith. In this text, Catholic scholar and apologist Scott Hahn employs an accessible, entertaining style to argue for Mary's essential role in Christianity's redemptive message. Most Christians know that the life of Jesus is foreshadowed throughout the Old Testament. Through a close examination of the Bible, as well as the work of both Catholic and Protestant scholars and clergy, Hahn brings to light the small but significant details showing that just as Jesus is the "New Adam," so Mary is the "New Eve." He unveils the Marian mystery at the heart of the book of Revelation and reveals how it is foretold in the very first pages of the book of Genesis and in the story of King David's monarchy, which speaks of a privileged place for the mother of the king. Building on these scriptural and historical foundations, Hahn presents a new look at the Marian doctrines: her immaculate conception, perpetual virginity, assumption, and coronation. As he guides modern-day readers through passages filled with mysteries and poetry, Hahn helps them rediscover the ancient art and science of reading the Scriptures and gain a more profound understanding of their truthfulness and relevance to faith and the practice of religion in the contemporary world.
In simple and straightforward prose, Dr. Scott Hahn's Hail, Holy Queen explains the place of the Blessed Virgin Mary in Christian piety. Eminently readable and insightfully structured, Hail, Holy Queen examines and analyzes the biblical and theological foundations of Marian devotion with insight and deep faith.
—Edward Cardinal Egan, archbishop of New York
I highly recommend this splendid work of Scott Hahn. I believe that so many people will find Hail, Holy Queen very helpful in discovering and re-discovering Mary. The book's style is simple and elegant. Its message, in fidelity to Vatican II, is crystal-clear in concentrating our attention on Mary, the Mother of God, in her relationship to Christ and His Church.
—Most Reverend Justin Rigali, archbishop of St. Louis
In his inimitable sparkling style Scott Hahn serves up a feast of Scripture, theology, and spirituality for Christians—Catholic and Protestant alike—for understanding the role of Mary in God's purposes.
—Fr. George T. Montague, professor of Scripture, St. Mary's University, San Antonio, Texas
About Scott Hahn
Scott Hahn is an internationally renowned Catholic lecturer and theologian, and professor of biblical theology at the Franciscan University of Steubenville. He is the director of the Institute of Applied Biblical Studies and president of the St. Paul Center for Applied Biblical Theology. Hahn received his BA in theology, philosophy, and economics from Grove City College, PA, his MDiv from Gordon-Conwell Theological Seminary, and his PhD in biblical theology from Marquette University. He entered the Catholic Church at the Easter Vigil, 1986. His books include A Father Who Keeps His Promises, Rome Sweet Home, and many others.
More details about these resources