Wheaton Theology Conference (2 vols.)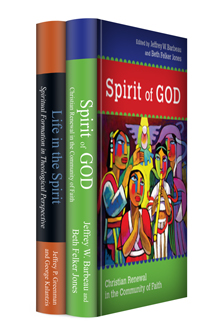 Overview
Since 1992, the Wheaton Theology Conference at Wheaton College has enabled Christian wisdom and reflection to be heard on a range of issues relevant to both current theological scholarship and the contemporary church. InterVarsity Press has cosponsored the theology conference since its inception, and it has regularly published an edited volume based on the conference lectures.
With the Wheaton Theology Conference Series, readers can now benefit by collecting all of the available volumes based on past theology conferences. Each conference and subsequent volume addresses a particular topic such as the theology of N. T. Wright, the role of beauty in the Christian faith, spiritual formation through the Holy Spirit, global theology, the relationship between theology and psychology, the doctrine of justification, racial dynamics in the church, and the role of women in ministry.
Collectively, the volumes include contributions from renowned scholars and church leaders such as N. T. Wright, Dallas Willard, Mark Noll, Kevin Vanhoozer, Amos Yong, Jeremy Begbie, Stanley Hauerwas, Mark Labberton, Scot McKnight, Soong-Chan Rah, Philip Jenkins, Deborah van Deusen Hunsinger, James Kombo, Timothy George, Ellen Charry, Bruce McCormack and many more.
In the Logos edition, these volumes are enhanced by amazing functionality. Important terms link to dictionaries, encyclopedias, and a wealth of other resources in your digital library. Perform powerful searches to find exactly what you're looking for. Take the discussion with you using tablet and mobile apps. With Logos Bible Software, the most efficient and comprehensive research tools are in one place, so you get the most out of your study.
Key Features
Essays on Essential theology topics from leading evangelical scholars
Enabled Christian wisdom and reflection to be heard on a range of theological issues
Lays out valuable insights on Christian living and spiritual formation
Individual Titles
This volume, edited by Jeffrey P. Greenman and George Kalantzis, marks another compilation from the Wheaton Theology Conference. 2009's event produced the wealth of work represented here exploring the theological foundations for a faithful approach to the church practices that contribute to spiritual formation, that is, to our sanctification in the power of the Holy Spirit.
Including essays from keynote speakers Dallas Willard and Gordon Fee as well as contributing essays by noted presenters such as Chris Hall, David Gushee, Linda Cannell, Cherith Fee Nordling and Lawrence Cunningham, this book offers a stimulating exploration of the historical, biblical and theological dimensions of spiritual formation. It will be of special interest to those who serve as pastors, spiritual directors, church ministry leaders and Christian educators.
This volume offers a readable and well-rounded treatise on Christian spiritual formation from many perspectives and faith traditions. In a world awash with confusion related to authentic spirituality and the church divesting its voice in the discussion, Life in the Spirit provides a refreshing call to renew our Christian roots, recommit to spiritual formations, and prepare for our unprecedented mission in the world.
—Diane J. Chandler, Pneuma, 33 (2011)
Jeffrey P. Greenman (PhD, University of Virginia) is academic dean and associate professor of theology and ethics at Regent College in Vancouver, BC, Canada. He is coauthor of Unwearied Praises: Exploring Christian Faith Through Classic Hymns and Understanding Jacques Ellul. He is coeditor of numerous books including The Sermon on the Mount Through the Centuries, Reading Romans Through the Centuries: From the Early Church to Karl Barth and The Decalogue Through the Centuries: From the Hebrew Scriptures to Benedict XIV. Greenman is a member of the Society of Christian Ethics and the American Academy of Religion.
George Kalantzis (PhD, Northwestern University) is professor of theology and director of The Wheaton Center for Early Christian Studies at Wheaton College. He is the author of Caesar and the Lamb: Early Christian Attitudes on War and Military Service and Theodore of Mopsuestia: Commentary on the Gospel of John, and he is the coeditor of Evangelicals and the Early Church: Recovery, Reform, Renewal; Life in the Spirit: Spiritual Formation in Theological Perspective; Christian Political Witness; and The Sovereignty of God Debate.
While the age of the Holy Spirit began with Pentecost, the twentieth century has seen an explosion in the Spirit's work through the remarkable growth of Pentecostalism and the changing face of global Christianity. Despite these surprising developments, and the undeniable significance of the Holy Spirit throughout the life of the church, pneumatology too often remains a subject of misunderstanding and neglect.
These essays, gathered from the 2014 Wheaton Theology Conference, provide an ecumenical exploration of the Holy Spirit's person and work in biblical, historical, doctrinal and practical perspective. In addition to essays on Augustine, Aquinas, creation and salvation, the volume features important contributions on the current shape of global Pentecostalism by leading scholars in the field.
Introducing key themes, figures and movements in the biblical and historical theology of the Holy Spirit, covering major areas of contemporary theology and ecclesiology from a pneumatological perspective and with an eye toward their implications for Christian thought, life and ministry by leading Protestant, Pentecostal and Catholic theologians, Spirit of God makes an effective entry point to the leading edge of the field of pneumatology.
—Steven M. Studebaker, McMaster Divinity College
Jeffrey W. Barbeau (PhD, Marquette University) is associate professor of theology in the Graduate School at Wheaton College. He holds graduate degrees in English literature, theology, and religious studies, all of which shape his interest in the intersection of theology, literature, and history. Barbeau writes and researches on British Romanticism, theology and literature, the nineteenth century, Methodist history, and Wesleyan theology. He is the author or editor of multiple books on the English writer S. T. Coleridge and his family. He has coedited or contributed to books such as Spirit of God: Christian Renewal in the Community of Faith, Theology Questions Everyone Asks, The Evangelical Dictionary of Theology, and The Encyclopedia of Christian Literature. He has written articles or contributed book reviews to journals such as Books and Culture, Christian Scholar's Review, and the International Journal of Systematic Theology. Barbeau is an active member and Sunday school teacher at Grace United Methodist Church in Naperville, Illinois, and lives with his wife, Aimee, and their children.
Beth Felker Jones (PhD, Duke University) is associate professor of theology at Wheaton College and former assistant professor of Bible and Religion at Huntington University. She is the author of The Marks of His Wounds: Gender Politics and Bodily Resurrection and Practicing Christian Doctrine: An Introduction to Thinking and Living Theologically. Jones is a columnist for the Christian Century and has written articles for publications such as Duke Divinity School's Faith and Leadership and Christianity Today's Hermeneutics blog. She lives in Wheaton, Illinois, with her husband, Brian (a United Methodist pastor), and their four children.
More details about these resources