The Numerical Bible Vol. 1: Genesis to Deuteronomy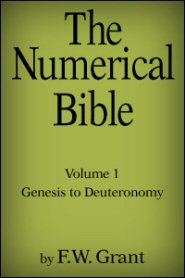 The Numerical Bible Vol. 1: Genesis to Deuteronomy
•
Runs on Windows, Mac and mobile.
Overview
Grant's volume on the Pentateuch begins with a comprehensive introduction to the nature and scope of his project. In it, he surveys the relationship between divine revelation and the numerical structure of the Bible. In this volume in particular, Grant explains the significance of the numbers in the Pentateuch—for example, the seven days of creation, the forty days of the flood, the twelve tribes of Israel—and attends to the symbolism of the narrative components in the story. Understanding the numerical structure of the first five books of the Bible constitutes an important first step in biblical interpretation, since the Pentateuch serves as the archetype of the rest of Scripture as much as it predicates God's intentions for all of human history.
Key Features
Complete overview of significant biblical numbers
Chapter-by-chapter commentary and critical notes
Product Details
Title: The Numerical Bible Vol. 1: Genesis to Deuteronomy
Author: Frederick W. Grant
Publisher: Loizeaux Brothers, Inc.
Publication Date: 1902
Pages: 623
About Frederick W. Grant
Born in London in 1834, Frederick W. Grant converted to Christianity while reading the Bible. He attended King's College before traveling to Toronto. At the time, the Church of England was expanding in Canada, and Grant became ordained. He later moved to the United States, and lived in Brooklyn, New York before moving to Plainfield, New Jersey. Grant was also deeply influenced by the teachings of the Plymouth Brethren. Grant died in 1902.
More details about these resources