Matthew (Open Your Bible Commentary)
The Gospel of Matthew, written for Jewish Christians, focuses on who Jesus is, why he came, and how he fits into God's bigger purposes. Matthew shows that Jesus is the long-expected Messiah, the bringer of God's kingdom. The most prominent feature of this gospel is the teaching of Jesus, which is arranged in five discourses that dominate the book's structure. This commentary is written by one of the most influential biblical scholars in recent times. F. F. Bruce's writing is clear, illuminates ...
Your Price: $1.99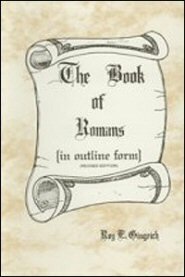 The Book of Romans
The book of Romans itself has been called the Constitution of Christianity. Dr. Gingrich is a scholar, but he is not an armchair theologian. He puts warm and sympathetic hands on deep and doctrinal truth. God has given to him the ability to understand the Word of God and to outline it and apply it in a way that others can quickly assimilate and effectively use.
Your Price: $1.99