The Handy Guide to New Testament Greek: Grammar, Syntax, and Diagramming
Whether you're learning biblical Greek or using it, this is the reference tool to keep on hand. In a quick visual layout, it supplements textbooks to gives you immediate access to, First-year Greek grammar, Second-year Greek syntax, and Step-by-step phrase diagramming. Easy to use, The Handy Guide to New Testament Greek crystalizes the information you need to know for classes or enables you to develop a sermon or lesson outline from the Greek New Testament faster than you could from an English translation.
Your Price: $1.99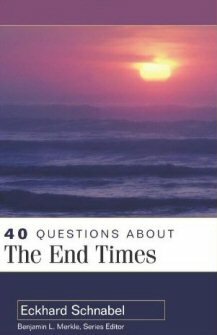 40 Questions about the End Times (40 Questions Series)
Biblical, and broadly accessible, Eckhard J. Schnabel makes sense of one of the Bible's most difficult topics. Schnabel answers common questions about the return of Christ, the millennium, the final judgment, the rapture, heaven, hell, and the future of the world. Schnabel carefully studies the biblical text in light of its first-century context. The result is an even-handed treatment that avoids sensationalism.
Your Price: $2.99