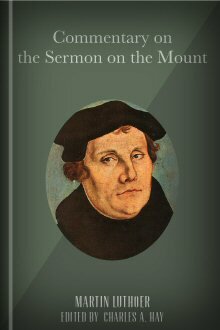 Commentary on the Sermon on the Mount
Martin Luther was never shy about calling out what he believed to be the excesses, heresies, and depravity of his tempestuous era. In these sermons on Matthew 5–7, he interprets Jesus' Sermon on the Mount in light of the theological disputes of his day. Luther's take on Jesus' most famous sermon has become one of the most influential approaches in Christian history, emphasizing a strong dichotomy between the Gospel and the Law—a view heavily influenced by his sharp disagreements with the Catholic Church.
$12.49
Save 30%
Your Price: $8.74
Learn more
A Shepherd Looks at Psalm 23 (audio)
In this unabridged audio download, Phillip Keller's unique perspective on the beloved psalm is a genuine classic about how a real-life shepherd views the love Jesus the Shepherd has for his flock. His inspirational insights come from his firsthand experiences in developing and managing sheep ranches. Read by author. 1 hour. From the unique perspective of first-hand experience, Phillip Keller presents a lively, fascinating devotional commentary on one of the best-loved Bible passages. Equipped w...
$13.99
Save 40%
Your Price: $8.39
Learn more