Repeat the Sounding Joy
In this Advent journey through Luke 1–2, Christopher Ash brings these familiar passages to life with fresh insight, color and depth. As you soak up the Scriptures, you'll experience the joy of Christmas through the eyes of those who witnessed it firsthand, from Mary and Elizabeth to the Shepherds and Simeon. This devotional will help you to celebrate afresh the arrival of the long-awaited Messiah in history, and learn what it means to wait for him with joyful expectation today. Each day's readi...
Regular price: $9.99
Save $3.00 (30%)
Your Price: $6.99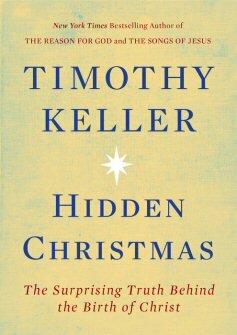 Hidden Christmas: The Surprising Truth Behind the Birth of Christ
Even people who are not practicing Christians think they are familiar with the story of the nativity. Every Christmas, displays of baby Jesus resting in a manger decorate lawns and churchyards, and songs about shepherds and angels fill the air. Yet despite the abundance of these Christian references in popular culture, how many of us have examined the hard edges of this biblical story? In his new book, Timothy Keller takes readers on an illuminating journey into the surprising background of the nativity. By understanding the message of hope and salvation within the Bible's account of Jesus' birth, readers will experience the redeeming power of God's grace in a deeper and more meaningful way.
Regular Price: $13.99
Save $4.20 (30%)
Your Price: $9.79