Christian Focus Theological Studies Collection 2 (3 vols.)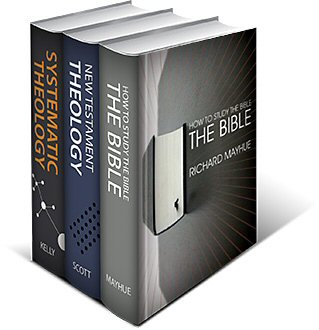 Christian Focus Theological Studies Collection 2 (3 vols.)
•
Runs on Windows, Mac and mobile.
Overview
Just as important as what you study is how you study. It is essential to approach Bible study with great care in order to avoid the pitfalls of misinterpretation. The Christian Focus Theological Studies Collection 2 is a compilation of resources carefully selected in order to provide tools for all to make informed decisions of how to look at and interpret the Scriptures, thereby providing stepping stools for spiritual growth.
Noted authors Douglas Kelly, James Julius Scott, Jr., and Richard Mayhue encourage us to carefully study the Scriptures in ways that allow us to build upon our theology with informed biblical truths. This three-volume collection is a great addition to Christian Focus Theological Studies Collection (5 vols.) and an indispensable resource for all, answering questions of how to study the Bible, who Jesus is, and how Christians are called to live.
Key Features
Easily searchable in digital format
Intensely practical resources for professors, teachers, preachers, and the layperson
Over 1,200 pages of solid scriptural truths
Product Details
Title: Christian Focus Theological Studies Collection 2
Publisher: Christian Focus
Volumes: 3
Pages: 1,216
Individual Titles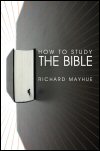 Misinterpretation of Scripture is a major problem that faces the Church. We are living in an image-centered world that demands short cuts to answers for those with a limited attention span. This book discusses the many obstacles that can keep us from clearly understanding what scripture is explaining to us. Mayhue's experience with methods of biblical interpretation enables him to provide our generation with simple tools—so we can understand what the Bible says and avoid commonly-made errors. It should be mandatory reading for anyone who is serious in finding out what Scripture says.
Richard covers a wide range of subjects making this an excellent take-off point for biblical study:
Teaching a basic Bible study method
Warning about interpretation mistakes
Exposing current theological errors
Providing right steps to avoid wrong doctrine
Emphasizing truthfulness and trustworthiness of Scripture
An excellent book from the pen of an able scholar, an experienced pastor and a gracious Christian.' It is intended for all types of Christian people who are serious about studying the Bible carefully... I warmly commend it.
—Eric Alexander, conference speaker and formerly minister of St. George's Tron, Glasgow
Dr. Richard Mayhue joined the faculty of The Master's Seminary, Sun Valley, California in 1989 and was appointed Dean of the Seminary in 1990. In 2000 he also assumed the role of Senior Vice-President and Provost of The Master's College. He has an international speaking and teaching ministry and has authored many books.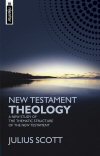 Julius Scott has a passion for the studying and teaching the New Testament. He carefully unfolds seven themes in the New Testament by answering these seven questions.
Who is Jesus?
What must I do to be saved?
How should a Christian live?
What is the Church?
What is the church's relation to society?
How shall it end?
What does the New Testament teach us about God?
These are vital questions for all Christians—indeed the answers to them will inform and influence every aspect of our lives. Dr. Scott carefully brings together all the evidence from the New Testament to help us do just that.
This book is a labor of love—for the Scriptures, for readers, for learning, for teaching, and for God himself. The author takes up each topic in a wise, thorough, probing, and reverent manner. Readers will gain fresh insight into the history of New Testament times, the convictions of the biblical writers, and the implications of the age-old yet ever new Christian message for today. Readers will also glimpse the work of major New Testament scholars as their research has unfolded over recent decades. This is an excellent intermediate survey for college students, as well as for laypersons eager to move to new levels of biblical understanding.
—Robert W. Yarbrough, Professor of New Testament, Covenant Theological Seminary, St. Louis, Missouri
Julius Scott's New Testament Theology is in fact a theology of the New Testament helpfully pitched at the level of the college student and general reader rather than the professional theologian and affords a detailed but readily readable and comprehensible topical exposition of New Testament teaching. Among its particular features I single out its careful treatment of the church's relation with and responsibility to society. Clearly and simply presented, it should attract a wide audience among Christians wanting a systematic guide to the main theological themes in the New Testament.
—I. Howard Marshall, Emeritus Professor of New Testament, University of Aberdeen
Douglas F. Kelly is the Richard Jordan Professor of Theology at Reformed Theological Seminary in Charlotte, North Carolina.

"I have written this first volume, thinking of my heritage as both Reformed and Catholic; gladly appropriating crucial insights of the whole people of God over the last two thousand years—Eastern Orthodox, Western Catholic, and Reformation Protestant—as they sought to live out the foundational truths of the inspired Word of God."—Douglas Kelly
This is the fruit of decades of research, thought, and teaching. Kelly's procedure is entirely sound; Scripture is his basis, the primary authority, but he engages throughout the past teaching of the church.. In this he follows in the footsteps of Calvin and the Westminster and the Westminster Assembly. His breadth of coverage is wide.
—Evangelicals Now
I just now completed reading through the entire book you wrote: Systematic Theology, vol. 1. I want to express my sincere appreciation for the quality work you have done. You show that you know ancient languages (Hebrew, Greek and Latin) as well as modern languages (French and German). You delve into the Christian fathers of the first few centuries and are familiar with the works of the Reformers and the latest books and articles on Systematic Theology. This is eminent scholarship that lies back of numerous years of study. You have done the Church a favor by writing this book and I personally thank you for this contribution. Excellent work!
—Simon Kistemaker, Professor of New Testament Emeritus, Reformed Theological Seminary, Orlando, Florida
Douglas F. Kelly is one of the English-speaking world's leading Reformed theologians. Here we begin to enjoy the fruits of his labors. What a feast it is. Few Protestant theologians in our day know the terrain of the doctrine of the Trinity, and the Person of Christ, as well as Professor Kelly... He is at his best when opening up to us the unrealized importance and glory of these foundational truths about our Savior God. For those who yearn for an orthodox Reformed catholicity, Kelly shows the way forward.
—Ligon Duncan, Senior Minister, First Presbyterian Church, Jackson, Mississippi
Professor Douglas Kelly's eagerly awaited Systematic Theology exceeds all expectation. This first volume is a comprehensive introduction to discussion of God's self-disclosure, Triune being, transcendent majesty, and covenant relationships.
—Ian D. Campbell, Minister, Point Free Church of Scotland, Isle of Lewis
James Julius Scott Jr. is Emeritus Professor of Biblical and Historical Studies at Wheaton College Graduate School. His doctorate is from the University of Manchester where he studied under F. F. Bruce. He is ordained in the ministry of the Presbyterian Church in America.