The New Testament for English Readers (4 vols.)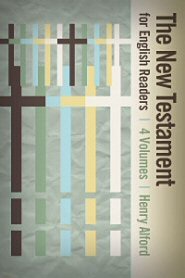 The New Testament for English Readers (4 vols.)
•
Runs on Windows, Mac and mobile.
Overview
Henry Alford's four-volume New Testament edition, complete with in-depth introductions to each book and an extensive verse-by-verse commentary, is a work of lasting appeal. Alford takes great pains to build a solid foundation for readers approaching the works of the Gospels and Epistles. Written in an effort to expose nineteenth-century English-language readers to critical thought and commentary from leading scholars writing in other languages, Alford's New Testament weaves German textual criticism and insights into the biblical text. His introductions discuss such topics as origin, authorship, inspiration, and purpose and objective, opening the door to an exegetical approach to Scripture. Alford's commentary marks a shift from primarily theological and homiletic concerns to those of philology, historical studies, and textual criticism.
In the Logos edition The New Testament for English Readers is fully searchable. Scripture references are linked and appear on mouse-over, allowing you to engage with your favorite translation and other digital resources as you delve into Bible study.
Key Features
Exegetical approach to the New Testament
Extensive verse-by-verse commentary
Lengthy introductions to each gospel and epistle
Product Details
Title: The New Testament for English Readers (4 vols.)
Author: Henry Alford
Edition: 3rd
Publisher: Rivingtons
Publication Date: 2001
Pages: 1,249
About the Author
Henry Alford (1810-1871), English divine and scholar, was born in London on the 7th of October 1810. He came of a Somersetshire family, which had given five consecutive generations of clergymen to the Anglican church. Alford's early years were passed with his widowed father, who was curate of Steeple Ashton in Wiltshire. He was an extremely precocious lad, and before he was ten had written several Latin odes, a history of the Jews and a series of homiletic outlines. After a peripatetic school course he went up to Cambridge in 1827 as a scholar of Trinity. In 1832 he was 34th wrangler and 8th classic, and in 1834 was made fellow of Trinity. He had already taken orders, and in 1835 began his eighteen years' tenure of the vicarage of Wymeswold in Leicestershire, from which seclusion the twice-repeated offer of a colonial bishopric failed to draw him. He was Hulsean lecturer at Cambridge in 1841-1842, and steadily built up a reputation as scholar and preacher, which would have been enhanced but for his discursive ramblings in the fields of minor poetry and magazine editing. In September 1853 Alford removed to Quebec Chapel, London, where he had a large and cultured congregation. In March 1857 Viscount Palmerston advanced him to the deanery of Canterbury, where, till his death on the 12th of January 1871, he lived the same strenuous and diversified life that had always characterized him. The inscription on his tomb, chosen by himself, is "Diversorium Viatoris Hierosolymam Proficiscentis."
Sample Pages from the Print Edition
More details about these resources