Mobile Ed: CM152 Preparing and Delivering Christ-Centered Sermons II: Communicating a Theology of Grace (6 hour course)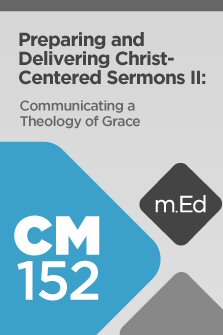 Mobile Ed: CM152 Preparing and Delivering Christ-Centered Sermons II: Communicating a Theology of Grace (6 hour course)
•
Runs on Windows, Mac and mobile.
Overview
Preparing and Delivering Christ-Centered Sermons II: Communicating a Theology of Grace (CM152) builds on the theology of grace that runs throughout Scripture and is fulfilled in Jesus Christ. The course describes how to use this hermeneutic to preach redemptive messages that provide hope in Christ in a way moralizing messages cannot. It provides extensive explanation of how to incorporate that redemptive focus into sermon application.
Learning Objectives
Upon successful completion you should be able to:
Explain the principles behind Christ-centered redemptive-historical preaching
Avoid the pitfalls of nonredemptive patterns of preaching
Implement grace-centered principles for application
Preach Christ-centered sermons from anywhere in the Bible
Course Outline
Introduction
Introducing the Speaker and the Course
Unit 1: Understanding the Redemptive Approach
Anselm's Flowers and Justification
The Fallen Condition Focus
The Goal of Redemptive Preaching
The Progressive Revelation Principle
The Organic Principle
Discovering Old Testament Quotes and Allusions in the New Testament
The Redemptive Principle
The Implications of the Redemptive Perspective
The Necessity of Redemptive Interpretation
The Nature of Nonredemptive Preaching
The Deadly Be's: Design for Nonredemptive Preaching
The Demerits of Nonredemptive Preaching
Consulting Creeds, Confessions, and Catechisms
Unit 2: Developing Redemptive Messages
Review of Redemptive Principles for Christ-Centered Preaching
Distinctives of Christ-Centered Preaching
What Redemptive Preaching Actually Is
A Basic Process of Christ-Centered Preaching
Using Clause Search to Discover Divine Action in the Old Testament
Traditional Approaches Useful for Some Texts
Redemptive-Historical Approaches Useful for All Texts
Interpretive Options: Redemptive-Historical
Interpretive Options: Doctrinal Instruction and Literary Motif
Interpretive Options: Relational-Interaction
Redemptive "Lenses" to Use in Approaching All Texts
Unit 3: Preaching Christ-Centered Application
The Grace of God Affects the Application
The Highest Goal of Preaching
Themes: Grace despite Our Sin
Themes: Grace, Sin, and Holiness
Motivation: Compulsion and Conduct
Motivation: Our Conduct and God's Acceptance
Motivation: Imperative and Indicative—Part 1
Tracking Imperative and Indicative Relationships in the New Testament
Motivation: Imperative and Indicative—Part 2
Motivation: Loving God
Motivation: Loving Everyone God Loves
Motivation: Self-Promotion or Self-Protection
Motivation: Slavish Fear
Motivation: Objective versus Subjective Guilt
Answering the "How" Question
Believing Change Is Possible
The "Why" Is the "How": Love Is Power
The Power of the Disciplines
Christ-Centered Application: Conclusion
Unit 4: Preaching from the Biblical Genres
History and Biography: Locating the Event or Person in Redemptive History
History and Biography: Exposing Grace Principles
History and Biography: Example (2 Samuel 23:8–39)
Law
Poetry and Wisdom
Prophecy and Apocalyptic
Gospels
Epistles
Product Details
Title: CM152 Preparing and Delivering Christ-Centered Sermons II: Communicating a Theology of Grace
Instructor: Bryan Chapell
Publisher: Lexham Press
Publication Date: 2015
Product Type: Logos Mobile Education
Resource Type: Courseware, including transcripts, audio, and video resources
Courses: 1
Video Hours: 6
About Bryan Chapell
Dr. Bryan Chapell is the senior pastor of Grace Presbyterian Church in Peoria, Illinois and president emeritus at Covenant Theological Seminary in St. Louis, Missouri, where he has served in leadership capacities since 1985. Dr. Chapell is an internationally renowned preacher, teacher, and speaker, and the author of many books, including Christ-Centered Worship, Each for the Other, Holiness by Grace, Praying Backwards, The Hardest Sermons You'll Ever Have to Preach, and Christ-Centered Preaching, a preaching textbook now in multiple editions and many languages that has established him as one of the nation's foremost teachers of homiletics. He and his wife, Kathy, have four children.
Getting the most out of Mobile Ed
Logos Mobile Education is a highly effective cross-platform learning environment that integrates world class teaching with the powerful study tools and theological libraries available in Logos Bible Software. Every course provides links to additional resources and suggested readings that supplement the lecture material at the end of every transcript segment.
This course was produced with screencast videos. These videos provide tutorials showing you how to use Logos Bible Software in ways that are tied directly into the content of the course. We are now producing Activities resources as a replacement for screencast videos. We plan on updating this course to include this additional Activities resource in the future for no extra charge.