Select Works of Bryan Chapell (4 vols.)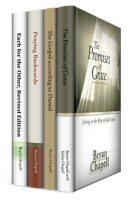 Overview
This Bryan Chapell collection gathers four engaging studies on understanding the Word and living it out. Respected author, speaker, professor, and pastor Bryan Chapell guides readers through important aspects of Christian living—pointing readers to the beauty and power found in the gospel. Find insights from Chapell and his wife on pursuing biblical marriage, discover how to see Jesus in the book of Daniel, revolutionize your prayer life, and understand more deeply the promises of grace. Student or scholar, layperson or pastor, this collection contains great reminders to look to the Cross in every facet of life.
Studying Chapell's work with Logos streamlines and enhances your experience. Scripture citations link directly to English translations, and important terms link to dictionaries, encyclopedias, and a wealth of other resources in your digital library. Bolster your study by cross-referencing and comparing with an extensive library of Reformed scholarship. Take your study with you using tablet and mobile apps. With Logos Bible Software, the most efficient and comprehensive research tools are in one place, so you get the most out of your study.
Key Features
Reformed teaching on prayer, Bible study, and Christian living
Practical insight into biblical marriage
Ideally suited for group or personal study
Individual Titles

Often we read the book of Daniel in one of two ways: either as a book about a heroic man whose righteousness should inspire us to keep the faith, or as a roadmap to the end times that reveals the day and hour of Christ's return. Bryan Chapell reminds us the book isn't ultimately about Daniel or the end of days—it's about Jesus. God is the hero of this story, and he is in the midst of his unrelenting plan to rescue his people from their sin and its consequences. Pastors, teachers, and Christians who want to learn how to faithfully understand the book of Daniel—without getting derailed by hero worship or prophetic mysteries—will value this grace-centered approach.
A tour de force of biblical theology. This is an example of the kind of preaching that should be found in every pulpit.
—R. Albert Mohler Jr., president, The Southern Baptist Theological Seminary
Bryan Chapell is a great Bible teacher. He helps us see our Messiah and his mission through the book of Daniel.
—Mark Driscoll, pastor, Mars Hill Church
Chapell has been at the forefront of a resurgence in Christ-centered exposition, persuasively arguing that all of Scripture demonstrates the grace of God which culminates in the person and work of Jesus Christ. In this new and welcomed volume, Dr. Chapell goes beyond merely telling us how this can be done to showing us what such an interpretation actually looks like.
—Justin Taylor, coauthor, The Final Days of Jesus
This book is spectacular. If you want to learn how to see Christ in all of Scripture and grace for all of life, or if you plan to read, teach, or preach Daniel, then be sure to read it.
—Justin S. Holcomb, professor of theology, Reformed Theological Seminary and Knox Theological Seminary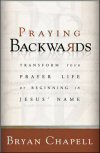 "In Jesus' name, Amen." Like the closing credits of a movie, these familiar words signal the end of a prayer. But what does it mean to offer our prayers in Jesus' name? Though we say the words, do we really mean them? If no, then how would the content and character of our prayers change if we did? Praying Backwards introduces believers to the transforming process of beginning our prayers in Jesus' name—not by moving a simple phrase, but by understanding and embracing the meaning behind the phrase. To truly pray in Jesus' name is to reorder our priorities in prayer—and in life—away from ourselves and toward Jesus and his kingdom. It is to pray, "Not my will, but your will be done." It is to pray boldly, expectantly, and persistently. If you want to revolutionize your prayer life, begin by Praying Backwards.
Across the years I have learned so much from Bryan Chapell, that I thought the laws of mathematics would keep me from learning much more. But it happened again! I never close a prayer without saying in Jesus name, but suddenly I came to see that merely to stack my own agenda for God on top of the word 'Jesus' doesn't quite trim the egotism from my conversations with God. Now it is clear, the first word of my prayer should be Jesus. This will keep my selfish needs to influence the Almighty in perspective.
—Calvin Miller, author; professor, Beeson Divinity School
This is the book I have been waiting for! Finally a book on prayer which puts the person of our Lord before the petitions on our lists. What a novel idea . . . prayer as a means of becoming more preoccupied with the beauty of Jesus' name than paralyzed by the burden of our needs! Bryan has given us an incredibly timely and practical study on prayer. He shows us how the gospel moves us from using prayer as a formula for manipulating God, to enjoying prayer as a forum for fellowshipping with our heavenly Father who delights to care for us and bring great glory to his Son, Jesus. If you buy only one book on prayer, I'd recommend this one.
—Scotty Smith, senior pastor, Christ Community Church, Franklin, Tennessee
Christians are often perplexed and discouraged by the seemingly few answers to prayer they receive. With his usual careful exposition of Scripture and his helpful applications to daily life, Bryan Chapell tackles this issue head on with a book that should encourage all of us to 'pray and not lose heart' (Luke 18:1).
—Jerry Bridges, author, The Discipline of Grace
This book answers questions about prayer that I have pondered for many years. In view of God's sovereignty, I have wondered how some specific verses should be understood and applied. Bryan Chapell has given me the key.
—Nancy Prentis, teaching leader, Bible Study Fellowship
That we all need help in our praying is a Christian truism. In this intriguingly titled book the wisdom of a wise, experienced, and theologically alert pastor-teacher offers help, much help, and nothing but help. Every reader will be grateful for what President Chapell has written.
—J.I. Packer, professor of theology, Regent College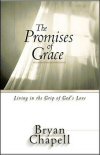 The Promises of Grace: Living in the Grip of God's Love
Author: Bryan Chapell
Publisher: Baker
Edition: Updated
Publication Date: 2001
Pages: 176
God's grace is a mystery, partially revealed through salvation, and increasing in the life of the committed Christian. It is unmeasured, unending, and undeserved. But do we really know what we have when God's grace is showered on us? The Promises of Grace offers a clear and thorough look at the beauty of grace and all it brings to believers—not physical prosperity but spiritual blessing. Studying Romans 8, Bryan Chapell focuses on the promises you can expect God to fulfill—assurance of God's love, peace of conscience, joy in the Holy Spirit, power in prayer, and perseverance in trial. Broken down into 11 studies and illustrated by life stories, this book helps readers discover what it means to live in the grip of God's love. Understanding the genuine benefits of his grace leads to a life that is "more satisfying and less selfish, more fulfilling and less driven, more peaceful and less guilt ridden." This text is ideally suited to group or personal study.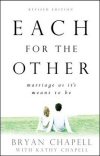 Building a strong marriage is tough. But the Bible is packed with principles on nurturing an intimate, rewarding relationship. Marriage as it was created to be means understanding God's plan for unconditional love. In Each for the Other, Bryan Chapell and his wife, Kathy, offer an in-depth discussion of biblical truths you can apply to your marriage starting today.
Together, they teach you:
How denying yourself can create a thoroughly rewarding relationship
What biblical headship and submission really mean—and why they're important
Six key building blocks to help solidify your marriage and family
Whether you're engaged, newly married, or in a seasoned relationship, this book offers indispensable truths on how to sacrificially love your partner. It also includes discussion questions, making it perfect for individual or couple study.
Wielding his biblical scalpel with careful thoroughness, Bryan Chapell cuts to the heart of selfishness, irresponsibility, and abuse that mar so many supposedly Christian marriages today. More than that, he marks out the path of self-denying love in marriage with a firm hand, and provides discussion questions to ensure that couples who have read the book have grasped its message. This exposition can do nothing but good.
—J.I. Packer, professor of theology, Regent College
A marvelous treatment of the biblical model for and teaching on the family.
—R.C. Sproul, founder and chairman, Ligonier Ministries
This book is the most thorough exposition of Ephesians 5:22-6:4 that I have read. It covers not only the husband and wife relationship but also that of parent and child. It is thoroughly scriptural, balanced, and fair to husband and wife, parent and child.
—Jerry Bridges, author, The Discipline of Grace
The insights are profound, but simple, and the distinction between submission as power and submission as grace is quite helpful.
—Michael Horton, editor of Modern Reformation
In a culture that often depreciates or functionalizes the marriage relationship, Bryan Chapell calls Christian couples to live beyond themselves in living out the gospel for one another. By reminding a husband, for example, that 'headship has strings attached,' and by encouraging a wife to honor her spouse 'not because of the goodness he possesses, but because of the grace he needs,' this book invites both partners to commit themselves to becoming conduits of God's sacrificial love for one another and for their children. Each for the Other is balanced, refreshing, practical, and thoroughly biblical.
—Nancy Groom, author, Married without Masks
Product Details
Title: Select Works of Bryan Chapell
Author: Bryan Chapell
Publisher: Baker
Volumes: 4
Pages: 832
About Bryan Chapell
Bryan Chapell earned his PhD from Southern Illinois University and is senior pastor of Grace Presbyterian Church in Peoria, Illinois. He previously served as chancellor, president, and professor of practical theology at Covenant Theological Seminary in St. Louis, Missouri. He has traveled widely as a speaker and is the author of numerous books, including Christ-Centered Sermons, Holiness by Grace, and the best-selling Christ-Centered Preaching.
More details about these resources