Christian Focus Marriage and Family Collection (7 vols.)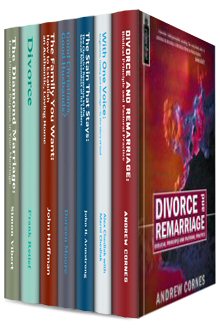 Christian Focus Marriage and Family Collection (7 vols.)
•
Runs on Windows, Mac and mobile.
Overview
Families are a part of the foundation on which the Church rests. Not only do we need to learn how to be our best in our own familial relationships, but we need to understand the issues, both theological and sociological, which affect all relationships in the Church. The Christian Focus Marriage and Family Collection is just the tool that will not only help you enhance your own relationships but can help you in understanding and ministering to the relationships in your circle of influence.
The powerful tools in Logos Bible Software make these important books on family more accessible than ever for study and sermon preparation. With Logos, you can find every instance of a particular Scripture reference, person, or subject. All references are linked to original language texts and English translations in your library. What's more, with a click of a button you can find other resources in your library relating to family topics you are researching, or relating to Scriptural passages to aid in counseling or pastoral aid.
Key Features
A look at the horizontal relationship of a man and wife and the vertical aspects of a spiritually grounded relationship
A look at the effect of divorce upon the marriage's closest relationships as well as the emotional fall-out of divorce in the rest of society
How to prioritize your family in the context of church responsibilities
A look into the marriages of John Wesley, George Whitefield, and Jonathan Edwards to see how well they did, or did not, balance their marriages and ministerial responsibilities
A biblical look at the restoration process for ministers caught in sexual misconduct
Advice for singles and issues related to single life in the Church
A systematic Old and New Testament look at the theology of divorce
All Scripture references linked to Bibles in your library
Individual Titles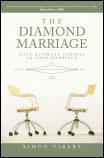 The Diamond Marriage: Have Ultimate Purpose in Your Marriage
Author: Simon Vibert
Publisher: Christian Focus Publications
Publication Date: 2005
Pages: 176
There is no shortage of books that deal with the subject of marriage. Literature dealing with the husband and wife relationship, written from both a Christian and non-Christian perspective often cover the same well worn ground. The emphasis in The Diamond Marriage: Have Ultimate Purpose in Your Marriage is not primarily on the marital relationship, but rather questions like, "Why has God gone to such great lengths to create marriage as we know it?" and "What is the purpose of marriage?"
A recent report found that the national divorce rate in the United States stands at 34% while for those who claim to be Christians it is 33%. It would appear that having strong Christian convictions does not lessen the incidence of divorce, and it seems that today's Christians are less convinced they should stick together "till death do us part" than their predecessors. Why are many Christian marriages dutiful but joyless? What has led us to be content with such an understanding of Christian love in marriage? How can joy in marriage be revived?
Packed with insight, wisdom, and wit, Vibert's biblical perspective on marriage helps us re-assess our long-held views and restore marriage to its rightful status—for us and before God.
Simon Vibert is Vice Principal and Director of the School of Preaching at Wycliffe Hall. Prior to that he was the minister of St. Luke's Church of England, in Southwest London. He studied in the USA, taught at a Bible school in Haiti and is Chairman of Fellowship of Word & Spirit in Southwark Diocese. Simon is a preaching facilitator with Lanham Partnership.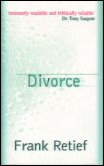 Divorce
Author: Frank Retief
Publisher: Christian Focus Publications
Publication Date: 2001
Pages: 323
As we begin the 21st century, we live in cultures which have rejected biblical ethics and, inevitably, we are paying the price in our families. In the United Kingdom alone it is reckoned that divorce costs the state £3.4 billion a year, and that is before you consider the social implications. With a wealth of pastoral experience, Frank Retief helps us traverse this dangerous territory with a practical, biblical and compassionate approach.
This is not an exhaustive book delving into the minutiae of textual argument. People with marriage problems don't usually reach for such books! What makes this book virtually unique is that it is addressed to the ordinary person. It is eminently readable and biblically reliable. In my opinion it is and will remain a classic of pastoral theology . . . .
—Dr. Tony Sargent
Frank Retief is a Bishop in the Church of England in South Africa (C.E.S.A)—a prolific author, popular Bible expositor and an international conference speaker. He has planted several churches.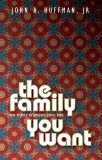 The Family You Want: How to Establish an Authentic, Loving Home
Author: John Huffman
Publisher: Christian Focus Publications
Publication Date: 2005
Pages: 224
In an age of broken homes and disintegrating family structures, John Huffman investigates the real issues at stake in the family and helps you to live in the best family that you are able to have. John takes us through the issues associated with work, spirituality, emotions, children, parenting, the extended family, divorce, sex and marriage. With chapters entitled "What Jesus can do for your family" and "Why work should be your fourth priority," this book is an enjoyable and easy read, with a much-needed message. John's advice is practical and comes with solid biblical foundations; it is precisely what is needed for the families of the 21st century.
John Huffman is Senior Pastor of St. Andrews Presbyterian Church, Newport Beach, California. He has counseled many on various issues and is a well-known international speaker and chairman of the board for Christianity Today.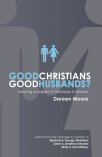 Good Christians, Good Husbands?
Author: Doreen Moore
Publisher: Christian Focus Publications
Publication Date: 2004
Pages: 192
This is the inspiring and convicting account of three eighteenth-century Christian leaders— John Wesley, George Whitefield, and Jonathan Edwards— all of whom were passionate about glorifying God by serving Him in their generation. They each left an enduring and fruitful legacy through their labors, and they were also married. How they did, or did not, balanced their passion for ministry with being married is the subject of this book.
This is more than just the story of three couples; it gives us contemporary lessons too, offering biblical guidelines and counsel from modern day Christian leaders. Many couples today struggle with how God views the relationship between family and ministry. This book gleans insights from these examples and gives biblical guidelines and counsel from some modern day Christian leaders too.
What is the legacy you are leaving in your marriage and ministry? Moore answers penetrating questions like:
Which comes first: family or public ministry?
What happens if a wife senses God's leading in a different direction than her husband?
What are the Biblical responsibilities of a husband and father?
What should be a wife's response to difficulties in ministry?
How should a godly man treat women other than his wife?
Doreen Moore is a graduate of Trinity Evangelical Divinity School. She lives in Austin, Texas with her husband Dave, and two sons. Prior to seminary, Doreen and her husband were on the staff with Campus Crusade for Christ.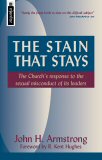 The Stain That Stays: The Church's Response to the Sexual Misconduct of its Leaders
Author: John H. Armstrong
Publisher: Christian Focus Publications
Publication Date: 2005
Pages: 208
Around the world sexual misconduct is knocking ministers from their ministry. As the numbers grow it is crucial to know what should happen to them for their good and for the good of the Church. Should they return, repentant, to their pulpits within weeks or months—or should they return at all?
John Armstrong has seen a lot in a pastoral ministry that has spanned over twenty years. When it comes to the issues of sexual impropriety John's anecdotal experiences coupled with scriptural exegesis, examples in Church history and careful reasoning helps to shed light on an issue that is responded to with such varied and strong opinions.
As the epidemic of moral failure among church leaders shows signs of worsening, the church must carefully re-examine some hard questions in the clear light of scripture. John Armstrong has done this, and here he offers a thoughtful, biblical response—surely the finest book to date on this difficult subject.
John H. Armstrong, president of Reformation & Revival Ministries since 1991, serves the Church in a variety of ways— among them speaking at conferences, pastoral care, and writing teaching resources and books. He was a pastor for twenty-one years, the last sixteen at Trinity Baptist Church, Wheaton, Illinois. John and his wife, Anita, have two adult children and one grandchild. He lives in Carol Stream, Illinois, a suburb of Chicago.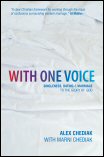 With One Voice: Singleness, Dating and Marriage—to the Glory of God
Authors: Alex Chediak with Marni Chediak
Publisher: Christian Focus Publications
Publication Date: 2006
Pages: 160
The process of romance for unmarried Christians is about as complicated for singles today as it has ever been, perhaps even more so as behavior is no longer restrained by peer-pressure inside and outside the church. Christians are fighting against a conflicting cultural ethos; reducing the beauty of God-invented sexuality to just another entertainment option. However, lifelong marriage, though less common today, is still God's plan for most people . . . and isn't God's plan the best plan?
Alex and Marni Chediak show that it is more important to become a certain type of person than it is to find a certain type of person. They offer wise guidance in how we should go about choosing a partner.
Alex and Marni Chediak offer sound biblical advice and a clear Christian framework for working through the maze of confusions surrounding modern marriage. Christians young and old, single and married, will find help in this concise book.
—R. Albert Mohler Jr.
Alex Chediak has spent the last 7 years in ministries to young people at summer camps, high schools and colleges. He is the editor of Five Paths to the Love of Your Life—a resource manual about the issues in this book. Alex is currently an Apprentice at The Bethlehem Institute, Minneapolis.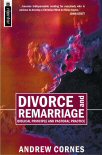 Divorce and Remarriage: Biblical Principle and Pastoral Practice
Author: Andrew Cornes
Publisher: Christian Focus Publications
Publication Date: 2005
Pages: 560
What does the Bible teach about divorce? May a Christian remarry during the lifetime of a divorced partner? With the increasing number of divorces and second marriages, such questions now touch every family and every church. Cornes addresses these and other questions in a comprehensive and balanced manner.
Cornes begins his book with a theology of marriage and singleness, examining all the significant Old and New Testament passages. He concentrates especially on the teaching of Jesus and the interpretation of that teaching by Paul and the early church. The second part of the book discusses the implications of the biblical teaching of pastoral ministry in the local church, dealing with a host of real life questions in a practical way.
. . . A balanced combination of biblical scholarship and practical experience, prophetic witness and pastoral wisdom, courage and compassion, truth and love. It will, I predict . . . become indispensable reading for everybody who is anxious to develop a Christian mind on these topics . . .
—John Stott
Andrew Cornes is the former director of training at All Souls, London and now pastor of All Saints, Crowborough.
Product Details
Title: Christian Focus Marriage and Family Collection
Publisher: Christian Focus Publication
Volumes: 7
Pages: 1,843