Mobile Ed: AP101 Introducing Apologetics (5 hour course)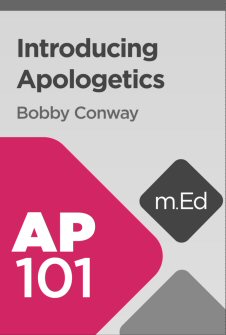 Mobile Ed: AP101 Introducing Apologetics (5 hour course)
•
Runs on Windows, Mac and mobile.
Overview
Presenting a defense for faith in Jesus is central to the ministry and mission of all Christians. Dr. Bobby Conway leads viewers through his own personal story, biblical examples of effective witness, and clear reasoning that points to God's activity in our world today. View descriptions of the Bible's reliability and the implications of Christian claims about the resurrection. In this winsome presentation, Christians will find effective means to point unbelievers toward Jesus in a way that speaks to the heart as well as the mind.
Learning Objectives
Upon successful completion you should be able to:
Articulate a clear defense of Christianity based upon Biblical testimony
Describe the ways logic can assist Christians in finding truth
Determine the apologetic approach needed in each God-ordained opportunity for witness and evangelism
Course Outline
Introduction
Introducing the Speaker and the Course
Personal Journey into Apologetics
Unit 1: Introducing Apologetics
A Rational Defense
A Commandment
Christian Character
The Human Problem of Doubt
Navigating Doubt
Three Approaches to Apologetics
DEFENSE Overview
Unit 2: D—Demonstrate the Reality of Truth
Consequences of Rejecting Truth
Defining Truth
Truth Is Discovered
Unit 3: E—Exemplify How the Opposite of True Is False
Unit 4: F—Frame Arguments That Reveal God's Existence
Various Worldviews
The Cosmological Argument, Part 1
The Cosmological Argument, Part 2
The Teleological Argument, Part 1
The Teleological Argument, Part 2
The Moral Argument
Three Moral Observations
Unit 5: E—Elucidate How God's Existence Makes Miracles Possible
Miracles
Objections to Miracles
Unit 6: N—Nail Down Claims about the Reliability of the New Testament
Tests of Reliability: The Bibliographical Test
Tests of Reliability: The Internal Test
Tests of Reliability: The External Test
Unit 7: S—State How the Scriptures Confirm Christ's Deity
Who Is Jesus?
The Disciples and God on Jesus
Responding to Objections That Jesus Is God
Messianic Prophecies
A Sinless and Miraculous Life
Unit 8: E—Explain How the Empty Tomb Confirms Christ's Work
Resurrection Hoax Theories
Prophecy and the Resurrection
Confirming the Resurrection
Changed by the Resurrection
Conclusion
Product Details
Title: AP101 Introduction to Apologetics
Instructor: Bobby Conway
Publisher: Lexham Press
Publication Date: 2016
Product Type: Logos Mobile Education
Resource Type: Courseware, including transcripts, audio, and video resources
Courses: 1
Video Hours: 5
About Bobby Conway
Dr. Bobby Conway is lead pastor of Life Fellowship Church near Charlotte, NC. He is a graduate of Dallas Theological Seminary (ThM), Southern Evangelical Seminary (DMin), and is a PhD candidate at the University of Birmingham, England. He is the author of The Fifth Gospel andDoubting Toward Faith and is the founding host of The One-Minute Apologist.
Bobby and his wife, Heather, are speakers for Family Life's "Weekend To Remember" marriage conferences. They live in North Carolina with their two teenagers, Haley and Dawson.
Getting the most out of Mobile Ed
Logos Mobile Education is a highly effective cross-platform learning environment that integrates world class teaching with the powerful study tools and theological libraries available in Logos Bible Software. Every course provides links to additional resources and suggested readings that supplement the lecture material at the end of every transcript segment.
This course comes with an Activities resource that functions as a type of "workbook" for the course. This resource includes learning activities such as: places for you to respond to reflection questions, exercises that will challenge and show you how deepen your understanding of this course by using specific Logos tools and resources, tutorial videos on different features of Logos Bible Software, and links to relevant Logos guides and tools. A link to open the Activities resource is conveniently placed at the end of every segment.
More details about these resources