Mobile Ed: ED121 Introducing Evangelism (5 hour course)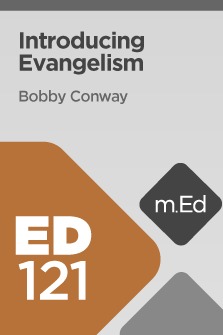 Mobile Ed: ED121 Introducing Evangelism (5 hour course)
•
Runs on Windows, Mac and mobile.
Overview
Gain confidence to share and defend your faith with this course from apologist, author, and pastor Dr. Bobby Conway. Examine the biblical definitions for "evangelism" and "apologetics" so you can live out the Great Commission in your home, workplace, and community. Acquire useful and proven strategies to overcome the most common challenges, such as facing your fears and answering hard questions. Simplify your outreach program and engage your culture biblically with Dr. Conway's five-part approach to evangelism. Whether you desire to do more personal evangelism and apologetics, or whether you desire to equip others for the ministry, Dr. Conway provides the instruction you need.
Bobby Conway, founder and host of The One Minute Apologist, has taught thousands of people how to address common questions about the Christian faith. His years of experience as a lead pastor are distilled in this Mobile Ed course.
Learning Objectives
Upon successful completion you should be able to:
Explain the urgency of evangelism
Discuss the biblical foundations of evangelism
Identify the five elements of the REACH acrostic and discuss their importance
Summarize the responses to significant questions that surround evangelism
Course Outline
Introduction
Introducing the Speaker
A Passion for Evangelism
Unit 1: The Urgency of Evangelism
The Reality of Hell
Examining Jesus' Teaching on Hell
The Reality of Death
Approaching Your Culture
Evangelism for the Glory of God
The Fivefold Purpose of the Course: Purpose #1
The Fivefold Purpose of the Course: Purposes #2–5
Unit 2: The Foundations of Evangelism
Defining Evangelism
Using Morphology Searching to Find People Who Evangelized in the New Testament
Motivations for Evangelism
The Hopelessness of Christless Culture
Researching Families in the Biblical World with the Topic Guide
Responding to a Christless Culture
The Benefits of Evangelism, Part 1
The Benefits of Evangelism, Part 2
Unit 3: Rely on God through Prayer
The Importance of Prayer
What to Pray
Prayer and Spiritual Blindness
Prayer, Opportunities, and Wisdom
Unit 4: Equip Yourself to Defend the Faith
Defining Apologetics
The Importance of Apologetics
Finding All Uses of Prōtotokosin the Bible with the Bible Word Study Guide
Apologetics, Confidence, and Removing Obstacles
Apologetics and Doubt
Jesus' Response to Doubt
Developing an Apologetic Bent
Engaging the Culture
Unit 5: Accept Responsibility to Build Relationships
Culture and Evangelism
Awareness and Acceptance of Nonbelievers
Surveying Jesus' Interaction with Tax Collectors with the Factbook
Four Ways to Connect
Making a Strangerhood a Neighborhood
Stages for ASSESSing Spirituality
Using Gospel Harmonies to Compare Accounts of Jesus' Crucifixion
Unit 6: Clearly Share Your Story
Types of Storytelling
How to Share Your Story
Four Components of Your Story
Sharing Your Story: An Example
Leading People to Christ
Unit 7: Help Them Connect to Christ's Community
Baptism
Local Church
Evangelism
Creating and Sharing Bible Reading Plans
Bible Reading
Prayer
Unit 8: Questions Surrounding Evangelism
What Is the Role of the Holy Spirit?
What Is the Role of Holiness?
Using Grammatical Relationships to Examine Holiness in the New Testament
What Is the Role of Spiritual Warfare?
What Is the Role of John 14:6 in a Pluralistic Culture?
What Is the Role of Fear?
What Is the Role of Story?
What Is the Role of Marriage and Family?
Conclusion
Product Details
Title: ED121 Introducing Evangelism
Instructor: Bobby Conway
Publisher: Lexham Press
Publication Date: 2014
Product Type: Logos Mobile Education
Resource Type: Courseware, including transcripts, audio, and video resources
Courses: 1
Video Hours: 5
About Bobby Conway
Dr. Bobby Conway is a pastor, apologist, and author who addresses life's big questions as they relate to everyday issues and the Scriptures. Dr. Conway earned his master's of theology from Dallas Theological Seminary, his doctorate of ministry in apologetics from Southern Evangelical Seminary, and is currently a PhD candidate in philosophy of religion at the University of Birmingham in England.
Through the popular video series The One Minute Apologist, Dr. Conway offers quick, credible answers to apologetic questions in order to help Christians defend their faith. He is the author of Hell, Rob Bell, What Happens When People Die, The Fifth Gospel, and the upcoming Doubting Toward Faith (publishes September 2015 with Harvest House). He's also the lead pastor of Life Fellowship in Charlotte, North Carolina, and a sought-after speaker.
Getting the most out of Mobile Ed
Logos Mobile Education is a highly effective cross-platform learning environment that integrates world class teaching with the powerful study tools and theological libraries available in Logos Bible Software. Every course provides links to additional resources and suggested readings that supplement the lecture material at the end of every transcript segment.
This course was produced with screencast videos. These videos provide tutorials showing you how to use Logos Bible Software in ways that are tied directly into the content of the course. We are now producing Activities resources as a replacement for screencast videos. We plan on updating this course to include this additional Activities resource in the future for no extra charge.
More details about these resources