Mobile Ed: AR151 Archaeology in Action: Jesus and Archaeology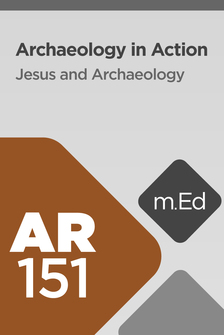 Mobile Ed: AR151 Archaeology in Action: Jesus and Archaeology
•
Runs on Windows, Mac and mobile.
Your Custom Discount
Reg. Price $149.99
Sale Price $89.99
Your Price $89.99
You Save $60.00 40%
Your Price
What's Pre-Pub?
$89.99
Overview
Join distinguished professor Dr. Craig A. Evans on a journey to some of the most significant New Testament archaeological sites. Filmed on-site in Israel's Galilee region, Dead Sea region, and Jerusalem, this course will give you insight into first-century socioeconomic life and will help you grasp the historical and biblical context of Jesus' ministry.
As the course takes you through cities and other locations around the Sea of Galilee, you'll learn where Jesus and his disciples walked and lived, including Capernaum, the headquarters of Jesus' Galilean ministry. Discover how the Qumran Dead Sea Scrolls reveal how deeply rooted in the Old Testament the early Christian movement was, and hear how these texts have been preserved for future generations. Explore burial practices and evidence of crucifixion in the first century in Jerusalem.
Course Locations and Topics Include:
Galilee Region
Nazareth
Shikhin
Sea of Galilee
Capernaum
Bethsaida
Magdala
Dead Sea Region
Masada
Dead Sea
Qumran
Presentation and Preservation of Qumran Scrolls at the Shrine of the Book, Jerusalem
Jerusalem
Hezekiah's Tunnel and the Pool of Siloam
Crucifixion in the First Century
Tomb at Akeldama, Field of Blood
Product Details
Title: AR151 Archaeology in Action: Jesus and Archaeology
Instructor: Craig A. Evans
Publisher: Lexham Press
Publication Date: 2015
Product Type: Logos Mobile Education
Resource Type: Courseware, including transcripts, audio, and video resources
Courses: 1
Video Hours: 4
About Craig A. Evans
Dr. Craig A. Evans received his PhD in New Testament from Claremont Graduate University and his DHabil from the Karoli Gaspar Reformed University in Budapest. He is the John Bisagno Distinguished Professor of Christian Origins at Houston Baptist University in Texas.
Evans taught at Trinity Western University in British Columbia for 21 years, where he directed the graduate program in biblical studies and founded the Dead Sea Scrolls Institute. He has recently served on the advisory board for the Gospel of Judas for National Geographic Society and has appeared frequently as an expert commentator on network television programs.
Evans has written and edited extensively on the historical Jesus and the Jewish background of the New Testament era. His published works include From Prophecy to Testament: The Function of the Old Testament in the New , Jesus and the Ossuaries, Jesus: The Final Days, and Dictionary of New Testament Background.
Getting the most out of Mobile Ed
Mobile Ed's integration with Logos Bible Software creates an unparalleled learning environment. Lectures are fully searchable and linked to the rest of your library. We transcribe every word so you can focus on adding your own reflections as you watch and read along. Suggested readings open with a click, and video tutorials show you how to use Logos to research your topic even further.
With any Logos base package, you will be able to view the lectures and interact with the transcripts. For the best learning experience, we recommend Logos Platinum.
Readings for the courses are often tailored to Platinum because the larger library provides access to a wide range of suggested resources and increases search results for further study.
The Platinum collection best matches the resources used in video tutorials. It includes a breadth of commentaries, original-language studies, and over 1,400 resources to deepen your study.