Mobile Ed: OT217 Interpreting Judges (8 hour course)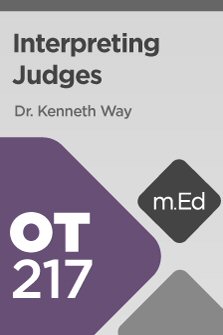 Mobile Ed: OT217 Interpreting Judges (8 hour course)
•
Runs on Windows, Mac and mobile.
Overview
Journey through the cycles and psychology of sin in the book of Judges, and recognize God as the deliverer of sinful people—as you explore the themes of rebellion, Canaanization, and syncretism, you will discover the heroic role God plays in this narrative. Dr. Way applies literary and theological analysis to the text to ultimately derive the core message from the book. Through this study you will also gain insight into the crucial task that Scripture has of filling hearts and minds with the words of God so that we can be transformed today and break the cycles of sin in our own culture.
OT217 Interpreting Judges was formerly titled CM313 Preaching Judges. We have updated the title to better reflect the course content.
Learning Objectives
Upon successful completion you should be able to:
Understand the themes of sin, salvation, transformation, and sanctification
Assess the literary elements of the book of Judges, including the structure, parallels, themes, and setting
Approach the book of Judges analytically by asking, "What's wrong with this picture?" and "Where is God in this story?" to unlock the theological messages of the book
Course Outline
Unit 1: Introduction to Judges
Preface
Literary Structure
Theological Contribution

Israel's Faithlessness
God's Faithfulness
Deuteronomistic History
Canonical Position
Methodology

Historical Setting and Composition

Judges Period
Composition
Unit 2: Prologue (1:1–3:6)
Military Failure (1:1–2:5)

Literary Analysis
Background
Theology

Religious Failure (2:6–3:6)

Literary Analysis
Exposition
Theology
Unit 3: Othniel (3:7–11)
Literary Analysis
The Grace of God's Deliverance
The Judge and the Oppressor
The First and Last Cycles
The Spirit of the Lord
Unit 4: Ehud (3:12–30)
Who Is Ehud?
Who Is Eglon?
The Weapon (3:16, 22)
Lock and Key (3:23, 25)
What's Wrong and Where's God?
God's Will and God's Plan
Ehud and Jephthah
Unit 5: Deborah and Barak (4:1–5:31)
Literary Analysis
Canaanite Players: Jabin, Sisera
Deborah
Barak
Jael
What's Wrong?
Where's God?
Women in Judges
Unit 6: Gideon (6:1–8:32)
Literary Analysis
Setting the Scene
The Fleece
The Battle
The Aftermath
The Angel of the Lord
Heroes of Hebrews
Unit 7: Abimelech (8:33–9:57)
Literary Analysis
The Cyclical Rubric
What's Wrong?
Where's God?
Temple Backgrounds
Unit 8: Jephthah (10:6–12:7)
Literary Analysis
What's Wrong?
Judging Ourselves: Four Applications
Human Sacrifice
Unit 9: Minor Judges (3:31, 10:1–5, 12:8–15)
Literary Analysis
Exposition
Theology: Cycle Breakdown
Unit 10: Samson (13:1–16:31)
Literary Analysis
Samson's Morality
Samson's Might
Samson's Mission
Samson's Meaning
Strategic Literary Interruption
Opportunities and Occasions in 14–16
Samson's Hair
Samson's' Entertainment
Samson as Saint, or Sinner?
The Philistines
Unit 11: Sincere Syncretism (17:1–18:31)
The Final Refrain
Literary Analysis
What's Wrong?
Where's God?
Background on Tel Dan
Unit 12: Crescendo of Canaanization (19:1–21:25)
Literary Analysis
Exposition
Theology
Application
Where's God?
What's Wrong?
Product Details
Title: OT217 Interpreting Judges
Instructor: Kenneth C. Way
Publisher: Lexham Press
Publication Date: 2016
Product Type: Logos Mobile Education
Resource Type: Courseware, including transcripts, audio, and video resources
Courses: 1
Video Hours: 8
About Kenneth C. Way
Dr. Kenneth Way's passion is teaching the Old Testament in its ancient Near Eastern context. His research interests include the book of Judges, Israelite religion and archaeology, Northwest Semitic inscriptions, and the fauna of the ancient Near East. He regularly presents at academic meetings and has been published in Ugarit-Forschungen, Journal for the Study of the Old Testament, Journal of Biblical Literature, Levant, and the IVP Dictionary of the Old Testament: Historical Books. Ever since his college days, Dr. Way has sensed God's calling to teach Bible (especially Old Testament) in a classroom setting and to mentor students who desire more of God in their lives.
Getting the most out of Mobile Ed
Logos Mobile Education is a highly effective cross-platform learning environment that integrates world class teaching with the powerful study tools and theological libraries available in Logos Bible Software. Every course provides links to additional resources and suggested readings that supplement the lecture material at the end of every transcript segment.
This course comes with an Activities resource that functions as a type of "workbook" for the course. This resource includes learning activities such as: places for you to respond to reflection questions, exercises that will challenge and show you how deepen your understanding of this course by using specific Logos tools and resources, tutorial videos on different features of Logos Bible Software, and links to relevant Logos guides and tools. A link to open the Activities resource is conveniently placed at the end of every segment.
More details about these resources