The Journal of Biblical Literature (26 vols.)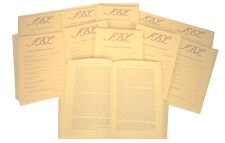 The Journal of Biblical Literature (26 vols.)
•
Runs on Windows, Mac and mobile.
Overview
The flagship journal of the Society of Biblical Literature, The Journal of Biblical Literature promotes critical and academic biblical scholarship and brings the highest level of scholarly expertise to bear on the study of biblical literature. The Logos edition of The Journal of Biblical Literature gives you access to nearly 20,000 pages of articles, reviews, and news published between 1981 and 2006, written by top scholars from the past two decades of biblical scholarship.
The powerful search tools in Logos give you instant access to all of the content in The Journal of Biblical Literature. You can search by author, topic, and Scripture passage—and find it all instantly. What's more, Scripture texts are linked to the Greek and Hebrew texts—and the wealth of language resources in your digital library—and links within each volume of the journal allow you to quickly move from the table of contents to the index to the articles you need and back again. Save yourself from turning pages, cross-referencing citations, and unnecessarily complex research projects. The Logos edition of The Journal of Biblical Literature also allows you to cut and paste the content you need for citations—and automatically create footnotes in your document using your preferred style guide.
With The Journal of Biblical Literature, combined with the power of Logos, you have the most important tools you need for your research projects, sermon preparation, and biblical study!
For a massive collection of journals from world-renowned scholars across a variety of disciplines, check out the Master Journal Bundle.
Key Features
19,968 pages of articles and reviews
Lengthy book review section which covers the latest and most important publications from around the world
Annual index
Contributions from top scholars on the latest research in biblical scholarship
Product Details
Title: The Journal of Biblical Literature
Publisher: Society of Biblical Literature
Publication Dates: 1981-2006
Pages: 19,968
About the Society of Biblical Literature
The Society of Biblical Literature is the oldest and largest international scholarly membership organization in the field of biblical studies. Founded in 1880, the Society has grown to over 8,500 international members including teachers, students, religious leaders and individuals from all walks of life who share a mutual interest in the critical investigation of the Bible. The Society aspires to offer opportunities for intellectual growth and professional development.
The eight founders of The Society of Biblical Literature first met to discuss their new society in Philip Schaff's study in New York City in January of 1880. In June the group had their first Annual Meeting with eighteen people in attendance. By the end of the year, membership had grown to forty-five and publication of the Journal of Biblical Literature was launched the following year.
More details about these resources
Show More